UK DIY News
Tesco scraps plans for joint Tesco-Dobbies store in East Kilbride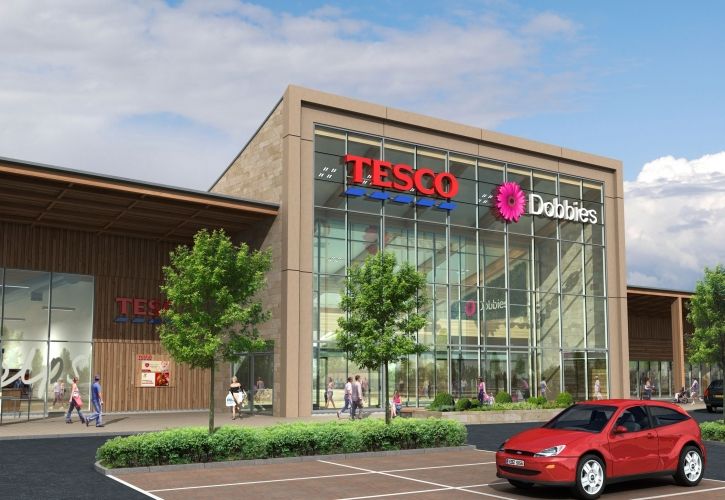 TESCO's ditched plans are a bitter blow to the town which for a number of years has been at the centre of a protracted and acrimonious supermarket war.
Supermarket giant Tesco has scrapped plans to build a long-promised store at Peel Park which would have brought hundreds of jobs to East Kilbride.
The company's plan for a joint supermarket and Dobbies garden centre was among eight new developments in Scotland and 49 UK-wide shelved last week by the troubled retailer.
Tesco's ditched plans are a bitter blow to the town which for a number years has been at the centre of a protracted and acrimonious supermarket war.
Dawn Developments hoped to build an Asda store at the former BSR site at West Mains Road while Ediston Properties had plans to bring an unnamed store to Atholl House, but both applications were rejected by South Lanarkshire Council.
An appeal to the Court of Session by Dawn Developments was thrown out as SLC argued the proposal did not fit in with their overall plans for the area.
Finally, in June 2013, the detailed plans for the Peel Park joint Tesco supermarket and Dobbies garden centre were given the green light by planners. The new development promised to create over 400 jobs.
Despite a massive downturn in Tesco's profits, the company insisted to the East Kilbride News as recently as last month that it had no plans to scrap the East Kilbride development.
The town's MP, Michael McCann, who came in for intense criticism when he launched a scathing attack on Scottish Enterprise for their "support" of the doomed Asda proposal which he claimed was delaying the Peel Park development, has now fired off a furious letter to Tesco chief executive Dave Lewis.
Accusing Tesco of "obfuscation, dithering, lacking in commitment and of being irresponsible", the MP has demanded the company reveal their plans for the vacant land at Peel Park.
And while Tesco's chief executive has stated the Tesco will "work closely with South Lanarkshire Council to find the right solution for the local community", Mr McCann has demanded to know whether the company will now put the site on the market and if a competitor bids for it sell it to them.
He told Mr Lewis: "Your response to those questions will determine whether or not you are truly prepared to seek a solution which is right for the local community that I represent.
"Any further dithering will lead me to the conclusion that your words are exceptionally hollow."
One of Mr McCann's fiercest critics, SNP Councillor Jim Wardhaugh described the planning wrangle as an utter debacle which had resulted in the loss of 1100 jobs which would now be in existence had both the proposed Asda store and the original Tesco Superstore gone ahead years ago.
He said: "Mr McCann, together with Labour colleagues at Westminster, Holyrood and South Lanarkshire Council, waged a sustained and unprecedented campaign to block the proposed Asda development on West Mains Road. This resulted in delays, legal action and now the total loss of both developments."
South Lanarkshire Council's executive director of community and enterprise resources, Colin McDowall, said: "The council is disappointed that Tesco has decided not to proceed with its planned superstore and Dobbies Garden Centre at Peel Park. "The investment would have brought significant benefits to the local economy and the local job market.
"The East Kilbride Task Force, set up by the council to promote and enhance the reputation of the town as a key component of the Scottish economy, will continue to work with public and private sector partners on proposals to develop a sustainable economic future, building upon its many assets."
Source : Louise Reily - Daily Record
http://www.dailyrecord.co.uk/news/local-news/fury-tesco-backs-out-east-4978858
15 January 2015

Insight provides a host of information I need on many of our company's largest customers. I use this information regularly with my team, both at a local level as well as with our other international operations. It's extremely useful when sharing market intelligence information with our corporate office.

Paul Boyce - European CEO, QEP Ltd.