UK DIY News
The Decline of the UK's DIY Skills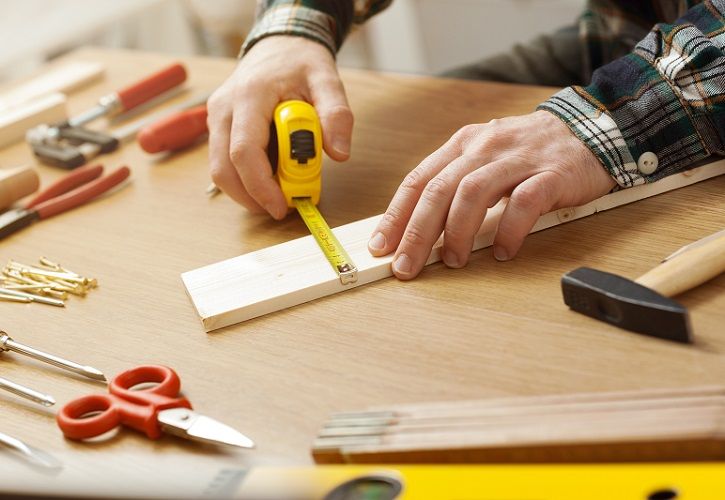 Are Brits ditching the DIY and calling in the experts instead? As we increasingly lean on professional tradespeople for a growing number of household renovations, are our basic DIY skills in decline?

Separating the clickbait from the facts is A Wood Idea. Here, the retailer of internal and external doors examines the research and documents the UK's changing relationship with DIY…
1950: THE START OF DIY SKILLS
The first major shift in DIY happened in 1950, following the end of World War II. With a lack of skilled tradesmen following the war, many people decided to carry out DIY and their own home renovations.

It was then a retail shift started to emerge; before tool stores were geared towards professional tradesmen, but they began to appeal to the everyday DIY-er.

It's important to note that in 1950, the average annual salary in the UK was just over £100 (worth around £3,250 today). As many people had limited free cash, perhaps DIY was seen as a cash-saving alternative?

1956: THE INTRODUCTION OF FLAT-PACK FURNITURE
By 1956, flat-pack furniture had been invented by Gillis Lundgren in Sweden. This further fuelling Britain's can-do attitude to home improvement. In fact, by the 1970s, DIY was so engrained in society that it was viewed as a valuable skill passed down between the generations.

1970: DIY THROUGH THE GENERATIONS
Research from AA found that 71% of men in the 1970s learnt home improvement skills from their fathers. Fast-forward to 1990 and this figure had dropped to 67%, before plummeting to 44% in the latter part of the decade.

1990: DIY ON TV AND IN UK HOMES
Notably, 1996 saw the popular DIY programme Changing Rooms cement its position in the mainstream TV schedule — a slot it would hold until 2004. The programme brought the possibilities of DIY to many Brits' front room, inspiring many to pick up their paintbrushes and do it themselves.

With fresh inspiration in the minds of homeowners, the early noughties were huge for Britain's DIY industry. In 2005, Brits were spending some £12.5 billion on DIY supplies, with over 18 million people considered regular DIY shoppers.
2010: DIY DREAMS TO DISASTERS
While DIY inspiration was on the up, it seemed that home renovators were lacking the skills to make their decorating dreams a reality. In fact, from 2010 onwards, it became obvious that there were gaps in the UK's knowledge — especially with the younger generation.

Research carried out in 2010 by B&Q found that 60% of young people admitted they had gaps in their DIY knowledge. What's more, only a third of under 35s could confidently hang wallpaper, compared to more than half of their parents and grandparents. Similarly, findings from Halifax Home Insurance, also from 2010, showed that 45% of under 35s do not know how to put up shelves.

AA findings from 2011 show that while almost three quarters of 55-65 year olds were able to do DIY, just over half of under 35s and 32% of under 25s said the same. Clearly, there is a generational knowledge gap — and the younger generation acknowledges it. Over a quarter of under 25s were found to call on their parents to carry out tasks around the home.

TODAY: FEWER SKILLS - MORE INJURIES
A survey by Nationwide found that only 63% of 18-24-year-olds could change a lightbulb, compared to 89% of 55-year-olds. Likewise, just 17% can locate and turn off a stopcock, compared to almost three quarters of the older generation.

A clear generational knowledge gap is present today — and it's having a huge impact on both our pockets and our health! A 2017 survey by First Utility has found that half of all DIY jobs end in disaster, with a quarter of all endeavours ending in personal injury. 7% of DIY-ers even end up in A&E!

Overall, our DIY disasters are making a significant dent in our savings. 2018 research from Local Heroes has found that collectively, we're shelling out a whopping £34 million paying tradespeople to correct our dodgy DIY attempts. And in the past year, we've each spent £650 on average correcting our home improvement mistakes. Across our lifetimes, we'll bodge an average of nine DIY jobs.
DIY TO DFY
For many today, it seems that DIY has been replaced by DFY — Done For You. First Utility found that 60% of Brits would prefer to get the experts in for their renovations, resulting from a combined lack of patience, confidence and DIY knowledge.
In 2017, just 15% of people said they had learnt their DIY skills from their parents. Findings from 2018 also back up this claim. Findings from Ecclesiastical Insurance show that 69% of people think DIY skills are being passed on less commonly than 30 years ago, despite 86% of parents believing it's important to teach their children them.
TECHNOLOGY'S ROLE IN THE DECLINE OF DIY
We've established that there has been a decline in DIY, particularly amongst the younger generation, but what has caused it? There are a number of influencing factors, with many pointing the finger at technology.

With the widespread availability of the internet and emails across mobiles, laptops and tablets, our working days are becoming longer. One survey conducted by the Chartered Institute of Personnel Development found that 40% of workers check their work emails at least five times per day outside of the office. Perhaps then, Britain's working population doesn't have time for DIY and is turning to the professionals as a result?

Of course, perhaps the decline in DIY is due to a lack in interest in home improvement. Depending on the type of task, DIY can often be a lengthy, time-consuming process. In today's society, when we're constantly busy, perhaps we value convenience over the sense of pride and achievement associated with carrying out a project from start to finish.

The impact of technology on DIY isn't wholly negative though. In fact, for some people, digital platforms can actually encourage them to undertake a project in the home. For example, in 2017, a survey by Emo Oil found that 67% of Brits relied on Google for DIY help, while this year, 88% of DIY-ers said they watched how-to videos online.
Source : A Wood Idea
For all the very latest news and intelligence on the UK's largest home improvement and garden retailers, sign up for the Insight DIY weekly newsletter.
03 October 2018

Insight DIY is the only source of market information that I need and they always have the latest news before anyone else.

Neil Anderton - Sales Director, British Ceramic Tile