UK DIY News
The Future But Not As We Know It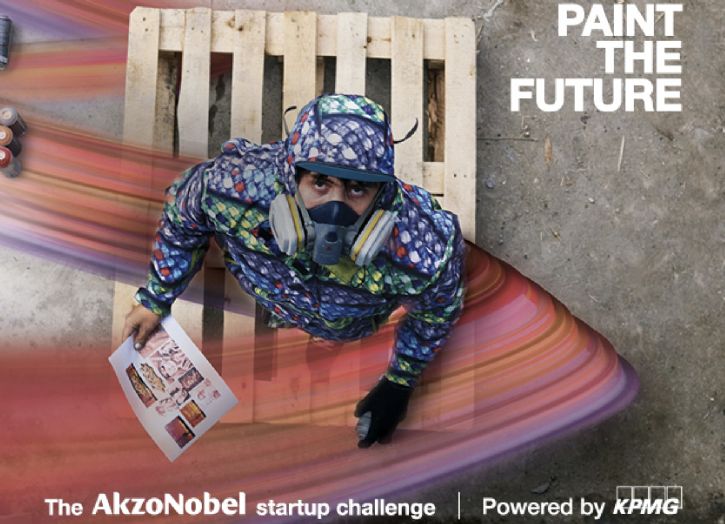 The leading paint manufacturer and Dulux owner AkzoNobel has taken its first bold step into 'Open Innovation' and it's something I believe we all need to sit up and take notice of.
But what is Open Innovation? Well, it's a more participatory, more decentralized approach to innovation, based on the fact that the best ideas and knowledge today are widely distributed, and no company, no matter how capable, large or how significant their market share can innovate effectively on their own.
Paint the Future is a real first in an industry which is desperate for innovation and hungry for new ideas. Too many of us consumers are putting off the painting, decorating and general DIY tasks that were relished by our parents and yet with booming interest in the platforms Houzz, Instagram and Pinterest, we are all hungry for inspiration and we all want great looking homes.
As well as manufacturing almost 100million litres each year of the market leading Dulux paint, AkzoNobel also owns the Hammerite, Cuprinol, Polycell and International brands in the UK. What you may not know, is that it is also the third largest paint retailer in the UK, thanks to its growing network of 225 Dulux Decorator Centres, selling paint to painters and decorators.
I spoke with Klaas Kruithof, Chief Technology Officer at AkzoNobel to find out more about the Paint the Future innovation challenge and what it is hoping to achieve.
The purpose of the initiative is clear, AkzoNobel wants to combine its global scale, know-how and expertise with the ingenious solutions of start-ups and scale-ups around the world.
It wants to engage with the visionaries and entrepreneurs, to seek out the newest, coolest, smartest and most revolutionary developments available in the market today.
This refreshing approach to innovation extends to Universities and Institutions (the company has had a strategic partnership with Manchester University since 2012), its supply base and now start-ups or scale-ups who have the ability to move fast.
Klaas told me: "As a technology-driven paints and coatings company, we're full of knowledge, know-how and resources that we're ready to share. We have a clear view of what our customers will need and expect in the future, so we're actively looking to collaborate with forward-thinking partners and take our innovation in all areas to another dimension. The future's a blank canvas – this is an exciting opportunity to help us paint it."
To give the programme structure and focus, the company has been looking for submissions across five key areas -
Predictable performance - How can AkzoNobel collect and augment data more innovatively so that its predictions for real world surface performance become more accurate and efficient?
Smart application- How could a solution change or improve the way customers apply their products?
Circular solutions- How would a solution enable circular use of materials at any point in their value chain?
Enhanced functionality - What exciting new functionality can technology offer to make coatings cleaner, more responsive or adaptive?
Life science infusion- How can a solution, containing bio-active technology, help bring better performance or innovative features to their coatings?
Partnering with KPMG who have managed similar, successful innovation programmes across other industries, the annual challenge will give the winners the chance to enter into a joint development agreement with AkzoNobel.
The Paint the Future programme has recently closed for submissions, following a three- month period when the company received an encouraging 160 different ideas spread across the key areas. Overall engagement has been excellent, with 1,074 people signed up as members of the platform, over 1,700 comments have been made and more than 600 likes.
The ideas are currently going through an 'enrichment phase' where members of the AkzoNobel 'Challenge Team' and the online community ask questions to better understand the thinking behind the submissions and the scale of the various opportunities.
During April, the submissions will be evaluated further and the best ideas will make it through to a 'Finals Event' due to take place in Amsterdam between 14th and 16th May. The Paint the Future Jury, who'll be present at the finals event includes Danny Lucas, Executive Chairman and MD of Lucas UK Group.
The most promising solutions will be offered joint development agreements with AkzoNobel. From June onwards, AkzoNobel and its partners will provide help and guidance, with the ideas being scaled-up for possible implementation.
It's a fascinating initiative and one that we will be watching with interest as the programme develops over the coming weeks. Our industry needs more true and ground-breaking innovation and we look forward to sharing updates on the new and exciting ideas that will be identified through programme.
If you'd like further information, visit the dedicated website www.letspaintthefuture.com.
Author – Steve Collinge is an international speaker, industry commentator and is Managing Director of Insight Retail Group Ltd and Executive Editor of Insight DIY.
You can follow Steve on LinkedIn here and on Twitter here.
25 March 2019

I find the news and articles they publish really useful and enjoy reading their views and commentary on the industry. It's the only source of quality, reliable information on our major customers and it's used regularly by myself and my team.

Simon Fleet - Sales & Marketing Director, Thomas Dudley Ltd