UK DIY News
T-Rex teams up with Sky for a season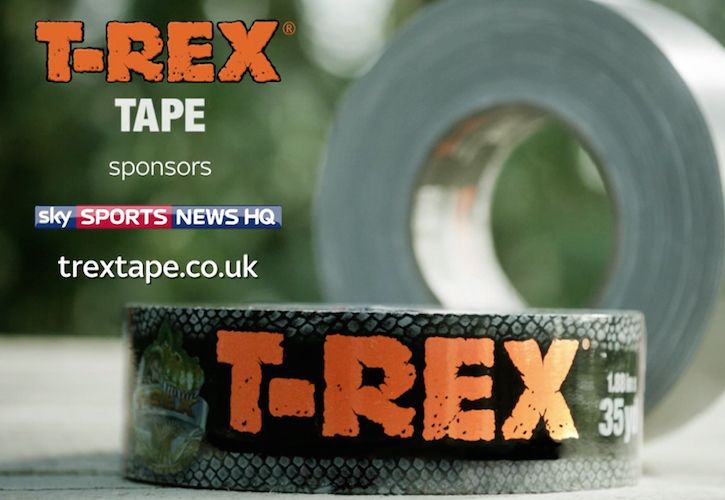 Shurtape's extra strong T-Rex tape is spending the Spring with Sky Sports HQ, having secured a high profile sponsorship of their flagship show "Sky Sports News HQ " every evening.
This first-of-its-kind deal sees T-Rex promoted through a series of co-branded idents, which position the product in sporting situations to demonstrate its strength and all-weather versatility. One short film shows two builders taping scaffolding together to make a goalpost, another shows T-Rex holding some rope tight for a tug of war, and a third has the tape securing a dartboard and then a hose, which has been punctured by a dart.
Alan Murray, head of marketing at Shurtape, comments: "This is highly targeted brand messaging, which takes a DIY product completely out of the usual advertising format and places it firmly in a sporting situation, while remaining relevant to the audience in a lighthearted way.
"We know our end users are into sport, so Sky Sports News HQ is perfect for a strong, disruptive brand like T-Rex: we're really pleased to be working with such an iconic property. The partnership will run throughout the season until the end of June and provide excellent consumer exposure for the product range, which we are in the process of extending."
T-Rex has made a huge impact on the tape market since its UK launch last year. Already a leading product in the US, it is being supported through an ongoing campaign of consumer above and below the line activities, along with proactive trade support. This latest deal is part of a massive financial package of ongoing marketing for the brand.
"User feedback is very strong, with product reviewers confirming T-Rex's strength and range of uses," concludes Alan. "This Sky Sports HQ partnership will look to build on this early loyalty by demonstrating just how much users can trust T-Rex."
Trade / sales queries: Tel 01442 505762
Source: Insight Team & Shurtape
25 May 2017

Insight DIY is the only source of market information that I need and they always have the latest news before anyone else.

Neil Anderton - Sales Director, British Ceramic Tile