UK DIY News
Ultra Finishing fined £826k over minimum online pricing practice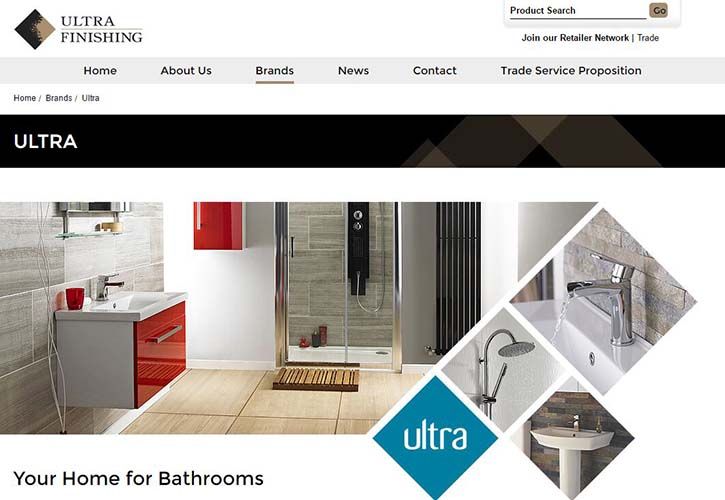 Ultra Finishing Limited has agreed to pay a fine of £826,000 after admitting trying to stop retailers from discounting online prices.
The penalty includes a 20% settlement discount to reflect the resource savings generated by Ultra's admissions and agreement to co-operate with the Competition and Markets Authority's (CMA) investigation.
The CMA issued a statement of objections against Ultra in January 2016. The business has admitted that, in the years 2012 to 2014, it engaged in resale price maintenance (RPM) in respect of the internet sales of its Hudson Reed and Ultra branded products.
RPM is a form of vertical price-fixing where a supplier restricts the ability for a retailer to determine the prices at which it will resell the supplier's products, for example by requiring the retailer to sell at a particular price or only above a minimum price. RPM is illegal because it prevents retailers from offering lower prices and setting their prices independently to attract more customers. The CMA has produced written guidance and a short video to help businesses understand more about RPM.
Ultra issued to retailers so-called 'recommended' retail prices for online sales. Despite being described as recommendations, which are lawful, Ultra threatened retailers with penalties for not pricing at or above the 'recommended' price, including charging them higher prices for products, withdrawing their rights to use Ultra's images online, or ceasing supply. This limited the retailers' ability to offer discounts to potential buyers.
The CMA will issue its formal infringement decision shortly.
Ann Pope, the CMA's Senior Director responsible for the case, said:
"Price competition from online sales is usually intense, given the ease of searching on the internet. Ultra's practice of setting minimum online prices stopped retailers from offering discounted prices online, reducing competition across online and 'bricks and mortar' sales, and denying consumers the benefit of lower prices for Ultra's bathroom fittings.
"The CMA takes such vertical price-fixing seriously and is focused on tackling anti-competitive practices that diminish the many benefits of e-commerce.
"The CMA has received complaints of potentially similar conduct by other suppliers of bathroom fittings in the UK. No decision has yet been taken on possible future investigations but we expect businesses involved in similar practices to bring them to an end as soon as possible."

Source : CMA
www.gov.uk/government/news/bathroom-supplier-fined-826000-for-restricting-online-prices

Ultra Finishing made the following statement in relation to the news:
"It has been a long slow process but Ultra has concluded its settlement discussions with the CMA and now it's time for the business to move onwards and upwards. The Industry investigation took nearly two years to complete, Ultra has assisted fully and openly with the investigation.
Ultra accepts fully the CMA's findings. Whilst Ultra didn't set out to breach any regulations, our aim was only to protect our brand and our traditional retailers on the high street, we do accept now that this was a breach in regulation. Back in 2014 when Ultra first realised and was made aware, we immediately stopped the activity. Whilst we can move on we realise our industry hasn't and that these practices are still in place today.
It became apparent, due to limited resources at the CMA and Ultra Finishing being ahead of the market (with many more online customers than our nearest rival), that the CMA focused on Ultra Finishing. Whilst at the time this felt extremely unfair we have now provided the CMA with the extensive research and documentation we collected on our industry to assist with their future investigations.
We are glad that we can put this behind us and move forward, another demonstration of Ultra's resilience in the marketplace that we can sustain these challenges and maintain our solid business.
We are extremely excited about the future. In June we will introduce a new brochure where all our brands feature alongside each other for the first time. Our product offering is unrivalled and when presented with a simplified, category focus becomes much easier for our customers to understand.
We have been forced to reconsider how we can support traditional retailers alongside the growth of the Internet. The majority of retail prices will come down in the new brochure to provide lower net prices to this customer base. Retailers will also benefit from the same set of terms for all our brands to ensure we are simple to deal with.
We would like to take this opportunity once again to thank the loyalty and support from our core customer base and look forward to brighter times ahead. Let us hope that you can take comfort and feel safe from where to buy your products."

Source : Ultra Finishing Press Release
www.ultra-finishing.co.uk
To advertise on the Insight DIY website and download our media pack, click here.
Sign-up for our weekly newsletter here.
If your business is interested in pricing intelligence or you're currently trying to track retail prices manually, there really is a much easier way, just contact us here.
26 April 2016

Insight DIY always publishes the latest news stories before anyone else and we find it to be an invaluable source of customer and market information.

Max Crosby Browne - CEO, Home Decor