UK DIY News
Wyevale Garden Centres reveals Wolds View as new name for Horncastle centre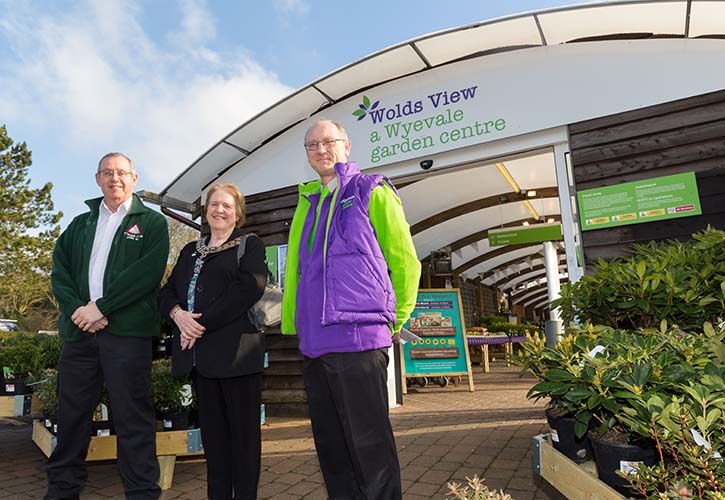 Photo: (L-R) Ken Dawson - Wolds View Garden Centre Manager; Coun Angela Birchall - Horncastle Mayor and Steve Hydes - LIVES Marketing Manager.
Members of the Crowders Garden Centre team alongside key local figures and the Horncastle community gathered this morning for the official unveiling of Centre's new name: Wolds View.

Mayor Coun Angela Birchall revealed the Centre's new sign, with help from Frank Hayes, Wyevale Garden Centre Commercial Director and Ken Dawson, Garden Centre Manager.
Previously known as Crowders Garden Centre, a new name was sought from the community following its acquisition by Wyevale Garden Centres in January this year.
Members of the local community were invited to help choose the new name by casting their vote for one of three suggestions, as put forward by Centre colleagues:
 Wolds View – Trevor Blake and Simon Nagle's favourite scenic view of the Wolds from the plant area
 Banovallum – historic Roman name for Horncastle as suggested by Richard Howitt
 Horncastle- Because we are proud to be joining the Horncastle community
Mayor Birchall says: "It was fantastic to be a part of the unveiling of Wolds View, a Wyevale Garden Centre, today. The initiative is a leading example of community spirit that is ever-present in Horncastle. It is clear from the number of people present today and the buzz around the voting that the Centre is a pillar of the community, and I know the Centre team will continue to foster this."
Ken Dawson, Garden Centre Manager at Wolds View, a Wyevale Garden Centre, says close to 2,000 people casted a vote, which shows how important the Centre is in their local community.
"We are so pleased to share our new name, Wolds View with the community today, the number of voters confirms the special place our Centre has in Horncastle and beyond. It was fantastic to see everyone get behind the initiative and we're very happy with the result – a name that we believe strongly reflects our community surroundings. We hope to see everyone at Wolds View this weekend to check out the 'view' for themselves and enjoy free, family fun to celebrate – our way of saying thank you for your support!"

Simon Nagle, a long serving member of staff at Crowders Garden Centre, says: "Not only am I happy my suggestion won the community's vote, but along with my colleagues, I'm very proud to have played a part in shaping the future of our Centre through the renaming."
Wyevale Garden Centres also presented a cheque for £500 to local voluntary emergency services charity Lincolnshire Integrated Voluntary Emergency Service (LIVES) in recognition of the community's support for the renaming initiative. LIVES Marketing Manager Steve Hyde says:
"Thanks to Wolds View, a Wyevale Garden Centre, LIVES volunteers can continue to dedicate their time to the community with this generous donation – thank you for the support and making us a part of your special day."
Crowders Garden Centre has for many years supported LIVES and Wolds View, a Wyevale Garden Centre, is delighted to continue to support the local initiative. To continue to shape Wolds View, a Wyevale Garden Centre's new identity, the Centre is challenging schools in the region to design a fourth flag that will join the existing three flying at the Centre's entrance. The winning design will best portray Wolds View, a Wyevale Garden Centre and will become a key part of the Centre's image. Entries close on Friday, 22nd April when the designs will be judged and the winner announced shortly after, led by Garden Centre Manager Ken Dawson.

Source : Wyevale Garden Centres Press Release
18 March 2016

Insight provides a host of information I need on many of our company's largest customers. I use this information regularly with my team, both at a local level as well as with our other international operations. It's extremely useful when sharing market intelligence information with our corporate office.

Paul Boyce - European CEO, QEP Ltd.