UK DIY News
You've got 12 months and the clock's ticking...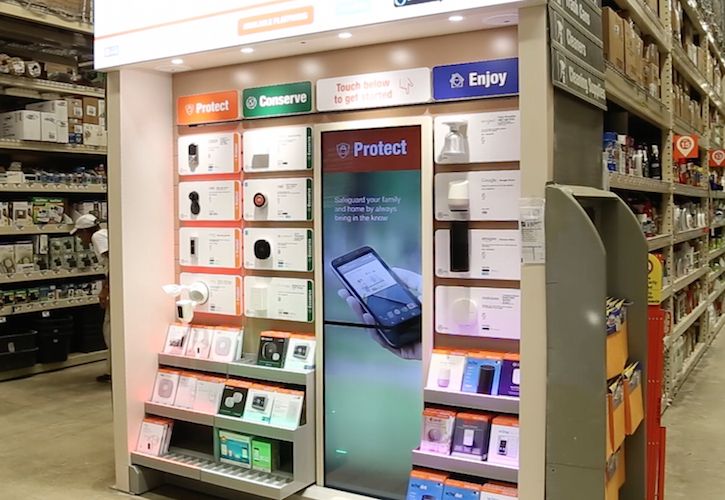 Let's face some uncomfortable truths, big-box DIY retailing has probably had its day. There will not be any new, monster-sized Home Improvement warehouses built in the UK and without doubt, we will see a further contraction of the leading 'shed' retailers. Since 2014, B&Q and Homebase have closed 165 stores across the UK and Ireland and with the future of Homebase hanging precariously in the balance, we can be certain of more store closures to come.
With the largest generation of humans that ever existed, just about to reach prime home and garden spending age, the impact of the millennials will further transform the industry in ways we probably haven't even considered yet and whether supplier or retailer, the digital disruption of your business models is inevitable.
One thing is for certain, doing the same thing year after year and hoping it's going to deliver the same or better returns or even worse, sticking our heads in the sand and doing nothing, will guarantee one thing - a slow and painful decline in both sales and profit.
Retailers doing the same thing is what I see every time I enter the UK's leading Home Improvement stores and garden centres. Yes, there's sometimes new products available, (although far fewer in recent years) and yes, every year there's new point of sale and merchandising, but there are no game changers, nothing in my view that's going to save the industry from a slow and painful decline.
If you don't agree, take a look at the products featured in any B&Q, Bunnings, Wickes, Wyevale door-drop brochures, TV adverts or the homepages of their websites. Take a good look at the promotional ends currently featured in stores, during what is the peak period of the year and what do you find……. the same old stuff, that was there last year and the year before and 10 years ago. Give yourself time to watch some old Do It All, Texas, B&Q, Great Mills and Focus TV adverts on YouTube from 30 years ago and you'll see it's the same old stuff, every year, it's genuinely alarming how the industry has not progressed during that time.
So, are we as manufacturers and retailers of DIY and Garden products ultimately doomed? Is our industry having to face the fact that our consumers of the future will be predominantly generation renters, buying a few home improvement bits and bobs every now again through one hour delivery from Amazon and at the weekend renting power tools, BBQ's and garden furniture they simply don't have the space to store anyway?
Well, yes that is the future and if you're not already thinking and planning how you as a brand are going to tackle that challenge, I suggest you wake up and take a look outside, because the tsunami of change is already seeping underneath your door.
So, what options do we have? What choices can we make today to prepare our brands and future proof our companies and staff?
The answer is creative innovation, game-changing, new category innovation. An exciting new category that has the potential to change the entire perception of a retailer's brand, attract new younger millennial customers into store and reinforce existing customers views that Home Improvement retailers are the place to go for the latest trends, ideas and quite simply interesting new stuff.
We've been searching for some time for the game-changer, the innovation in the home or garden category that creates so much interest that consumers simply have to come to stores to see it, play with it and test it out. Something so popular that the retailers social media accounts creaks under the weight of the engagement and conversation.
We've been searching high and low and finally, ladies and gentlemen, today I can announce that I think we've damn well found it.
We looked to the US and studied the one company that can claim probably more than any other that 'Imitation is the sincerest form of flattery'. B&Q, Brico, Castorama, Bunnings in Australia, Builders Warehouse in South Africa and many other global big-box DIY retailers only exist because they copied The Home Depot model in the US. And when I say copied, I mean copied EVERYTHING, from the look and feel of the warehouses, to the ranging, the systems, how the staff dress, even the stupid aprons and even more stupid badges.
But here's a really interesting point – in the last 5 years, I think we've stopped watching and copying Home Depot - and why is that? Have we learnt everything we need to know and no longer need to learn from other businesses or has the intensity of our own, all consuming navel gazing, made us blind to what's happening outside of our little country.
In the last five years The Home Depot has been relentlessly searching for the same thing. The category game changer that will guarantee their future as a retailer and in the process, change the perception of them in the eyes of their existing customers and attract a whole new generation of consumers through their doors.
And the answer is the Smart or Connected Home Category.
We've recently seen the 'Smart Home in-store portal' in Home Depot– a front of store promotional end showcasing the full range of connected home products available, including products from brands such as Google, Amazon, Philips, Nest, Ring, Samsung, Sengled, ecobee4, Vine, Schlage, WeMo and Wink.
The concept is unique because it brings all of the products together and effectively introduces them as a total 'Smart Home' category solution to consumers. Every product is live and can be played with and every touch and every interaction made by shoppers is tracked, analysed and fed back to the retailer.
Although something of an obvious opportunity, this presents a real challenge to UK Retailers, who often seem to struggle to see past their historical, functional, product led approach to buying, merchandising, store layouts and promotion. When categories such as Connected Home come along that span a number of different product areas and buyers, they are simply not set up to execute this effectively, often lacking the category knowledge, expertise or simply structure to make good and quick decisions.
This is further complicated by the many and growing number of brands in the connected home category using different technologies/platforms, making it difficult for retailers to present the total solution. This often leads to brand specific or individual product displays appearing in different locations around the store, watering down and removing the opportunity to range extend and cross-sell into new high-ticket product areas.
This category is still in its infancy, although globally, it's growing rapidly and will without question be the largest, fastest growing and most valuable home related category of the future. Think the internet of things and how in time every digital item in your home, from your lights, TV's, white goods, alarms, plug sockets, broadband, heating, fans, boiler, burglar alarms, door bells and locks, showers, electric car and of course your phones will be connected and you'll be able to simply and easily communicate with them all through one voice activated device.
To continue reading this article, please click on the link below. Unfortunately, we have a limited number of characters for news stories on Insight DIY and the we've published the whole article on Linkedin here - You've got 12 months and the clocks ticking...
18 May 2018

Insight DIY is the only source of market information that I need and they always have the latest news before anyone else.

Neil Anderton - Sales Director, British Ceramic Tile