UK DIY News
75% Of High Street Independents Call For Free Council Car Parking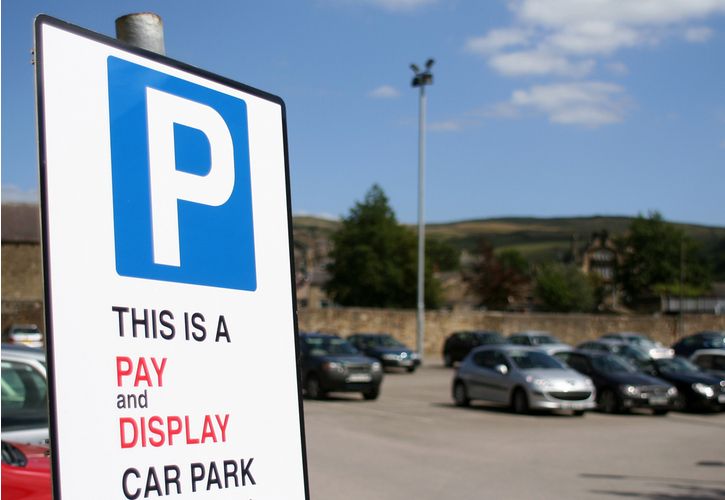 After one of the toughest years for UK high streets, local businesses are calling for councils to introduce a car park cost cutting scheme to help them survive the festive period, as latest research reveals three quarters (75%) of businesses think that free or discounted council parking could help bring shoppers back to the high street to complete their Christmas shopping now lockdown is lifted.
When asked what would bring locals back to their high streets, a large proportion of businesses cited car park cost-cutting schemes as the key to driving more footfall. This was considered more important than food and drink discount initiatives, such as 'Eat Out to Help Out'.
One in three (27%) business owners believe expensive car parking will put people off getting in their car and hitting the high street to do their Christmas shopping.
SME research from takepayments found that working from home (82%) and expensive car parks (27%) are two of the top three reasons why people aren't visiting the high street. The other reason stated was online shopping (74%).
What UK businesses think councils could do to encourage people to visit the high street
Discounted parking (40%)
Free parking (35%)
Shopping vouchers (25%)
Improvements on the high street (such as lighting, outdoor space) (24%)
Food or drink incentive schemes (19%)
Discounted or free public transport (18%)
Increased hygiene on the high street (6%)
With lockdown lifting, businesses are calling on councils to consider discounted or free parking for workers and shoppers, as 65% state they would benefit most from a weekday scheme. The devastating impact of Coronavirus on the nation's high streets is clear to see. Nearly two thirds (62%) of those surveyed said they saw a drop in sales after the Government announced working-from-home restrictions whilst the second national lockdown knocked hope of clawing back sales through Christmas shoppers. The full breakdown of the survey findings are available to view here.
Less than a quarter confidently stated that they thought their local council was doing everything they can to encourage people to return to the high street pre-lockdown.
Rachel Thomas owner of Parades Ends Books, an independent book shop located in Kingston, London, was due to open her doors in November however the second national lockdown delayed this. Rachel said:
"I have had to open my bookshop for click and collect due to the lockdown. If there had not been a lockdown then I could have opened my doors properly for browsing in the shop. Instead I have had to sell via online through my website. Sales are of course affected as click and collect only brings a small portion of income compared to coming into a bookstore. The whole point of independent bookshops is the experience of being in a physical bookshop and browsing and getting recommendations from staff and buying physical books.
I do feel that a free or at discounted parking would help bring people to the high street to help businesses make as much revenue as they can for Christmas, as well as further improvements to the high street."
However, even though the consensus is that councils aren't doing enough to accommodate high street shoppers, research shows that private car parks are far more obstructive.
A new UK City Car Park Cost Index reveals that private car parks are significantly more expensive than council car parks in 17 of the UK's 20 largest cities.
The UK's MOST expensive cities for car parks
Based on the average cost of the five council and five private car parks nearest to the main high street or shopping district for 1-hour parking during weekdays.
Belfast has the cheapest council car park in the UK, charging just £0.96p per hour.
This statistic is in stark contrast to cities like London, which unsurprisingly bears the most expensive rate of £4.90 per hour.
Outside of London, Bristol and Sheffield's council car parks charge £2.88 and £1.92 less than the average private car park respectively.
On average, high street shoppers can save £1.21 per hour by using council car parks over private ones.
Only private car parks in Edinburgh, Birmingham, and Norwich charge less on average per hour than those belonging to the local authority – although this cost difference never rose higher than £0.66p.
UK cities most expensive council car parks per hour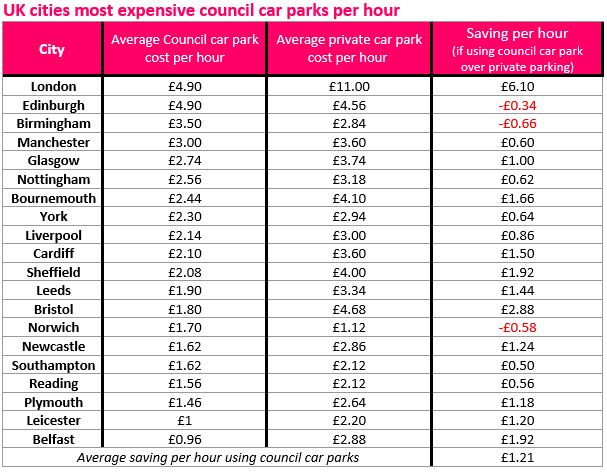 UK cities most expensive private car parks per hour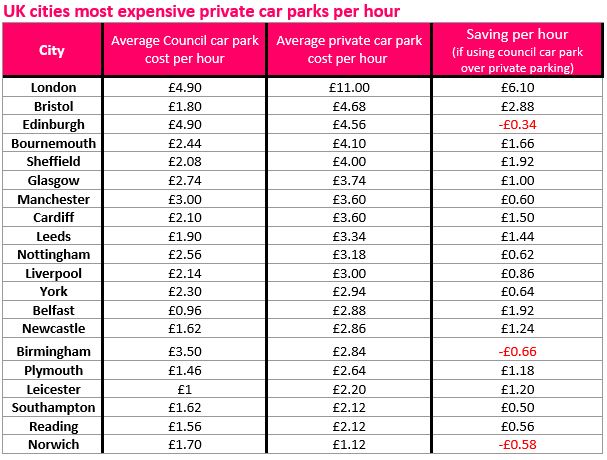 To see a map of car park costs in your city visit the UK City Car Park Cost Index .
Councillor Andy D'Agorne, Deputy Leader of the York Council and Executive Member for Transport said:
"While York has a world-class park and ride service with electric buses to allow visitors to stay as long as they like for £3.30pp day return, it is heartening to see that our city centre offer is also attractive compared to private sector parking in the city centre."
"After the first UK lockdown, we offered one hour of free parking in several of our car parks. York has recovered far better than many places with footfall at 70% of normal, together with temporary provisions of wider 'footstreet' areas allowing cafes and restaurants to offer outside service in the historic streets."
Sandi Rowley, Head of Marketing at takepayments Limited said,
"Cost friendly parking has always played an integral part in people's commuting and leisure decisions. It now plays a crucial part in helping businesses survive their toughest Christmas yet. Council parking has offered reasonable prices whilst private parking owners operate at an elevated cost in most cases.
Businesses still need further support from councils to help reinvigorate the high street and parking incentives should be a priority, according to the businesses that are suffering from the effects of two national lockdowns.
A cost cutting scheme is needed to help these businesses survive what should have been their busiest time for trading. When you look at the top three reasons that are causing a quiet high street - working from home, access to online shopping and expensive car parking – the parking is one that we can most easily address whilst still following Government guidelines and keeping people safe during the pandemic."
Source : takepayments
For all the very latest news and intelligence on the UK's largest home improvement and garden retailers, sign up for the Insight DIY weekly newsletter.
11 December 2020

Insight provides a host of information I need on many of our company's largest customers. I use this information regularly with my team, both at a local level as well as with our other international operations. It's extremely useful when sharing market intelligence information with our corporate office.

Paul Boyce - European CEO, QEP Ltd.