UK DIY News
Adwords Reveal Standout Bathroom Colour Trends Of 2021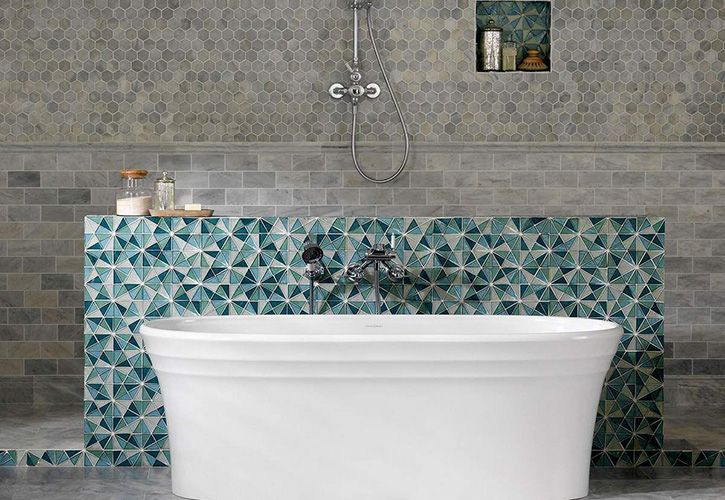 In the modern world, your bathroom is a chance to escape from the fast-paced life and slow things down for a small window of time. Whether it's fixtures and fittings, or simply just a lick of paint, every decision matters – starting with colour choices.
Some colour trends seem to last for generations, while some disappear as quickly as they came. Whether you're all aboard the millennial pink hype, or simply hoping for a resurgence of the avocado bathroom suite of yesteryear, incorporating colour is one of the most innovative ways to update your bathroom. Brits are also becoming more daring with colour as we look to create an Instagrammable, relaxing space.
With the Coronavirus pandemic contributing a surge in the amount of people improving their homes, the team at Sanctuary Bathrooms have combined their own expertise with other interior experts to give you the lowdown on the top five coloured bathroom ideas that people are searching for in 2021 so far* and how to incorporate them into your home.
1) Burgundy
Experiencing a surge of 300% this year so far, burgundy bathroom ideas came out on top as the bathroom shade that Brits are searching for, but how can you incorporate it in a tasteful way?
Richard Roberts, Director of Sanctuary Bathrooms advises: "A full burgundy bathroom might not be the savviest investment as a full deep red suite can easily overpower a space, transforming your bathroom into the opposite of the relaxing haven you want it to be. Feature walls are not usually linked with bathrooms but there's a definite trend towards being more adventurous with colour, so burgundy may be a good choice if you are looking to try this."
Lucy Ackroyd, Head of Design at Christy adds: "To incorporate burgundy in a softer way, opt for strategically placed key accessories such as a bath mat and towels to add a pop of this trending shade."
2) Mint
Mint bathroom ideas come in second place as one of the key potential bathroom colour trends this year with an increase in searches of 200% in 2021.
Richard comments: "Mint is the perfect shade to create an invigorating and uplifting bathroom, which feels especially fitting in the springtime.
"When incorporating mint into a bathroom, focus on the flooring and window dressings which will allow the tone to bounce around the room. Mint green subway tiles on walls or green patterned mosaic tiles on floors can both complement a classic white suite beautifully."
Jason Peterkin, director at 247 Blinds adds: "Mint green shutters are a great way to bring a pop of colour and vibrancy into the home, especially in rooms where you may not feel comfortable decorating the whole space in a bright colour."
Image credit: Sanctuary Bathrooms
Green takes third place with an uplift of 140% this year so far, and has had a real surge from previous years with searches almost tripling in January and February this year compared to 2019. But what's the best way to introduce green without having a 70's style avocado suite disaster on your hands?
Richard advises: "Green is often associated strongly with health, wellbeing and nature so it is unsurprising that this colour is heavily trending at the moment and more people are searching for green bathroom ideas. Many people are looking to green to help create their own spa-like experience in their own home.
"Green pairs itself well with wooden tones, whites and pale colours or equally with darker tones such as black fixtures and fittings if you're feeling a little more daring. One of the simplest and cheapest ways to incorporate green into a bathroom is through adding in lots of plants. Not only are plants lovely to look at, adding greenery into a room can also help oxygenate the space and be mentally stimulating too."
If you want to go a step bolder, try adding in a statement green feature wall. Sofia Charalambous, Founder of Bathroom Origins, points out that a contributory factor in green is the search for soothing colours: "Even before the year we've had to endure, people were looking for soothing colours, especially for the bathroom, which has become our haven, our retreat. We're not surprised to see that green in all its permutations is growing in popularity. It's a colour from nature, bringing the outside."
4) Black
Black is another colour riding the crest of a popularity wave for bathroom ideas this year, with a 116% increase in searches, growing from just 320 average searches to 1,900 so far in 2021.
Richard comments: "Black can be the perfect statement colour in a bathroom and works well in both sleek, modern spaces and traditional period properties.
"Black is great with brighter tones, such as white, but has also seen a real surge when it comes to being used alongside different metallic hues, such as brushed brass instead of chrome. When using black, try sticking to monochromatic shades of black, white and grey tones to really embrace the theme. Opt for pieces that will never really go out of style, such as a crittall style shower and wall mounted matt black taps for the ultimate in bathroom chic."
Nick Graville, Sales & Marketing Director at Kudos Showers adds: "Black continues to prevail, being a strong robust colour, with more accessories, brassware and coordinating components allowing a complete theme."
Image credit: Sanctuary Bathrooms
Lemon, coral and tan bathroom ideas round off the top five, all coming out with an equal 100% growth in searches compared to 2020.
Neutrals such as tan are always in vogue, regardless of the current trends, working particularly well in rustic settings such as a farmhouse or a country cottage.
Lemon and coral, however, prove that we're ditching the dull this year, with Juan Pillay at Crosswater commenting: "Homeowners are definitely getting braver - with consumers now experimenting with daring shades."
Richard adds: "The surge in searches for lemon and coral bathrooms shows that after an incredibly challenging year, we're choosing to harness our own sunshine all year round by surrounding ourselves with bright, positive colours in our homes."
"Whether you choose to go bold with a big yellow bath or reign it in with pops of lemon or coral towels, adding a burst of bright colour can do wonders for your mood!"
Image credit: Sanctuary Bathrooms
*All search data compiled via Google Adwords, comparing the colour 'bathroom ideas' (e.g. red bathroom ideas) so far in 2021 vs 2020
Source : Sanctuary Bathrooms
For all the very latest news and intelligence on the UK's largest home improvement and garden retailers, sign up for the Insight DIY weekly newsletter.
15 April 2021

Thank you for the excellent presentation that you gave at Woodbury Park on Thursday morning. It was very interesting and thought-provoking for our Retail members. The feedback has been excellent.


Martin Elliott. Chief Executive - Home Hardware.