International DIY News
Amazon Opens New 4-Star Store in Seattle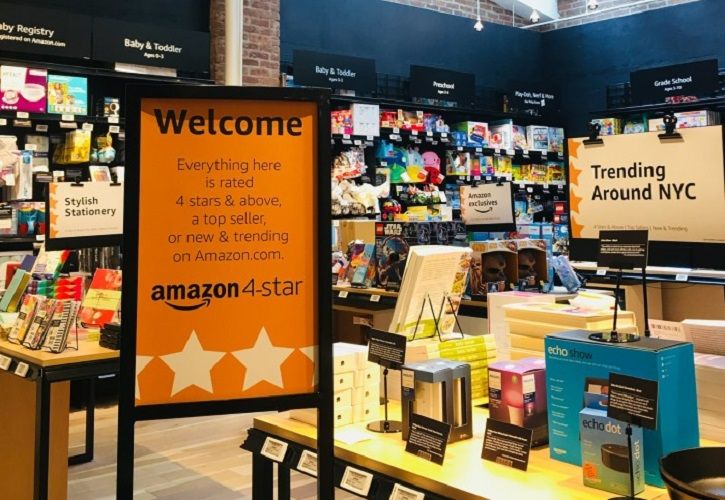 Amazon has opened its fourth Amazon 4-star store; its first in Seattle.
Located at 2101 Westlake Avenue in Denny Regrade neighborhood near South Lake Union, Amazon 4-star is a place to discover products you'll love. The store is curated around customers—what they're loving and buying online. In store, you can find the latest electronics and Amazon devices, toys, and games, shop our books, home, and kitchen sections and browse features like "Topsellers from Amazon.com," "To Dorm and Beyond," and "Go Out and Play." Everything in store has been hand-selected by our curators and is loved by customers. Collectively, the products in store have received more than 2.6 million 5 star reviews and have an average star rating of 4.34.
This store joins our three other Amazon 4-star locations in New York City, Berkeley, CA and Lone Tree, CO–just outside of Denver, as well as the broader network of Amazon physical stores including Amazon Books, Amazon Go, 'presented by Amazon' and Whole Foods Markets.
Here are some of the most commonly asked questions about Amazon 4-star:
What is Amazon 4-star?
Amazon 4-star is a store designed to help customers discover products they will love. It's a physical store that carries a highly curated selection of products from the top categories across Amazon.com including devices, consumer electronics, toys, games, books, kitchen, home, and more. Every product in the store is rated 4 stars and above by our customers, is a top seller, or is new and trending on Amazon.com.
What can you buy at Amazon 4-star?
Amazon 4-star is built around our customers – what they're buying and what they're loving. We've stocked it with products for your everyday needs as well as those a bit more extraordinary. We've got coffee mugs and office pens, speakers and headphones, notebooks and dog bowls, as well as the latest Amazon devices. We also have toys and games that will have you and your family laughing into the night, the latest cooking gadgets and cookbooks to make you feel like a true chef, or an electronic turntable when you want to bust our your vinyls.
What kind of things are not at Amazon 4-star?
Currently, you won't find any food! But, customers can visit any of our 15 Amazon Go stores or the vast network of Whole Foods Markets across the country.
How is it different from Amazon Go or Amazon Books?
Like Amazon Books, Amazon 4-star is designed all around customer discovery. We are an extension of Amazon.com, and have filled out stores with familiar product groupings like you would see online. This includes a "Most-Wished-For" section, "If You Like, Then You'll Love" pairings, "Highly-Rated" tables, and more. Unlike Amazon Go, we do not have "Just Walk Out" technology. We encourage customers to browse and explore as long as they need to discover great products.
How big is the store?
Amazon 4-star in the Denny Regrade neighborhood near South Lake Union is approximately 4,000 square feet.
Is Amazon 4-star open to the public?
Everyone is welcome to shop at Amazon 4-star. We look forward to seeing you in store soon.
Are there benefits to shopping at Amazon 4-star if I'm a Prime member?
Definitely! Prime members pay the same low Amazon.com prices in-store as they can get on Amazon.com for items sold by Amazon.
Am I allowed to shop at Amazon 4-star if I'm not a Prime member?
Absolutely! Amazon 4-star is for everyone. Prime members do get the Prime price discussed above, but non-Prime members can expect to pay the Prime price for all Amazon devices, and list price for all other products in store. Digital price tags alongside every product in store enable customers to see not only the Prime price and list price, but also Prime member savings, the average star rating, and the number of reviews a product has received – the most important things that customers have told us they want to know. Eligible customers who aren't already Prime members can sign up for a free 30-day trial in store and instantly receive Prime pricing.
How do I pay for items? What's the checkout experience?
After you discover products you love, you visit our check out registers toward the front of the store. We accept a variety of payment methods, including Amazon Pay via our mobile shopping app, Amazon gift cards, Amazon Cash, as well as Visa, MasterCard, American Express, and Discover.
Are there other Amazon 4-star stores? Where are they?
Yes! We have stores in SoHo, New York City; Berkeley, CA; and, Lone Tree, CO–outside of Denver.
Why not open a 5-star store?
As with any device or product, there will be a range of customer opinions, but anything that achieves an average of 4 stars or above demonstrates a consistent thumbs up from our customers. Many of the products in Amazon 4-star are rated higher than 4 stars.
Source: Insight DIY Team and Amazon
Images: All photographs by Jordan Stead
For all the very latest news and intelligence on the UK's largest home improvement and garden retailers, sign up for the Insight DIY weekly newsletter.
21 August 2019

Insight DIY is the only source of market information that I need and they always have the latest news before anyone else.

Neil Anderton - Sales Director, British Ceramic Tile