UK DIY News
Apple Pay service will be available in the UK in July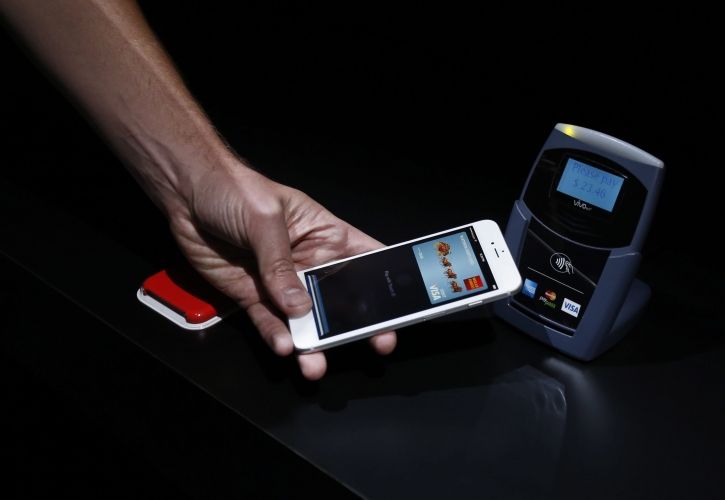 Almost nine months since Apple Pay launched in the US, the tech giant is bringing it to the UK. From next month, people will be able to use their iPhones and Apple Watches to pay for items in 250,000 locations simply by touching them on a reader.
This includes M&S, Costa, Boots, Lidl and even on the London transport network.
Tourists, for example, can already use Apple Pay in London.
The announcement was made by senior vice president of Hardware Engineering at Apple, Jennifer Bailey, at its annual Worldwide Developer's Conference in San Francisco.
Ms Bailey also announced Apple is renaming Passbook to Wallet.
At launch, eight of the major British banks will support Apple Pay, including HSBC, Santander and Nationwide.
Tony Prestedge, Nationwide's chief operating officer, said: 'Over the last year we have seen developments in mobile technology cement digital banking as an essential part of our members' daily lives.
'With Apple Pay, Nationwide customers will have even greater choice offering more ease, security and privacy in the way they purchase goods and services, highlighting the commitment to finding new innovative ways to help members manage their money at a time, in a place and in a way which suits them.'
And by the Autumn, Apple Pay will work with nearly 70 per cent of credit and debit cards in the UK when Halifax, Lloyds Bank and the Bank of Scotland are among the other banks added to the list.
As when the service launched in the US, users will be able to store their bank, discount and loyalty card details in their Wallet and use this stored information to pay for goods.
Apple Pay works by holding the phone up to a card reader and pressing a finger on the TouchID button.
This confirms the person's identity, and the payment is made as if the user had presented and signed their card.
All details are encrypted and the system stores payment information securely. If an iPhone is lost, users can suspend all payments via the Find my iPhone service.
Although mobile operators and banks have been fighting to launch contactless mobile payments in Britain for a long time, they have so far not succeeded due to industry infighting and lack of consumer enthusiasm.
But with Apple backing the campaign, it finally has the necessary weight to become a reality.
Apple has been in talks with banks and retailers for the launch since last year.
The iPhone currently accounts for more than 40 per cent of smartphone sales in the UK, and almost any technological development Apple makes inevitably becomes a 'must-have'.
Investment in contactless debit and credit card payment technology has already paved the way for Apple Pay, as much of the necessary infrastructure is already in place.
And Apple introduced NFC and contactless payments with the launch of its iPhone 6 and iPhone 6 Plus.
Commenting on the news, Anthony Duffy, director of retail banking in UK and Ireland at Fujitsu said: 'Apple Pay's announcement that it will land in the UK this summer is exciting and to be welcomed. It is likely to act as a major stimulus in the development of electronic wallets in Britain.
It will also provide Apple with a head start over rivals Android Pay and Samsung Pay, neither of which have announced plans yet to enter the UK market.
'Those who are already familiar with using contactless payments will soon find that using an electronic wallet via their mobile phone is a simple and logical next step.
'However, others may be concerned by perceived security issues.
'For this reason, the industry will look to continue its twin approaches of deploying state-of-the art security and communicating its risk mitigation approaches to both current and prospective users.'
Source : Victoria Woollaston
www.dailymail.co.uk/sciencetech/article-3115795/Apple-Pay-coming-UK-July-Contactless-service-available-250-000-locations-including-London-transport.html
09 June 2015

Insight DIY always publishes the latest news stories before anyone else and we find it to be an invaluable source of customer and market information.

Max Crosby Browne - CEO, Home Decor