Digital Retail News
Barclaycard expands range of 'bPay' wearable payment devices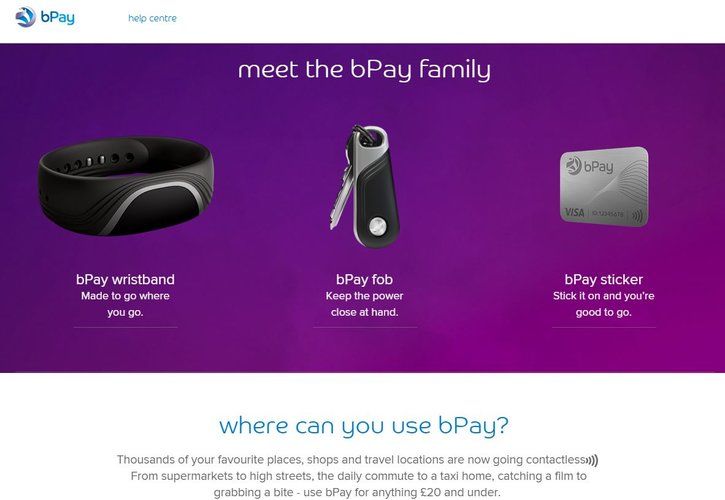 Barclaycard is to roll out a range of wearable payment devices that can be used to make 'touch and go' contactless payments across the UK, following a successful launch of its bPay band last year.
bPay will consist of a digital wallet that is linked to one of three devices – a wristband, fob and sticker – and used to pay for transactions up to the value of £20, rising to £30 when the contactless payment limit is increased in September, at over 300,000 locations across the UK.
- The bPay wristband has been designed to be close to hand for convenience. It's also adjustable and durable with secure fastening for comfort and security.
The bPay fob can be attached to a key ring or bag and keeps the power of contactless close by.
- The bPay sticker can turn anything into a contactless way to pay – a discreet, secure sticker that can be put on any flat surface, allowing you to fully personalise what and how you pay.
- bPay takes contactless technology and transforms it into a new way for people to pay and move through their everyday lives. The devices are ideal for commuters – making using public transport quicker; for shoppers – making paying with your hands full easier; for sports and fitness fans – allowing them to leave their cards and cash at home; and for parents – giving the kids their own way of paying on family days out.
Available to anyone with a UK-registered Visa or MasterCard debit or credit card, not just Barclaycard and Barclays customers, users will be able to add funds to their wallet 'on the go' using the mobile app, online through a brand new portal, or set their account to top-up automatically when their balance falls below a pre-set level.
The new online portal and multi-platform app will allow bPay users to manage their device and account wherever they are. The 'intelligent' app will allow users to view their transactions in real-time, transfer funds to their digital wallet on the go, and manage each of their devices' settings.
The bPay band was first launched in June 2014 at the Pride in London festival and Barclaycard presents British Summer Time in Hyde Park. Registrations for the band spiked following Transport for London going contactless in September last year, as commuters took advantage of the ease and speed of boarding a bus or jumping on a tube with just a wave of their wrist.
Devices will go on sale online on the brand new bPay e-store at www.bpay.co.uk from 1st July. For the first time, consumers will also be able to buy a Barclaycard product on the high street, as the bPay wristband and fob will go on sale at some of the best-known high street stores from August – including select CycleSurgery and Runners Need outlets, part of the Snow + Rock Group.
Prices are £14.99 for the bPay sticker, £19.99 for the bPay fob and £24.99 for the bPay band. The wallet and devices will be free to use, with no transaction, usage or top-up fees for consumers, including when used abroad. Anyone over the age of twelve can use bPay.
Safer than carrying cash and just as secure as any credit and debit card, all payments come with the same fraud protection that is applied to contactless cards. If lost or stolen, users can remotely shut down their device via the bPay mobile app or bPay website, or by contacting the bPay team.
The expansion of bPay comes as contactless payments have been widely adopted amongst the UK public. According to the UK Cards Association, contactless payments rose 331 per cent year-on-year in 2014 with the public making 319m contactless transactions with a total value of £2.32 billion using the technology.
Mike Saunders, Managing Director, Digital Consumer Payments at Barclaycard said:
"We're in the midst of a sweeping change in the way we pay, with cash-dominated transactions being replaced by 'touch and go' contactless technology that has made it easier, safer and faster to make low-value payments.
"The launch of our bPay band last year was an evolutionary step for the business, with highly positive customer feedback. People told us they are looking for new ways to pay that offer greater flexibility and choice, and fit better with different lifestyles. So we're building on this success with our expanded bPay proposition, and have produced a range of wearable products that you can use to pay for everything in your day – from travelling to work and grabbing a coffee, to buying your lunch or picking up groceries from the supermarket.
"We're leading the innovation that will enable everyone to pay in a convenient, flexible, and secure way."
Trudy Hills, Commercial Director, Snow + Rock Group said:
"We've been impressed with the speed and convenience of paying with bPay, so we're very excited about our partnership with Barclaycard. The bPay range allows us to offer our on-the-go sports enthusiasts an easy way to pay – whether they're running, climbing, cycling or just going about their busy lives."
bPay products will be issued exclusively on the Visa network.
Kevin Jenkins, UK & Ireland Managing Director Visa Europe, said:
"bPay is a clear example of the reality of payments in the UK today. The British public is embracing digital ways to pay because they value the benefits of doing so: security, convenience and speed.
"From our own research we know consumers see their bank as a key provider of this kind of innovation. Going forward the challenge is to continue to answer this demand. As a nation we are already a world leader in designing and building payments. Ideas like bPay can help ensure we remain that way."
Source : Barclaycard
www.barclaycard.com/news/bpay-range-of-wearable-payments-devices-expands.html
30 June 2015

Thank you for the excellent presentation that you gave at Woodbury Park on Thursday morning. It was very interesting and thought-provoking for our Retail members. The feedback has been excellent.


Martin Elliott. Chief Executive - Home Hardware.