UK DIY News
BHS files for administration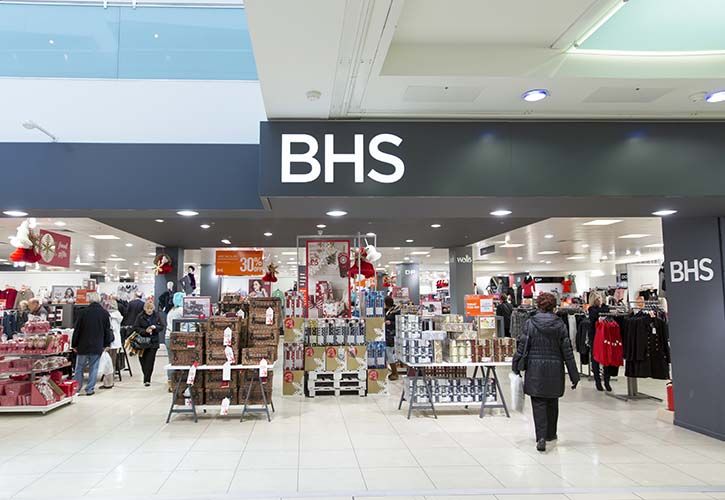 High Street retailer British Home Stores (BHS) has filed for administration, putting 164 shops and almost 11,000 jobs at risk.
Administrators Duff & Phelps will now try to find a buyer for all or part of the 88-year old business, but in the meantime BHS will continue to trade.
They said BHS had "no alternative but to put the group into administration".
Meanwhile the pensions regulator said it would investigate whether the group's pension obligations were met.
If a buyer for BHS is not found, it would be the biggest High Street collapse since Woolworths in 2008.
"The group has been undergoing restructuring and, as has been widely reported, the shareholders have been in negotiations to find a buyer for the business," administrators Philip Duffy and Benjamin Wiles, of Duff & Phelps, said in a statement.
"These negotiations have been unsuccessful," they said.
"The group will continue to trade as usual whilst the administrators seek to sell it as a going concern," they added.
As far as gift vouchers are concerned, BHS said they would still be valid but may only be used for 50% of the value of the purchase. For example, to use a £10 voucher, a customer would need to buy at least £20 worth of products.
Part of what has put off buyers so far is the company's huge pensions debt. The Pensions Regulator is now looking into whether the company deliberately avoided its pension obligations, leaving a rescue team to pick up the tab.
"We can confirm that we are undertaking an investigation into the BHS pensions scheme to determine whether it would be appropriate to use our anti-avoidance powers," a spokesman said.
It said this would be a long and complex process and refused to confirm any targets of the investigation.
Debts
The company, which has debts of more than £1.3bn, decided to bring in administrators after talks to sell some of its 164 UK stores to Sports Direct collapsed over the weekend.
Last year, Retail Acquisitions, a consortium of financiers, bought BHS from the retail entrepreneur Sir Philip Green for £1.
At the time, Retail Acquisitions said they would deliver £160m of funding to help turn around the fortunes of the chain, but have not been able to raise the sum.
What is administration?
BHS has now gone into administration, but what does the process involve? Administrators Duff & Phelps will take over day-to-day control of BHS from the current management team.
Their main job will then be to repay people who are owed money by the company. They will immediately review BHS's books and assess what support there is to keep the business trading.
After that they have three options:
- Rescue the company as a 'going concern' - defined as a company that can operate for 12 months without going insolvent; or
- Generate more money for BHS's creditors than if the company were closed completely; or
- Sell property to repay creditors
In practice, the process is likely to involve selling off much of the stock and the leases that BHS owns. The worst outcome, though, would see the company shut down and BHS disappear from the High Street.

'A bit dated'
Phil Dorrell, a retail analyst, told the BBC that going into administration "doesn't mean the stores close today, it means a buyer is sought".
The likelihood is BHS will be sold off "store by store" and "that probably means the name will disappear", said Mr Dorrell, managing partner at Retail Remedy.
"The problem is their trading offer is in the 1980s," he said. "Their stores look a bit dated. They are behind the times."
Last month, the brand was rescued from the brink after creditors voted to accept a cut in the rent bill for about half of its stores.
Despite the rent deal, BHS warned that it needed extra funding to continue trading.
It had been due to announce a new £60m loan last week, but failed to do so.
Separately, Retail Acquisitions had been hoping to raise £100m from property transactions.
They sold their Oxford Street lease in London for £30m but it was far less than they hoped for. And they also sold the lease on a Sunderland store to Sports Direct's Mike Ashley for £2m.
'Sincerely sorry'
In a letter to staff, BHS owner Dominic Chappell said: "It is with a deep heart that I have to report, despite a massive effort from the team, we have been unable to secure a funder or a trade sale."
Mr Chappell said he was "sincerely sorry" and assured staff they would be paid their wages this month.
He added: "I would like to say it has been a real pleasure working with all of you on the BHS project, one I will never forget.
"You all need to keep your heads held high, you all have done a great job, but remember that it was always going to be very very hard to turn around."
Business minister Anna Soubry is expected to make an urgent statement in the House of Commons on BHS later.
Business secretary Sajid Javid said: "Worrying news for BHS workers this morning.
"Government is in close contact with the company's management at this difficult time."
Source : BBC News
www.bbc.co.uk/news/business-36123444

Analyst Comment:
Hannah Maundrell, editor in chief at www.money.co.uk gave us her views:
"It's really sad news for the struggling high street giant but unfortunately it's no great shock. BHS simply hasn't kept up with the fierce competition super-retailers now face. I fear this could be the first of many chains to fall victim of our obsession with online shopping. Their struggles really highlights the importance of identifying a niche and relentlessly pursuing your target market.
"For the moment the stores are still open as usual but it's worth spending gift vouchers in store ASAP – we've seen other retailers in similar situations start to refuse them before. If you shop for items over £100 pay on a credit card and anything under £100 on a MasterCard or Visa debit card to protect yourself in case you need to return it in the future and can't go back to BHS.
"For employees of BHS its worrying times and my thoughts go out to them. Now is the time to make sure you know your rights so you get what you are entitled to if the worst does happen. Be prepared just in case: sort out your finances, dig out income protection policies and steel yourself and your bank balance for the potential stormy times ahead."
Here's our guide; Your rights if a retailer goes into administration:
http://www.money.co.uk/guides/your-rights-if-a-retailer-goes-into-administration.htm
Here's our guide; Your redundancy rights:
http://www.money.co.uk/guides/your-redundancy-rights.htm"
Source : Money.co.uk
To advertise on the Insight DIY website and download our media pack, click here.
Sign-up for our weekly newsletter here.
25 April 2016

Insight DIY always publishes the latest news stories before anyone else and we find it to be an invaluable source of customer and market information.

Max Crosby Browne - CEO, Home Decor