UK DIY News
Bunnings takes the honours again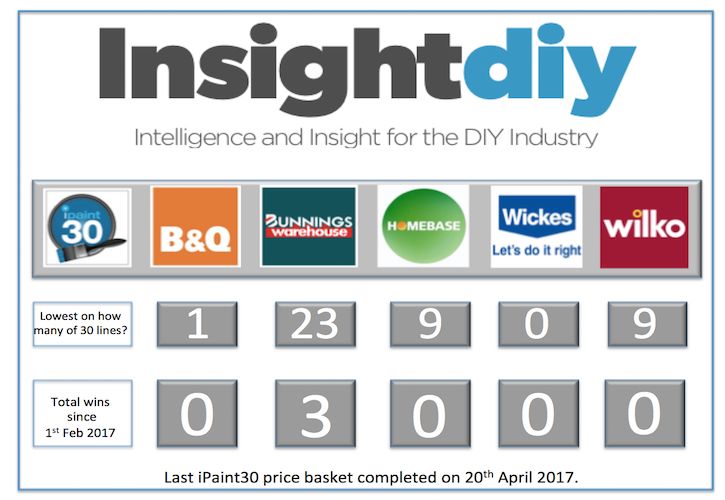 With the peak Easter trading period already behind us, we thought it'd be interesting to once again track the competitiveness of the key home improvement retailers. Last Thursday 20th April, we updated both the iPaint30 and iGarden30 price baskets across the list of featured retailers.
Once again Bunnings takes the honours across both baskets, having been the most competitively priced home improvement and garden retailer since their first store opened at the beginning of February 2017.
iPaint30 - The iPaint30 basket consists of 30 directly comparable decorating project lines (both branded and own brand paint and decorating accessories) across B&Q, Homebase, Wickes, Wilko and the new Bunnings stores in St.Albans.
iGarden30 – The iGarden30 consists of 30 directly comparable garden project lines (garden tools, lawn and plant care, garden storage, landscaping and fencing) across B&Q, Homebase, Wickes, Wyevale and Bunnings.
In each case, the basket includes many of the fastest selling, most important and profitable products stocked by the major retailers. The basket consists of either 'exact match' lines i.e. identical barcodes, or 'direct match' i.e. from a consumer perspective the product would be seen as directly comparable both in terms of specification and purpose.
By tracking the same products week in week out, it not only provides a valuable insight into the true competitiveness of each retailer and their promotional strategies, but it also provides for the first time, a clear indication of how inflation is starting to impact on these categories.
The Results
To have access to the results of the audits completed on 20th April, including full access to the baskets and the line by line detail of the products being compared, the cost is £250 plus vat.
For this, the baskets will be emailed to you every two weeks between now and 31st August 2017. Payment can be made either by invoice or via credit card. To go ahead or ask any questions, email me at steve@irg.co.uk.
Bespoke Baskets
If you would like us to design and build a basket for your particular category, comparing your own list of products and specific retailers, then get in touch today, just email me at steve@irg.co.uk
Source: Steve Collinge – MD Insight Retail Group Ltd.
25 April 2017

Thank you for the excellent presentation that you gave at Woodbury Park on Thursday morning. It was very interesting and thought-provoking for our Retail members. The feedback has been excellent.


Martin Elliott. Chief Executive - Home Hardware.