International DIY News
Bunnings to launch transactional website down-under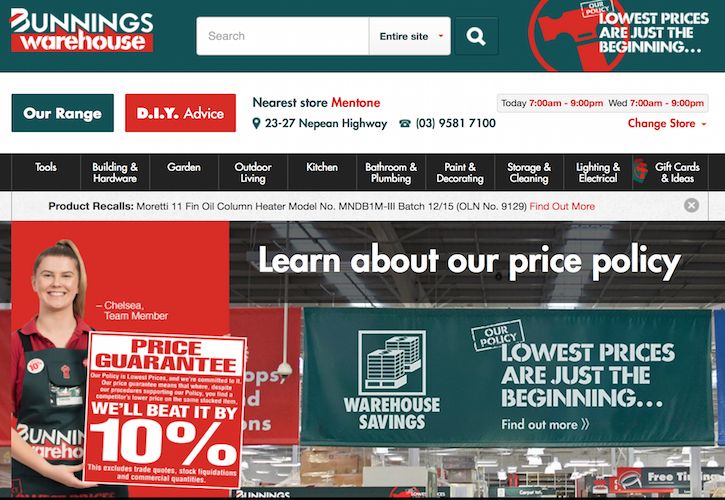 Media websites down-under are reporting that Bunnings is finally planning to launch a transactional website for their Australia customers, but initially, it will only sell the company's 'Special Orders' range.
At the moment, the Special Orders Range, consisting of 20,000 products isn't in store and is only available if you have products sent to your local store for pick-up.
Brian Walker from the Retail Doctor Group told news.com.au that this new online store will help Bunnings' when Amazon fully launches in Australia.
"We all know that retail is undergoing a rapid transformation — it's much more about bringing products to customers, not customers to shops.
"A new retail ecosystem is being built. Retailers can now do business anywhere in the world 24 hours a day, and the integration of physical stores and online, which is what we're seeing with Bunnings, is a step in that direction. In order to build that ecosystem, retailers need a great physical environment that inspires, educates and entertains, as well as complementary channels to market."
Bunnings' managing director Michael Schneider told news.com.au that the new online store will give customers more access to the store's products and will make it easier for them to continue their renovations.
"Over many years Bunnings has built a digital ecosystem to provide customers with information and inspiration for projects around their homes. We continue to evolve our digital offer, and from early 2018 customers will be able to purchase our special orders range online. This will give customers more convenient access to thousands of products from our suppliers that are currently only available to order in-store."
Analysis and Opinion - Steve Collinge
With Amazon.com.au having launched in Australia, all the major retailers are under real pressure to get their acts together to ensure they fight off the retail goliath. To date, being dominant market leader and being truly loved by the Australian public, Bunnings haven't put a foot wrong and have lived very happily thank you without a transactional website. In fact, launching a transactional website when not really necessary, may have simply impacted on store footfall and dramatically increased their logistics costs (just think how far those parcels would have to travel).
Bunnings.com.au is currently one of the most visited websites in the country and is used very effectively by the company to raise awareness of their comprehensive product offer, prices and to provide customer help. Until now, if you wanted to buy anything, the only option was to drop the product into a wish-list - for what purpose is rather baffling to a mere Pommie like me!
Anyway, they've decided they can't hold off any longer and in 2018, they will launch a transactional website, but wait a second, this will only be transactional for the 20,000 'special order' lines that you can't buy in-store. I guess it's a considered step and at least they're now heading in the right direction. All I can say is - don't under-estimate Amazon and for goodness sake, don't take the same misplaced arrogant approach you took when you purchased what is now the dogs breakfast known as Homebase.
Source: Steve Collinge, Insight DIY & News.com.au
For all the very latest news and intelligence on the UK's largest home and garden retailers, sign up for the Insight DIY newsletter today.
27 November 2017

Thank you for the excellent presentation that you gave at Woodbury Park on Thursday morning. It was very interesting and thought-provoking for our Retail members. The feedback has been excellent.


Martin Elliott. Chief Executive - Home Hardware.