UK DIY News
Buy tea and cake but nothing else!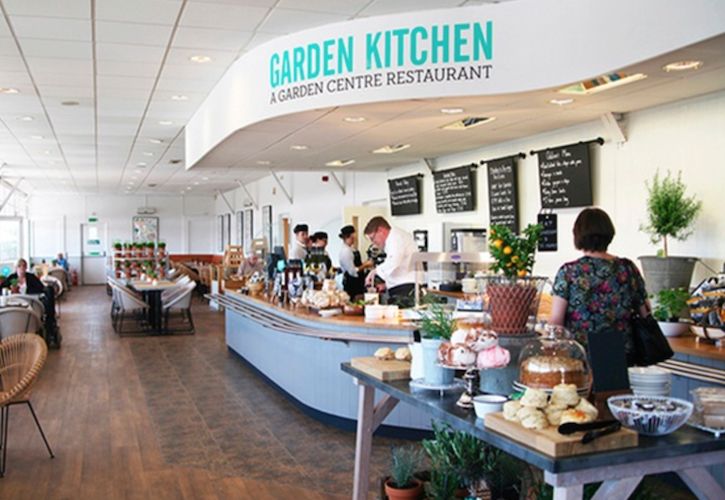 Last week we conducted the usual monthly audit on a basket of 30 best selling garden products that we call the iGarden30. The audit is completed across four retailers: B&Q, Homebase, Wickes and Wyevale or the Garden Centre Group or whatever it is they've decided to call themselves this week. The 30 products in the basket include a selection of brand and own-brand products including the best selling hand tools, the usual TV advertised, lawn and plant care products and some fences, log rolls and gravel thrown in for good measure.
The product, price and promotional information is obtained daily from the B&Q, Homebase and Wickes websites, using our innovative web-scraping software, which is currently tracking over 500,000 products from 26 different home improvement and home enhancement retailers.
However, in the case of the Garden Wyevale Group, we have to send one of our team members into store to obtain the prices. Now of course, that's not a particularly arduous task and when I brief the Minions on the task in hand, I always have at least 20 volunteers. I think it's the attraction of company paid for cake and tea served in a tea cup and saucer that really attracts them.
Anyway, once we got hold of the final basket comparison numbers last week, we were mightily surprised. The exact same basket was completed at the same point last year and it was the year on year changes that we spotted first.
In April 2015, of the four retailers, B&Q had the lowest basket at £271.17, with Wickes second at £292.11, Homebase third at £314.01and the Garden Group at £338.68. Comparing April 2016 to April 2015, the B&Q basket has decreased by 1%, Wickes has reduced by 10% Homebase has dropped by a whopping 21% and Wyevale has decided that they're not expensive enough, so they've increased their prices by 4%.
As a result the outcome has completely changed with Homebase achieving the lowest priced basket at £250.21, Wickes in second place at £261.84 and B&Q in a surprising third at £268.82.
With the new fitter, streamlined Homebase being fuelled by high-octane Bunnings BBQ gas, it's probably no surprise that they've taken the crown away from B&Q. Credit, where credit is due, that's quite an achievement for Homebase in only a three week period.
To download the results of the audit, click here.
By the way, if you'd like us to create a relevant basket of products for your business, contact us here.
But that's not actually the main purpose of this weeks article, it's all about Garden Centres and predominantly the Garden Wyevale Group of Centres Ltd.
To date, surprisingly, they don't have a fully transactional website and you can check-out what they do have here. They're not as bad as Bunnings in Australia, where all you can do is stick products into a wish-list. I guess that's so you can regularly revisit your growing list and just feel a bit sad and wish that you could have the real products? Not really sure how that works...
Anyway, the good news is that Wyevale is in the process of developing the much needed fully transactional website, a long overdue initiative and an obvious step for every retailer worth its salt. However, aside to the huge cost of developing the new website, there is another and (probably not yet fully considered) risk to their business.
In this week's iGarden30, you can purchase the full basket of best selling garden products from Wyevale for £350.23, £81 more than buying a basket of identical products from B&Q, £88 more than Wickes and a massive £100 more than Homebase! I'm guessing that this probably comes as a surprise to most people, as it certainly was to us.
It would also come as a surprise to the millions of consumers who regularly fill garden centres up and down the country at this time of year. Can you imagine if they actually knew, that on average Wyevale sold identical garden products at between 30% and 40% more than their competitors day in day out?
Well Wyevale needn't worry, as once consumers are in a garden centre, they get so swept away with the whole experience of pretty displays, tea and cake and the smell of chicken manure pellets that it really doesn't matter, they're going to buy loads of stuff anyway.
And the good thing is that when they're searching on-line for garden products on a Friday night before they decide to go out shopping at the weekend, Wyevale don't have a proper website anyway, so consumers will never see that they're so much more expensive than any other retailer anyway......oh dear.
And so my advice for this week - 'Go and have tea and cake, but think twice before you buy anything else'!
If you want to contribute to the discussion, send us your own article for consideration or just simply to send me abuse from an anonymous email address, please go ahead and email me atSteve@irg.co.uk.
Source: Steve Collinge - MD Insight Retail Group
For information on the Insight DIY retailer price monitoring services, click here.
To advertise on the Insight DIY website and download our media pack, click here.
Sign-up for our weekly newsletter here.
04 May 2016

Thank you for the excellent presentation that you gave at Woodbury Park on Thursday morning. It was very interesting and thought-provoking for our Retail members. The feedback has been excellent.


Martin Elliott. Chief Executive - Home Hardware.