UK DIY News
Carpetright reports a challenging first half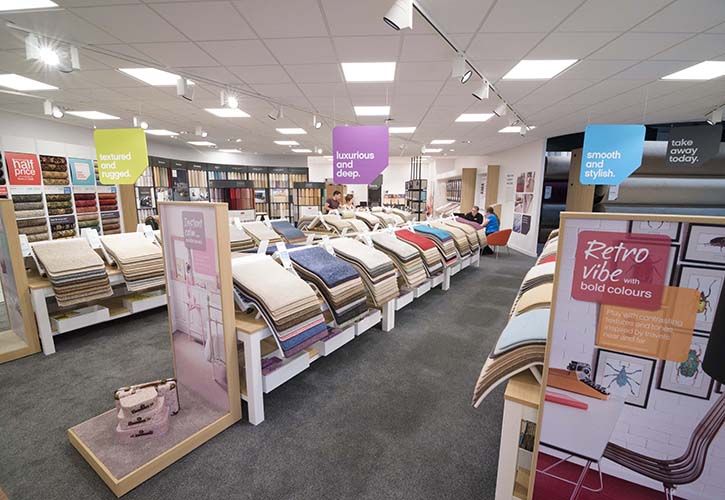 Carpetright has published an Interim Results Announcement for the 26 weeks ended 29 October 2016, stating: "Challenging first half - accelerating our plans to transform the business - encouraged by recent positive like-for-like trading."
Financial highlights
Group
Revenue decreased 3.8% to £222.3m (H1 FY16: £231.2m). (note 1)
Underlying profit before tax of £5.0m (H1 FY16: £9.0m). (note 2)
Net cash position of £0.4m at period end (H1 FY16: £4.1m). (note 4)
Comfortable with the range of market expectations for the Group's full year profit. (note 5)
Profit before tax of £4.1m (H1 FY16: £7.1m)
UK
Like-for-like sales declined by 2.9% (H1 FY16: +3.7%), reflecting uneven consumer demand in an increasingly competitive market. (notes 6, 7)
Underlying operating profit of £4.8m (H1 FY16: £9.4m)
Rest of Europe
Like-for-like sales decline of 1.5% in local currency (H1 FY16: +5.5%).
Improvement in underlying operating profit to £1.1m (H1 FY16: £0.6m).
Strategic Progress
At the end of the first half, we had 49 UK stores trading under the new brand identity, delivering sales growth above comparable stores in the rest of the estate. Our plan is to accelerate the programme to 150 stores by the end of the year, 50% more than the original target and over a third of the UK estate.
Sales benefiting from strategic focus on hard flooring, a category achieving double digit growth.
Focus on improving customer service - stronger satisfaction metrics being achieved.
Continued progress made in reducing the number of underperforming stores - net six closures to reduce the UK estate to 429 stores.
In the Rest of Europe, whilst the number of stores remained unchanged at 137, the trading space reduced by 3.2%.
Current Trading
We have had a promising start to the second half, with like-for-like sales in the UK up 2.6% in the six weeks to 10 December 2016. Rest of Europe has also made an encouraging start with like-for-like sales up 5.9%, on a local currency basis over the same period. This provides confidence that our strategy remains on track and will deliver.
Commenting on the results, Wilf Walsh, Chief Executive, said:The full publication can be found here.
"We have had a challenging first half - the full impact of the UK decision to leave the EU remains unclear; consumer demand remains uneven; the market is extremely competitive and the impact of currency movements have combined to give us substantial trading headwinds. To address these challenges and revitalise the business, we have a programme of activities underway, but these will take time to deliver their full effect.
"The positive impact at the initial 49 refurbished stores has given us the confidence to accelerate this part of the programme. We are now scheduling investment to 150 stores by the year end - 50% more than the original target and representing over one third of our UK estate.
"We have made an encouraging start to the second half with a return to like-for-like sales growth in both businesses. As we enter the important January trading period, we remain comfortable with the range of market expectations. Looking longer term, we are confident that our plan to build on Carpetright's strong foundations, to modernise the business and to ensure we capitalise as market leader to the full is still on track."

Source : Carpetright
www.carpetright.plc.uk

If your business is interested in pricing intelligence or you're currently trying to track retail prices manually, there really is a much easier way. Just contact us here.
Interested in advertising on Insight DIY? Learn more here.
13 December 2016

Insight DIY always publishes the latest news stories before anyone else and we find it to be an invaluable source of customer and market information.

Max Crosby Browne - CEO, Home Decor