UK DIY News
Consumer spending growth slows as outlook remains muted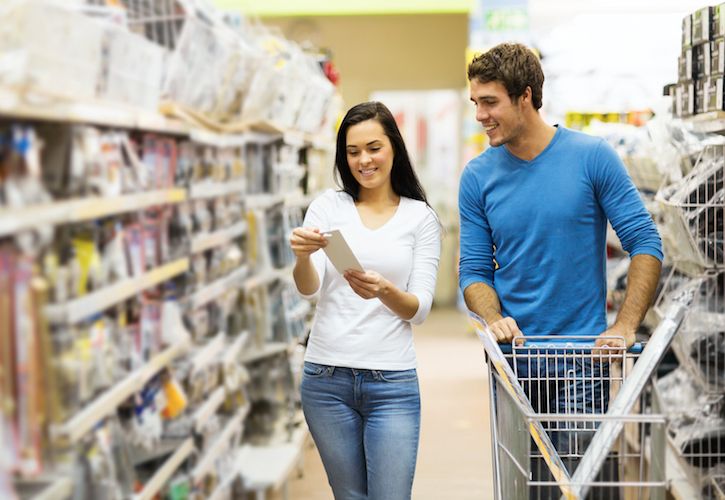 Consumer spending growth softened to 2.9 per cent year-on-year in August – below the 2017 average of 3.8 per cent – as Brits managed 'the squeeze' of higher inflation and subdued wage growth by shuffling their purchasing priorities.
Spending on entertainment (9.4 per cent) faltered slightly – with pubs and cinemas slowing – as shoppers shuffled their priorities to accommodate for increased expenditure in other areas, such as clothing (3 per cent). Just over half (54 per cent) of consumers feel confident in their household finances, down from a summertime high of 69 per cent in June – with 47 per cent saying they are 'feeling the squeeze' as a result of inflation
August's figure was in line with the three-month average (3 per cent), however, as household expenditure held steady to round out the summer. Data from Barclaycard, which sees nearly half of the nation's credit and debit card transactions, reveals that spending on essentials increased at its slowest rate in 12 months, as supermarket growth cooled to 2.4 from 3.1 per cent in July. Expenditure on the forecourt also hit the second-lowest figure since August 2016 (4.5 per cent) thanks to lower prices at the pump.
Non-essential spending increased by just 3 per cent in August – slackening from 3.8 per cent the month prior – as entertainment growth retreated to 9.4 per cent from 12.5 per cent in July. Pub growth fell to single digits for only the second time this year (9.2 per cent), and spend on cinemas and event tickets flatlined (0.4 per cent) after the 24.3 per cent boost seen in July. Consumers did still splash out on one aspect of the 'experience economy', however, with sustained momentum in restaurant spending (12.4 per cent).
The drop in entertainment contrasted with increased spend on clothing, recovering from a contraction of 0.3 per cent in July to rise 3 per cent in August. Family clothing performed well in particular, up 4.5 per cent, coinciding with 'back to school' preparations and new uniforms. Taken together, the reduction in entertainment spend and growth of clothing suggests families may be starting to make minor adjustments in spending to meet their needs on a month-to-month basis.
Balancing the books appears to be a top priority for Brits, as only five in ten (54 per cent) now feel confident in their household finances, down from seven in ten (69 per cent) in June. Almost half (47 per cent) are still 'feeling the squeeze' due to inflation outpacing wage growth, while a further four in ten (43 per cent) have admitted to changing their everyday spending habits in response to sustained higher prices.
Of those, six in ten (60 per cent) visit discount stories more often, while over a third (35 per cent) have had to cut back on entertainment spend – suggesting two approaches of consumers 'consciously coping' with their weakened purchasing power.
Paul Lockstone, Managing Director at Barclaycard, said:
"Consumer spending growth slowed somewhat last month, with households paring back on both essential and discretionary purchases as part of an overall shuffle in priorities. While the adjustments made across the board were minor, spending on leisure time softened slightly in favour of increased spend on clothing – a reversal of what we saw in July.
"While the August data makes for interesting reading, it's too early to suggest that this is the start of a new trend where consumers alter their spending patterns each month. As we head into the end of 2017, however, we'll be looking to see if this approach continues and whether the 'experience economy', which started the year so strongly, will hold up in light of shifting priorities."
Source: Insight DIY Team
For all the very latest economic and consumer confidence measure, sign up for the Insight DIY newsletter today.
05 September 2017

Thank you for the excellent presentation that you gave at Woodbury Park on Thursday morning. It was very interesting and thought-provoking for our Retail members. The feedback has been excellent.


Martin Elliott. Chief Executive - Home Hardware.