UK DIY News
Flymo Announces Lee Connelly, AKA Skinny Jean Gardener, As Its 2020 Ambassador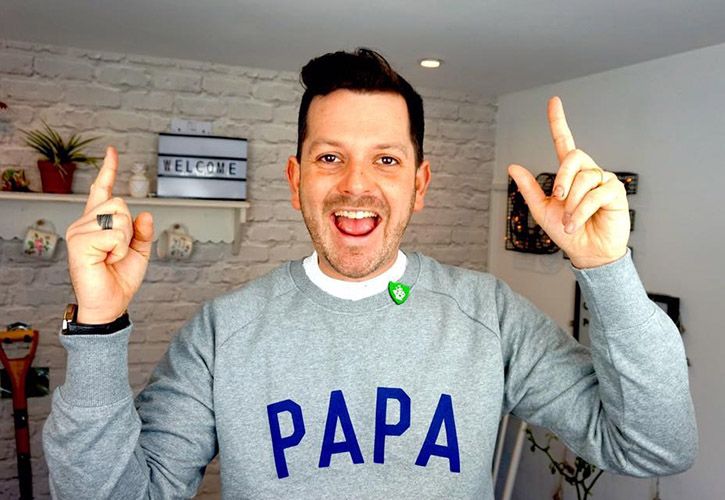 Gardening Superbrand Flymo has announced that family gardening TV presenter, podcaster host and author Lee Connelly, aka Skinny Jean Gardener, will be its brand Ambassador for 2020.
Skinny Jean Gardener will assist Flymo with a wide range of marketing activities across the year including the launch of its TV advert and brand campaign 'Flymo your life easy'. As part of the partnership, Flymo are also sponsoring Lee's gardening podcast this year, which attracts 100,000 monthly listeners.
Lee will support the brand with various activities such as public events, product launches, feature blogs, digital content as well as being involved in its annual social media campaigns, 'First Cut Sunday' and 'Hover Week'.
Family brand, Flymo and Skinny Jean Gardener together aim to highlight the importance of looking after your lawn as well as getting parents and children outside in the garden.
Howard Scott, UK Sales Director for Flymo, said: "We're delighted to have Skinny Jean Gardener as our 2020 Ambassador. Lee is the perfect fit for us as a brand, he links with Flymo's brand DNA of innovation, fresh new ideas, making gardening easier and connecting with families. It's a very exciting year for Flymo with the launch of a brand-new TV advert and brand campaign plus lots of innovations including a new robotic lawnmower range. We look forward to Lee working alongside the Flymo team as well as being involved in lots of marketing activities."
Lee Connelly, aka Skinny Jean Gardener, said: "I'm really excited to be working with Flymo in 2020. A brand that has been in my family since I was young, and still is today which makes me very proud to be an ambassador as The Skinny Jean Gardener. I've always believed that gardening should be accessible and affordable for everyone to get involved and get outside. Gardening doesn't have to be difficult and having the right tools really does help. Flymo brings all of this to the family household which makes it so easy to get outside gardening together.
"When I was younger, I always remember popping to my Nan's to see her busy in the garden cutting the grass with her Flymo, and before I was even born Mum and Dad got a Flymo for their first garden. Years later my nan got another lawnmower for Christmas, which had to be returned because it wasn't a Flymo. When I moved into my first home the first gift I received for the garden from my Dad was a Flymo, and when my daughter gets a home, I'll do the same - that said she's only 4, so maybe I'm looking too far in the future.
Lee added: "The Flymo brand has been part of my family gardening experience since my nan first had her garden, which only confirms to me even more that as a product and a brand, the Skinny Jean Gardener is partnering up with not only a quality product, but a brand that has family at the heart of everything it does, making it easy for first time gardeners to get out there and create a place to enjoy together with their family."
Lee started gardening at the age of 26 when he took on an allotment growing his own veg with his brother. He soon was asked to start growing at local Jimmy's Farm by Jimmy Doherty before creating a kitchen garden that supplied veg to the onsite restaurant.
Lee then went on to work with Jamie Oliver on his Food Revolution, and created a garden taxi for Kew Gardens which travelled around getting families to garden whilst contributing as a garden expert on Radio 1 and Sunday Brunch.
In 2014, Lee became the CBBC Blue Peter Gardener, inspiring children to get outside and getting their hands messy with various gardening makes to attract wildlife and GYO plus started the first allotment in the Blue Peter Garden at Media City.
During his time on Blue Peter, he become a father to daughter Olive, at which time he decided to concentrate on family gardening and get kids and parents out in the garden, with Olive growing her first wildflowers at the age of 2 months.
The Skinny Jean Gardener Podcast started in 2017 bringing something new to garden audio, and now it's in the Top 20 of gardening podcasts in the world with 100,000 listeners every month. It's one of the most successful podcasts attracting some of the garden industry biggest names including Monty Don, Alan Titchmarsh and Carol Klein.
His new book, 'How to get Kids Gardening' launched in 2020 with gardening makes and ideas of which together with his daughter Olive (age 4) has been tried and tested to get the whole family outside creating real memories in the garden.
Skinny Jean Podcast, sponsored by Flymo, can be listened to here: http://skinnyjeangardener.co.uk/
05 February 2020

Insight DIY always publishes the latest news stories before anyone else and we find it to be an invaluable source of customer and market information.

Max Crosby Browne - CEO, Home Decor