UK DIY News
GROHE And Everwave Deploy Clean-Up Structure For Plastic-Free Rivers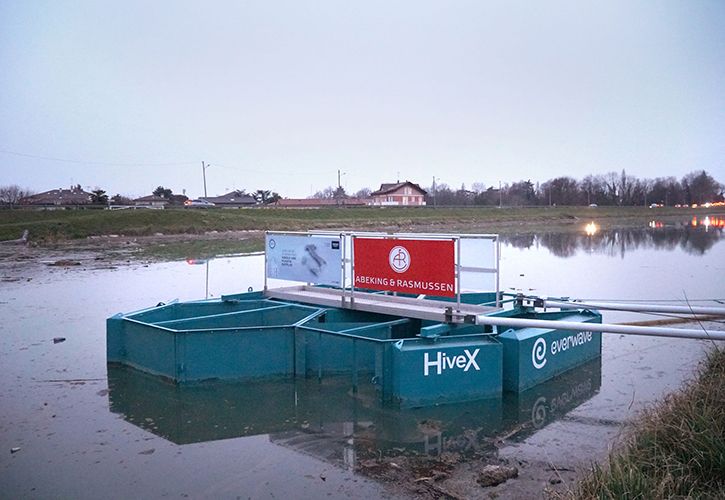 Innovation to tackle the plastic crisis: GROHE contributes to prototype test of new river cleaning structure, HiveX
The sanitary brand and social business everwave show brand collaborations can drive positive impacts
Pilot project follows GROHE's milestone of saving 37 million plastic items annually thanks to the development of plastic-reduced packaging
Humanity's modification of the water cycle has pushed the world beyond a safe operating space for continued life on Earth(1). With the destabilisation of this vital resource, which affects the health of the entire planet, fighting plastic waste has become more urgent than ever as it attributes to the global water pollution problem which continues to impact human health(2).
Protecting the valuable resource that is water, is core to GROHE, a leading global brand for complete bathroom solutions and kitchen fittings. The brand pursues this goal by tackling plastic pollution from different angles with its Less Plastic Initiative(3), and lays the ground for an increase in its collaborative sustainability efforts. GROHE's partnership with everwave(4), a social business with the mission of cleaning rivers of waste and protecting the ocean, is celebrating another milestone in the successful deployment of the innovative cleaning structure HiveX, which was launched in the Bacchiglione river in Padua (Italy) in March 2022.
Supporting new innovations to tackle the plastic crisis
Having collaborated with everwave since 2019, GROHE is a proud contributor to the inauguration of the patented HiveX structure. The anchored, stationary structure uses the power of the river stream to continuously divert and store floating waste – it is energy-efficient and environmentally friendly due to the passive technology using energy from its environment to operate. The honeycomb-shaped design calms the current of the water as it flows through, ensuring that the plastic particles reach the surface and can be skimmed off. This also ensures that only waste is collected, and animals remain unharmed. Once installed, its internal architecture allows it to collect up to five tons of waste. This prevents the litter from reaching the Gulf of Venice, thus hindering subsequent damage to the environment and wildlife.
"Initially, we wanted to develop a technology for the ocean. As the research progressed, it became clear that it is more effective to start with rivers, since 80% of the waste in the oceans comes from there. Thanks to the modular, low-tech set-up of HiveX, it is a very simple solution that can be implemented in many rivers and is therefore able to help clean up waterways around the globe – without high costs and specialised staff. We are very grateful to GROHE for supporting our mission to protect the oceans for years and for making such a positive impact on the environment as a brand," says Clemens Feigl, CEO & Co-Founder of everwave.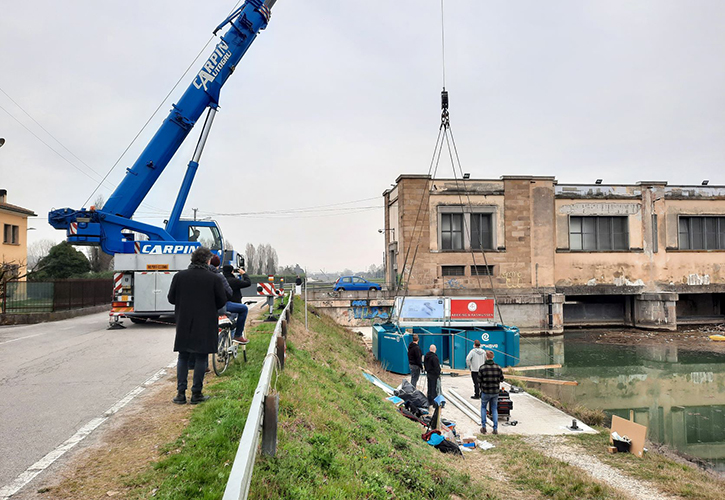 Collaboration drives transformation
Besides cleaning up vulnerable water systems as one cornerstone of the partnership, both partners are committed to driving education and inspiring consumers to lead a more sustainable lifestyle. "Our close exchange demonstrates that by utilising the expertise of a global brand, a social start-up can achieve a direct, tangible impact. The partnership with everwave strengthens our role as industry leaders in terms of sustainability and helps us break new ground on our contribution to UN Sustainable Development Goal 6," says Jonas Brennwald, Leader LIXIL EMENA. Reinforcing this statement, Feigl adds: "The support of GROHE as a leading global brand helps us gain visibility in the EMENA region and drive forward our goal of a healthy ocean. By combining our strengths and raising awareness of the global plastic crisis, the environment emerges as the ultimate winner out of the collaboration."
Inspiring others to follow
Impactful transformation can only be achieved together. GROHE focuses on its responsibility to set a positive example and, with products like the water system GROHE Blue and the associated Made for your Water campaign, calls on the power of collective behavioural change to reduce plastic usage to contribute towards a cleaner environment. "With our brand initiatives, we aim to enable and inspire consumers and industry partners alike to take part in the plastic reduction journey. Complemented by the collaboration with everwave, our efforts demonstrate that together we can close in on our goal of a future worth living with less plastic," says Brennwald.
Learn more about how everwave helped GROHE to fulfil a promise from the brand's Made for Your Water campaign on our digital experience platform GROHE X.
For further information, please visit www.green.grohe.com
References:
1) https://www.stockholmresilience.org/research/research-news/2022-04-26-freshwater-boundary-exceeds-safe-limits.html
2) H.A. Leslie, M. J. M. van Velzen, S.H. Brandsma, D. Vethaak, J.J. Garcia-Vallejo, M.H. Lamoree, Discovery and quantification of plastic particle pollution in human blood, Environment International (2022), doi: https://www.sciencedirect.com/science/article/pii/S0160412022001258?via%3Dihub
3) The Less Plastic Initiative encompasses the water system GROHE Blue which aims to make plastic bottles a thing of the past, plastic-reduced product packaging and the collaboration with the social start-up everwave.

4) Formerly known as Pacific Garbage Screening
Source : GROHE
For all the very latest news and intelligence on the UK's largest home improvement and garden retailers, sign up for the Insight DIY weekly newsletter.
30 June 2022

Insight DIY is the only source of market information that I need and they always have the latest news before anyone else.

Neil Anderton - Sales Director, British Ceramic Tile