UK DIY News
Homebase Launches 'Home For All' To Raise Biodiversity Awareness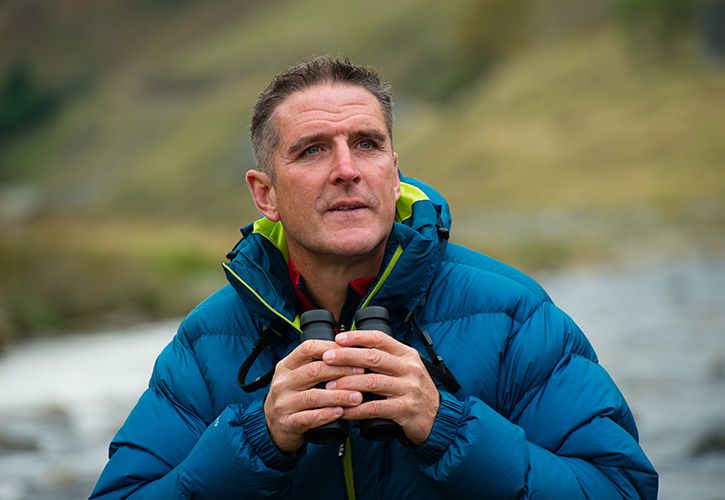 Over half (52%) of Brits don't know how to help birds in their local area despite 69% believing they are essential for biodiversity


One in 10 children and one in 20 adults – circa 3.4 million Brits – cannot identify any of the UK's top birds


Homebase rallies the nation to take on small actions that will have a big impact on biodiversity and the declining bird population
With spring firmly on our doorstep, Homebase, the homes and gardens expert, has revealed there's a lack of knowledge when it comes to the UK's bird population, with one in 20 Brits unable to identify any of the most commons birds, from blackbirds to robins.
But all is not lost. Over the last 12 months, there has been a renewed interest in our outdoor spaces and over half (52%) of Brits have noticed more birds since last March. Given 54% believe that watching birds in their gardens and local area is a great stress relief, it's no surprise that a third of the population (32%) say they have actively picked up an interest in birds and wildlife since lockdown began, while over three quarters (79%) of children would now like to take up birdwatching.
This growing fondness for our feathered friends couldn't have come at a better time as the UK's bird population is in decline due to a variety of factors, including the destruction of their homes and local habitats. A recent report found that over the last 50 years, 40 million birds have disappeared from our skies*, and some species have declined by as much as 95% since 1970**. Homebase can reveal that over half (52%) of British adults - rising to 70% of children aged 6-12 - want to do more to help, but they don't know how or where to start. Almost three-quarters (72%) don't know what types of trees or shrubs encourage birds and wildlife and 11% have even picked up baby birds and disturbed their nests thinking they were helping.
Today, Homebase is calling on the nation to take on small actions that will have a big impact with the launch of its 'Home For All' campaign. The campaign aims to raise awareness on the importance of biodiversity and share some simple hints and tips that can help the declining bird population and encourage more wildlife into your outdoor spaces. Partnering with naturalist and TV presenter Iolo Williams (pictured), Homebase is launching 'Birdbase', an online content hub which will be filled with ideas and advice.
Iolo Williams comments: "Having dedicated my career to conservation, I am hugely passionate about the UK's bird population. Not only do birds look beautiful and grace us with whimsical songs, but they also play an incredibly important role in our ecosystem. Quite frankly, we'd be lost without them!
"It can seem an enormous and somewhat daunting prospect to tackle the decline in our local birds, but there are so many small, easy things we can all do which will collectively have a huge impact, such as planting a variety of trees, hedges and plants, putting out food and ensuring a plentiful supply of water. Birds are so important for biodiversity which is why I'm very excited to be a part of Homebase's 'Home For All' campaign."
While there is a knowledge gap, some seeds for change have already been sewn – 57% of those with a garden have planted trees or shrubs in the past five years, and of those, 68% did so specifically to encourage birds and wildlife. And the good work doesn't stop there as 55% of green-fingered Brits are putting water out for birds to drink and bathe, 58% are already using bird feeders, 52% feed scraps to birds and 30% currently use nest boxes in their garden, all of which will have a positive impact on birds and biodiversity.
Stephen Pitcher, Trading Director of Garden & Seasonal at Homebase comments: "We're really passionate about encouraging a wider variety of plants and wildlife into everything from balconies and back gardens to local communities to help our ecosystem thrive. We know it can be difficult to know where to start, but the smallest of actions really can make a big difference.
"Birds are particularly great as they help control insect populations and spread plant seeds, and you can easily make your outdoor space more inviting by leaving water and food out or by planting more hedges and trees and erecting nest boxes for them to nest in."
The UK's favourite birds are the robin (59%), blue tit (30%) and the blackbird (19%). Given 10 pictures of the most common type of British bird, Brits young and old were able to identify the correct name of the bird to varying degrees of success. From most to least recognisable, here are the percentage of Brits able to identify the following:
1. Robin (86%)
2. Wood pigeon (76%)
3. Blackbird (73%)
4. Magpie (69%)
5. Blue tit (62%)
6. Sparrow (49%)
7. Long-tailed tit (45%)
8. Starling (45%)
9. Great tit (29%)
10. Goldfinch (22%)
Following the success of their recent Great British Green Up campaign, which saw the retailer champion biodiversity by encouraging people to 'green up' their outdoor spaces, Homebase is calling on the nation to continue their efforts and make their outdoor spaces a 'Home For All'. For more information including top bird care tips, expert advice and products, visit 'Birdbase' https://www.homebase.co.uk/garden-outdoor/home-for-all.list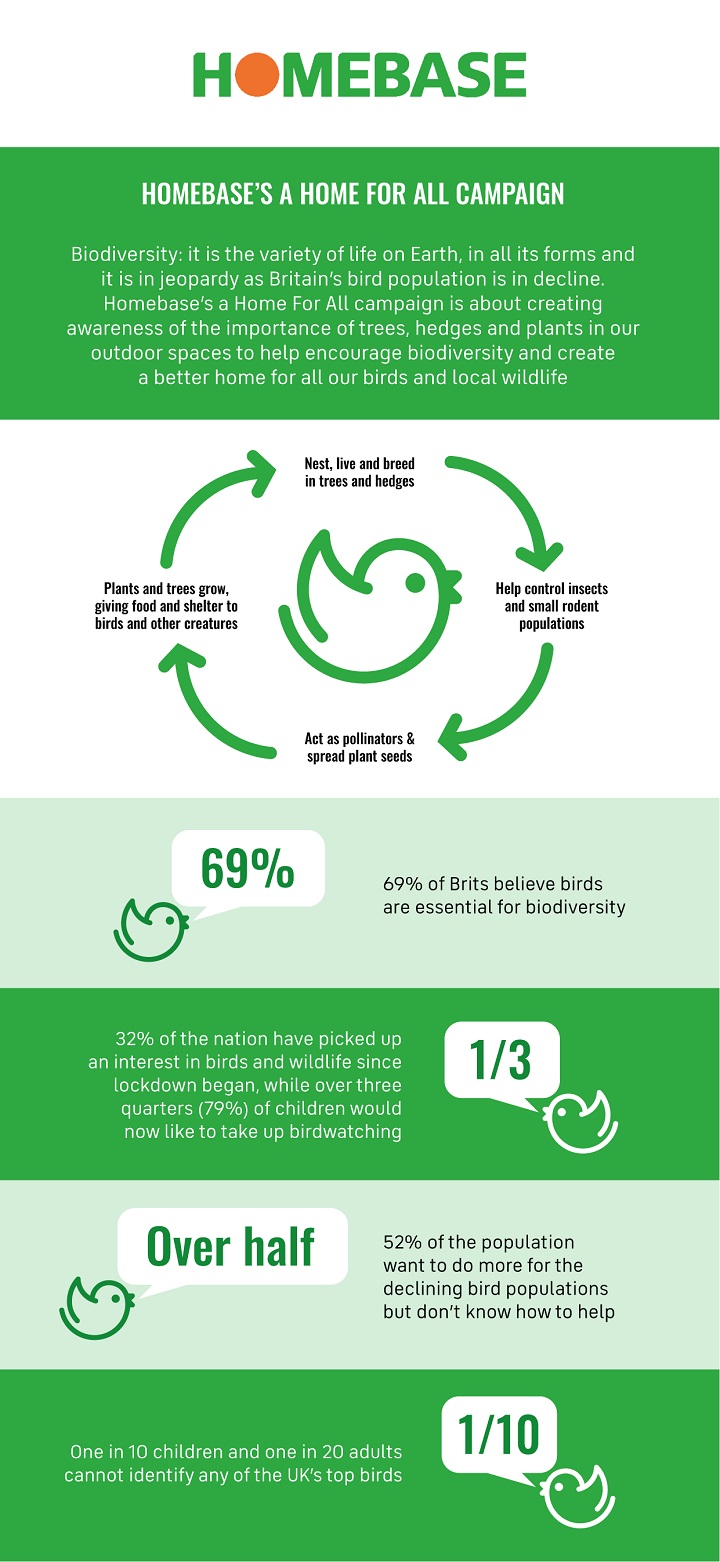 Source : Homebase
Image : Iolo Williams (via Homebase)
For all the very latest news and intelligence on the UK's largest home improvement and garden retailers, sign up for the Insight DIY weekly newsletter.
15 April 2021

Insight provides a host of information I need on many of our company's largest customers. I use this information regularly with my team, both at a local level as well as with our other international operations. It's extremely useful when sharing market intelligence information with our corporate office.

Paul Boyce - European CEO, QEP Ltd.