UK DIY News
Homebase offers 'Brand Price Match Guarantee'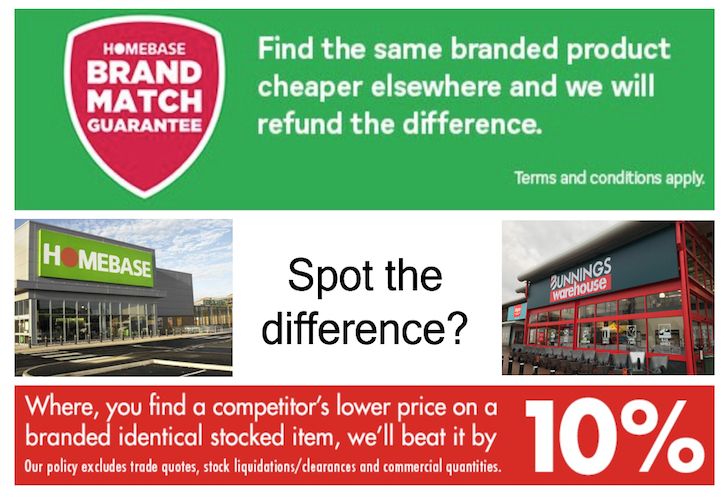 In the last few days, a ''Brand Match Guarantee' has appeared on the Homebase website. On it's own, there's nothing particularly remarkable about that, but what is interesting is that the guarantee in Homebase is different to the 'Pricing Policy' offered in Bunnings trial stores. Both chains offer to refund the difference on identical branded products a customer finds cheaper elsewhere, but in Bunnings they go one step further and offer to beat the competitors price by a further 10%.
In both chains this pricing policy applies to both bricks and mortar and online competitors. On a day like Black Friday, this is not only an internal challenge to stay on top of competitors prices, but it presents a significant business risk too. Very few of the UK's established retailers will dare to offer a price match guarantee versus online retailers, knowing their competitors efficient business models mean products can be brought to market at consistently lower retail prices. The last bricks and mortar retailer I'm aware of that offered to match and beat the prices of any online competitor in the UK was the electrical chain Comet, who fell into administration in December 2012 with the closure of all 236 of its stores. Sure, electricals and white goods are a very different market, but it highlights the risk of trying to land a pricing strategy, where you intend to be the lowest priced retailer in a market where there are many well established online businesses who will always win in a race to the bottom.
Here's an explanation of the Homebase guarantee:-
Brand Match Guarantee
We stock a wide range of brands to help you to create the home that's just right for you. We take pride in ensuring our prices are competitive and if you have purchased a branded item from Homebase and find the identical branded product in stock and cheaper elsewhere then we will refund the difference.
Purchases online: If you have purchased a branded product online, please take a copy of your homebase order confirmation into your local store. You will need to provide details of where you have seen the branded product cheaper as detailed in our terms and conditions below. Refunds on the price difference can only be offered in store and are not available online.
Purchases in store: If you have purchased a branded product in store, please take your homebase receipt back to a Homebase store along with details of where you have seen the branded product cheaper as detailed in our terms and conditions.
The terms and conditions include the following:-
All claims must be made within 14 days.
Product has to be exactly the same model, model number, size, weight, colour, is in stock and have the same attributes and functionality. Own brand and exclusive lines are excluded from the guarantee.
Evidence has to be provided of where the customer saw the cheaper price by providing a copy of a sales receipt, photo of a price ticket, website print out, marketing email, flyer, press advert, catalogue, or some other evidence that identifies the product and the competitor.
They don't accept claims that relate to other HHGL Limited brands (Bunnings and Bunnings Warehouse stores).
The Brand Match Guarantee is entirely at the discretion of the store manager which includes determining that the products are identical and in stock.
The Bunnings Price Policy is summarised by them as follows:-
"Our policy is lowest prices are just the beginning, and we're committed to it. Bunnings' policy applies to branded identical items sold by Bunnings that are currently stocked and available on the same day from a competitor, whether from an online store or physical store local to your Bunnings. We do a lot of things to deliver lowest prices. We check competitors' prices on branded identical stocked items and, whenever we find a lower price (a competitor's final price includes taxes, fees, charges and same day delivery, if applicable), we drop our price so we stay lowest. We don't pretend to be the lowest at every instant, so if you find a competitor's lower price on a branded identical stocked item, we'll beat it by 10%. Don't forget our policy excludes trade quotes, stock liquidations/clearances and commercial quantities and we include in the competitor's final price any taxes, fees, charges and same day delivery, if applicable".
Analysis & Comment - Steve Collinge
An interesting move, designed to reinforce the competitive price position of Homebase in the mind of the consumer and encourage more shoppers through their doors. However, they've done this at a time when we've seen a growing differential in retail pricing appear between the 230+ Homebase branches and the 10 Bunnings Warehouse trial stores. One recent example in an audit completed on 16th November, showed Dulux 5L Pure Brilliant White at £10 in Bunnings and £15 in Homebase. There are numerous other examples showing up to a 50% price difference between the businesses.
We believe the price increases in Homebase, coupled with a significant cut-back in staff hours and overtime across the company, are an attempt to stem the growing losses caused by the company moving far too quickly to make fundamental changes within the Homebase estate. Earlier this week Rob Scott, Wesfarmers new CEO admitted to shareholders "In hindsight, the team probably moved too quickly to change Homebase and made a lot of changes to clean out a lot of the concessions and clean the stores up with a view towards converting to Bunnings," Mr Scott said. "But unfortunately we didn't replace those concessions with product and offers that were compelling enough to get customers in the door." These changes including the selling off of ranges that wouldn't be part of the Bunnings offer moving forward, the removal of the concessions and fundamental changes to their kitchen ranges, has led to a poorer, confused shopping experience and once loyal customers choosing to shop elsewhere. This is an image taken at a Homebase store yesterday.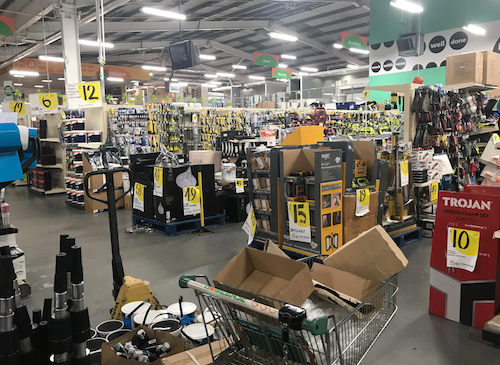 The business is caught between a rock and a hard place. With the clock ticking, they have to stop the losses by increasing prices in Homebase and yet don't want customers to know and certainly don't want to be seen as Homebase once was - the most expensive place to buy home improvement and garden products. The answer, a 'Brand Price Match Guarantee', which they hope is only going to be taken up by a small percentage of customers and yet will provide some reassurance of their apparent competitiveness versus other retailers. With the two sides of their business now selling identical products at very different retail prices, I feel the Homebase Brand Match Guarantee is a rather cynical move, which smacks of smoke and mirrors, something I didn't expect from a retailer which to date has been so proud of its transparent and honest approach to the UK consumer.
Source: Steve Collinge - MD Insight Retail Group. Do you have a different point of view? Then contact me today on steve@irg.co.uk.
For all the very latest news and intelligence on the UK's largest home and garden retailers, sign up for the Insight DIY newsletter today.
23 November 2017

Insight DIY is the only source of market information that I need and they always have the latest news before anyone else.

Neil Anderton - Sales Director, British Ceramic Tile