UK DIY News
Howdens Takes a Step Into the Screwfix Backyard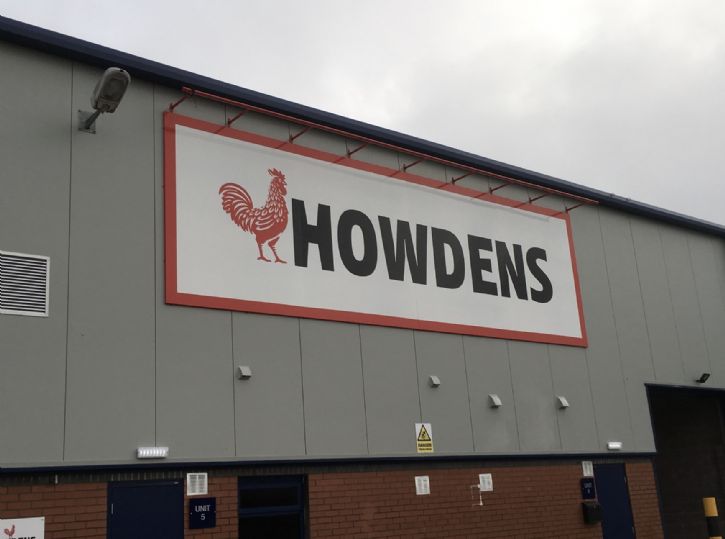 It's been expected for some time that Andrew Livingston would always take the very best bits out of the hugely successful Screwfix model and begin to build and adapt them into his latest project - Howdens Joinery.
In the background, he's already been building his premier league team with heavy hitters like Andy Gault (E-commerce Director) and Richard Sutcliffe (Director of Trade Supply Chain) joining their old boss at Howdens.
Underneath the radar we've seen a new logo introduced, the rebranding of almost 30 stores, and the introduction of broader ranges for their loyal trade customer. And yesterday, for the first time they revealed their plans; making it obvious to anyone 'in the know' that they're gunning for some of the Screwfix business.
The group hosted an event at their Expo in Northampton for analysts and investors. The event was designed to showcase their new depot formats, their digital investment and new kitchen ranges, appliances, flooring and joinery products and has already been visited by over 5,000 of their 9,000 employees
Their business focus is on capturing a greater share of wallet from tradesmen and building brand recognition and awareness of the product range amongst consumers. It's an obvious and sensible move. The builders and kitchen installers who buy from Howdens are fiercely loyal, not because they're a particularly brilliant business (we'd give them a 6.5 out of 10 'room for improvement' on their school report), but because of the service offered by the branches. Although to be fair, this excellent, additional service is often needed to resolve the regular cock-ups made when compiling and supplying complex orders for kitchens. (Note - I know this from personal experience - we bought a Howdens kitchen in 2018).
The new Howdens logo and new-look depots, branches, stores whatever you want to call them, look great. Thankfully they've ditched the old logo, which looked like it hadn't changed since 1972, although the mysterious chicken or rooster remains. I was once told by an ex-employee that apparently the rooster was created to give the business some history and credence and distance it from the original mothership MFI. Although others tell me, it was just one of the birds shot regularly on his estate by the previous CEO who was keen on blood-sports!
The new-look depots
The Expo showcased physical examples of the new 10,000sq ft and smaller 6,000sq ft Howdens branch formats. Both of the example depots have around 25% more space as a result of changes and improvements to both the racking and the way products are stored, which has the additional benefit of making product picking quicker and easier for staff.
The new formats have far larger kitchen displays aimed directly at consumers who are likely to find these very inspirational. That said, Howdens remains totally trade-focused, with the intention of selling an increased range of hardware and home improvement products to their existing customer base of builders and kitchen installers.
The extended hardware range is significant, increasing the Howdens offer from a core range of just 400 lines, delivering around £60m of sales each year, to an extended offer of over 3,000 sku's. It's the company's hope that this will increase the frequency of builder visits and at the same time generate further kitchen sales leads.
To date, 30 of their 668 UK depots have the new format, of which ten are the smaller formats. So far, three of the older branches have been retro-fitted into the new format and this is likely to be rolled out further if the numbers add up.
Digital Investment
Andrew's previous company Screwfix continues to be a very successful retailer due to many things, but without their leading edge, multi-channel systems and capabilities they would be nothing. It is the behind the scenes systems and processes that enables them to offer customers same day delivery anywhere within the M25 for just £10 and whilst other retailers are boasting next day click'n'collect, Screwfix offer it in 5 minutes.
If Screwfix is operating ahead of the digital curve, Howdens are still trying to find the curve, driving a Ford Capri and using on an old fashioned OS map.
In years to come (if Andrew doesn't leave to take up the now vacant role of CEO of Kingfisher PLC), his greatest legacy at Howdens will be the impact of the digital focus and investment he will bring to the business. At this stage, it's all about using digital as an enabler to improve customer access to the Howdens products, services and brand. For the trade, it's about putting the local depot in the pocket of the builder through online account management, helping them to transact across multiple depots.
For consumers, the objective is to build brand recognition, provide kitchen ideas and inspiration and simplify the product search, leading to increased enquiries and sales. Early signs from the new platform launched in September 2018 are very encouraging - with weekly website visits up 17% year on year, with brochure requests +36% and e-mail enquiries to depots +10%.
Summary
For some years, we've advocated if you've cash to invest and you insist on investing in the Home Improvement space, then you can't go wrong with Howdens. The business is solid and has an enviable track-record of performance. It also has a great offer and brilliant service, loved by their loyal customer base of small builders and installers.
The steps and initiatives being taken by the new team will I am sure be successful. Why am I so sure? Because these have already been tried and tested with Screwfix and Andrew and his team know exactly what needs to be done to transform this business. The trade customers will love the changes, so will the consumers looking for a brand new kitchen.
And what about Screwfix? Bloated and burdened with harmonised Kingfisher ranges they never wanted and with Toolstation chasing their tale, they're unlikely to be sleeping any easier now that the Howdens giant has finally woken up.
Download the Howdens presentation made at the Expo on 4th April 2019.
For more images and to read comments and feedback, read the article on LinkedIn here.
Author – Steve Collinge, Managing Director of Insight Retail Group and Executive Editor of Insight DIY.
You can follow Steve on LinkedIn here and on Twitter here.
05 April 2019

Insight DIY is the only source of market information that I need and they always have the latest news before anyone else.

Neil Anderton - Sales Director, British Ceramic Tile