International DIY News
Lowe's agrees purchase of RONA shares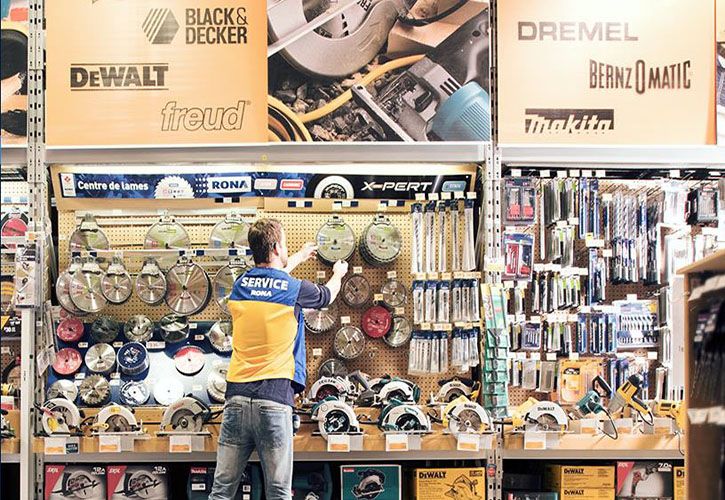 Lowe's Companies, Inc. and RONA inc. announced today (7th October) that Lowe's, through a wholly owned subsidiary, and RONA have entered into a definitive agreement for the acquisition of RONA's outstanding Cumulative 5-Year Rate Reset Series 6 Class A Preferred Shares and Cumulative Floating Rate Series 7 Class A Preferred Shares (collectively, the "Preferred Shares") for C$24 per share in cash pursuant to a plan of arrangement under the Business Corporations Act (Québec).
The board of directors of RONA, after consultation with its financial and legal advisors, has unanimously approved the transaction and has resolved to unanimously recommend that holders of the Preferred Shares (the "Preferred Shareholders") vote in favour of the transaction at a meeting of Preferred Shareholders to be held to consider the transaction. RBC Capital Markets has provided a fairness opinion to RONA's board of directors that, subject to the assumptions, limitations and qualifications set out in such fairness opinion, and as of the date of such opinion, the consideration under the transaction is fair from a financial point of view to the Preferred Shareholders.
The transaction is subject to court approval and the requisite approval of the Preferred Shareholders. Assuming the required approvals are received, the transaction is expected to be consummated before the end of the year.
Fidelity Investments Canada ULC, a large institutional investor that owns a significant portion of the Preferred Shares, has agreed to vote its Preferred Shares in favour of the transaction.
The terms and conditions of the transaction will be disclosed in further detail in the information circular to be mailed to Preferred Shareholders in advance of their meeting to approve the transaction. In addition, a copy of the definitive agreement and the information circular and certain related documents will be filed with the Canadian securities regulatory authorities and will be available under RONA's profile at www.sedar.com.
About Lowe's Companies, Inc.
Lowe's Companies, Inc. (NYSE: LOW) is a FORTUNE® 50 home improvement company serving more than 17 million customers a week in the United States, Canada and Mexico. With fiscal year 2015 sales of $59.1 billion, Lowe's and its related businesses operate or service more than 2,355 home improvement and hardware stores and employ over 285,000 employees. Founded in 1946 and based in Mooresville, N.C., Lowe's supports the communities it serves through programs that focus on K-12 public education and community improvement projects. For more information, visit Lowes.com.
About RONA inc.
Acquired by Lowe's Companies, Inc. on May 20, 2016, RONA inc. is a major Canadian retailer and distributor of hardware, building materials and home renovation products. RONA operates a network of close to 500 corporate and independent affiliate dealer stores in a number of complementary formats. RONA serves its network of stores and several independent dealers operating under other banners, including Ace, for which RONA owns the licensing rights and is the exclusive distributor in Canada. With more than 17,000 employees in corporate stores and more than 5,000 employees in the stores of its independent affiliate dealers, the Corporation generated annual consolidated sales of $4.2 billion for fiscal year 2015. For more information, visit rona.ca.

Source : Lowe's Press Release
https://newsroom.lowes.com/news-releases/lowesagreestoacquireronaspreferredsharesforc24pershare/

To advertise on the Insight DIY website and download our media pack, click here.
Interested in pricing intelligence? Manually tracking retail prices? There really is a much easier way. Just contact us here.
Sign-up for our weekly newsletter here.
09 October 2016

Thank you for the excellent presentation that you gave at Woodbury Park on Thursday morning. It was very interesting and thought-provoking for our Retail members. The feedback has been excellent.


Martin Elliott. Chief Executive - Home Hardware.