International DIY News
Lowe's and Made in Space to launch first commercial 3D printer into space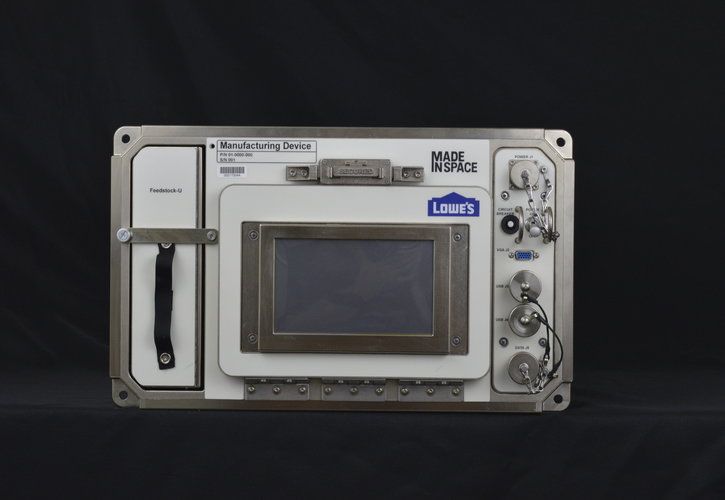 Lowe's Innovation Labs, the disruptive innovation hub of Lowe's Companies, Inc., has partnered with aerospace company Made in Space, to become the first to launch a commercial 3D printer to space. The printer, the first permanent additive manufacturing facility for the International Space Station (ISS), will bring tools and technology to astronauts in space. At the same time here on earth, Lowe's is launching the next-generation Lowe's Holoroom - an in-store and at-home virtual reality design tool that enables customers to envision the room of their dreams.

First Retailer in Space

The Lowe's 3D printer is slated to arrive at the ISS in early 2016, making Lowe's the first
retailer to have a presence in space. From 200 miles above Earth, astronauts can use 3D printing technology to create a tool on-demand and produce parts they may not have onboard and immediately available. Customers are already using Lowe's Innovation Labs' 3D scanning and printing services to produce custom or hard-to-find replacement parts. "Lowe's and Made in Space share a vision of how 3D printing can revolutionize retail and home improvement, while also changing the way astronauts work in space," said Kyle Nel, executive director of Lowe's Innovation Labs. "This is just the beginning of a broader partnership with Made in Space that will bring tools to space and new technology to Earth."

"For the first time, astronauts can now manufacture what they need, when they need it in space,"said Jason Dunn, chief technology officer and co-founder of Made in Space. "We have successfully demonstrated the technology's capabilities in space. And now with the launch of the permanent additive manufacturing facility to the ISS, we are enabling humanity to manufacture things off the planet."

Next-Generation Holoroom

In 2014, Lowe's Innovation Labs introduced its first proof of concept, the Lowe's Holoroom.
The augmented reality design experience was successfully tested in stores in the Toronto area for six months and led to the next-generation Lowe's Holoroom that will be installed in 19 stores across the United States beginning next month.
The Holoroom has evolved from a single platform augmented reality solution to a virtual reality design and visualization tool that leverages Oculus Rift optic technology in stores and Google Cardboard viewers that consumers can take home.

Lowe's Innovation Labs and Google collaborated to create a shareable Holoroom experience that combines YouTube's 360-degree video capabilities with Google Cardboard to enable customers to enjoy and share their virtual kitchen or bathroom design whenever and wherever they choose. "The next-generation Holoroom continues to fulfill our long-term vision for how augmented and virtual reality technologies can help customers have more confidence and more fun with home improvement," Nel said. "We can't wait to see what our customers create as they bring their imagination to life with these new tools."

Lowe's created Lowe's Innovation Labs in 2014 to develop disruptive technologies by bringing together uncommon partners with a commitment to get technology out of the lab and into the real world. In its first year, Lowe's Innovation Labs collaborated with startups to introduce the first-generation Lowe's Holoroom, the OSHbot autonomous retail service robot and in-store and online 3D scanning and printing.

Source : Lowe's Innovation Labs Press Release
www.lowesinnovationlabs.com
03 November 2015

Insight DIY always publishes the latest news stories before anyone else and we find it to be an invaluable source of customer and market information.

Max Crosby Browne - CEO, Home Decor