Digital Retail News
Lowes introduces 'Lowes Vision - in-store navigation app'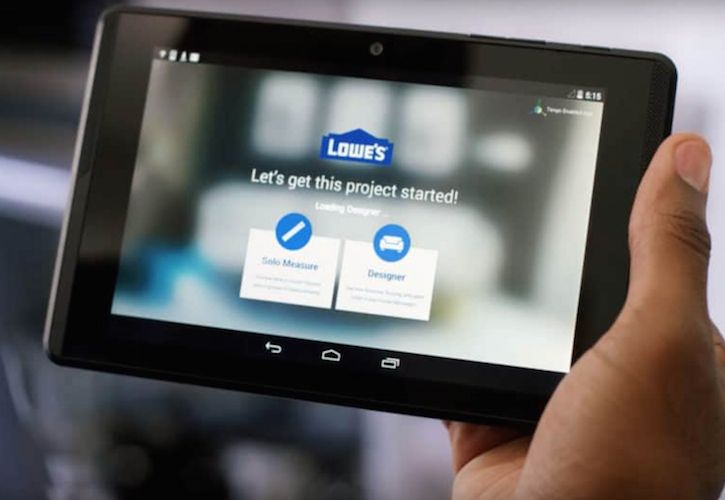 Lowe's announced today the launch of its Lowe's Vision: In-Store Navigation app, the first retail application of indoor mapping using augmented reality. Leveraging Google's augmented reality technology Tango, the app is designed to simplify the home improvement shopping experience. Beginning in April, customers visiting stores in Sunnyvale, California and Lynwood, Washington can use Tango-enabled smartphones to easily search for products, add them to a shopping list and locate the product within the store using augmented reality.
The Lowe's Vision: In-Store Navigation app is the latest advancement from Lowe's Innovation Labs, the retailer's disruptive innovation hub. The Labs are focused on creating new solutions to enhance the retail experience for customers and employees.
Lowe's Vision: In-Store Navigation app in use
Lowe's Vision: In-Store Navigation screen shot
"Our research shows that helping make it easier for customers to find products in stores not only makes for a better shopping experience, it allows our associates to spend more time advising on home improvement projects," said Kyle Nel, executive director of Lowe's Innovation Labs. "With Lowe's Vision: In-Store Navigation, we've created a more seamless experience using breakthrough technology so customers can save time shopping and focus more on their project."
Lowe's Vision: In-Store Navigation uses Tango-enabled motion tracking, area learning and depth perception to guide customers through the store using a mixed reality interface. When a customer comes to Lowe's to get started on a project, they can use any Tango-enabled smartphone to create a list of their required items in the app and access product reviews and information to make an informed decision. From there, directional prompts overlaid onto the real-world setting guide the customer to each item using the most efficient route around the store.
Lowe's first partnered with Tango to introduce Lowe's Vision, one of the first apps to leverage the Tango platform. Bringing spatial perception to the smartphone, Lowe's Vision acts as a "digital power tool" for customers embarking on a home improvement project. The technology enables the user to measure spaces and visualize how products like appliances and home décor will look in their home. Lowe's Vision and Lowe's Vision: In-Store Navigation technologies are significant developments in Lowe's efforts to build a portfolio of augmented reality offerings that meet the needs of the evolving customer.
To learn more about Lowe's Vision: In-Store Navigation, visit www.lowesinnovationlabs.com/instorenavigation.
Source: Insight DIY & Lowes Press Release.
Want to keep up to speed with all the very latest technology? Sign up for our Insight DIY weekly newsletter here.
24 March 2017

Insight provides a host of information I need on many of our company's largest customers. I use this information regularly with my team, both at a local level as well as with our other international operations. It's extremely useful when sharing market intelligence information with our corporate office.

Paul Boyce - European CEO, QEP Ltd.