International DIY News
Lowe's partners with b8ta to sell technology goods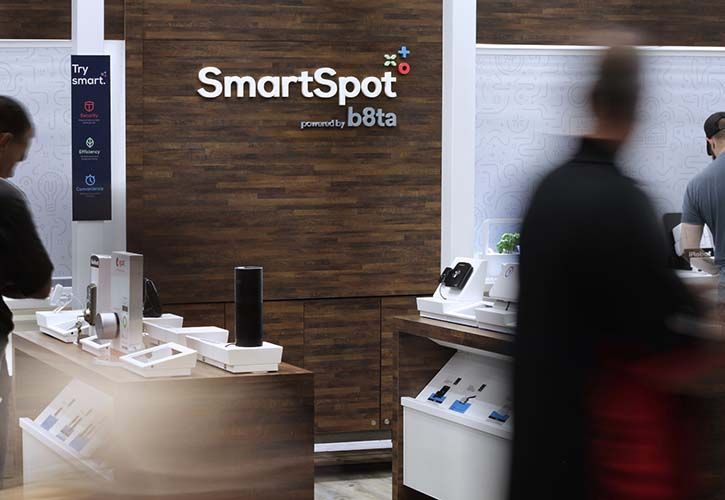 Lowe's Companies, Inc. (NYSE: LOW) customers in select markets can now shop a unique store-within-a-store concept to explore connected devices to better manage their homes. The "SmartSpot powered by b8ta" retail experience, an innovative collaboration with software-powered retailer b8ta, demystifies and simplifies the purchasing process for customers.
SmartSpot helps eliminate anxiety for customers choosing smart home products in an overwhelmingly crowded market. The stylized experience offers a streamlined approach to retail where customers can explore a curated collection of innovative products. In addition, consumers gain in-depth product knowledge through digital displays and on-site experts trained on smart home products.

"Customers depend on Lowe's to guide and enable them when making important decisions about their home," said Ruth Crowley, vice president of Customer Experience Design at Lowe's. "We know through research that customers feel overwhelmed when choosing the right smart home devices, and often evaluate products for more than two months before making a purchase. Our partnership with b8ta allows us to give customers confidence in making well informed decisions by narrowing the product assortment and providing education to help them take that first step."
SmartSpot offers whole-home solutions, moving customers beyond products to projects. The experience includes a wide range of smart home products, from security to energy maintenance and convenience, all organized in a central location. SmartSpot features several Lowe's Iris products and more than 40 of the newest tech products on the market from vendors like Amazon, Lutron, Nest and Ring.
"b8ta is excited to provide manufacturers the ability to easily on-board their products into Lowe's stores with our software platform, offering unprecedented access to product performance and customer insights," said Phillip Raub, co-founder and CMO of b8ta. "By making retail more accessible to manufacturers, customers at Lowe's will be able to engage with a wider and more relevant assortment of smart home products than ever before."
SmartSpot features b8ta's proprietary retail technology which provides deep insights for vendors and retailers, helping them to continuously improve the shopping experience. Vendors have the ability to adjust their in-store displays remotely and capture valuable information about customer interactions with featured products and content, all in real-time. These innovations are transforming traditional retail models by putting more control in the hands of shoppers, vendors and retailers.
SmartSpot is an evolution of Lowe's ongoing efforts to deliver customer driven solutions in the smart home category – beginning in 2012 with the exclusive launch of the Nest thermostat at Lowe's, followed by the launch of Iris by Lowe's, the company's smart home management platform.
"SmartSpot powered by b8ta" is available at Lowe's Livermore, Burbank and Aliso Viejo store locations. Customers everywhere can shop Lowe's enhanced smart home online experience, featuring a curated selection of products and more inspiring, solution-oriented content.

Source : Lowe's Companies, Inc.
To advertise on the Insight DIY website and download our media pack, click here.
Sign-up for our weekly newsletter here.
If your business is interested in pricing intelligence or you're currently trying to track retail prices manually, there really is a much easier way. Just contact us here.
22 November 2016

Insight DIY always publishes the latest news stories before anyone else and we find it to be an invaluable source of customer and market information.

Max Crosby Browne - CEO, Home Decor