International DIY News
Masters enters final stock clearance phase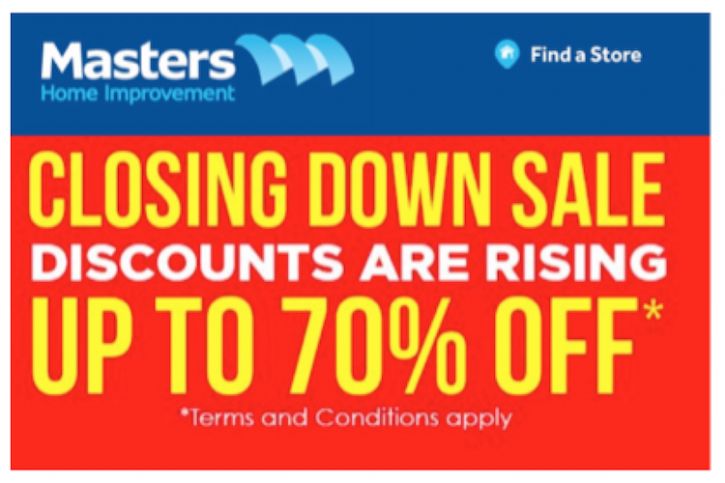 Masters Home Improvement, the Australian DIY chain formed as a joint venture between Woolworths and Lowe's, has entered a final clearance phase.
The 63 stores will close on December 11th.
Some customers have taken to social media to complain about prices, with people accusing Masters of having increased prices ahead of the sale.
Staff at an Australian newspaper reported that a Sydney branch of Masters had put up a sign advising that staff weren't authorised to offer further discounts.
The company's liquidator, GA Australia said that the signs had probably been made 'at a local level', adding: 'It takes the pressure off staff so they aren't pressured by customers into giving any extra discounts because it would be stressful if 40 or 50 times a day people were asking,'.
On the 16th November, Masters updated its Facebook account to show that no item was priced at less than 50% off and some items were reduced by up to 75%. In an earlier post, on the 10th November, Masters stated that an extra 10% discount would be applied at the checkout.
One customer commented:
"Also before you purchase anything google it. Lots of items were ridiculous expensive. For example 6 metres of gutter guard is the same price as 10 metres at Bunnings. Garden hoses for just under $200. They didn't have to beat completion because their items varied slightly. Watch our for manufactures warranties as some items don't have a manufacture and are generic badged exclusively for Masters"

Recent news concerning Masters:
Masters to close in December

Woolworths wins battle with Lowe's over liquidation of Masters

Interested parties make first round bid for Masters
Source : Insight DIY
Interested in advertising on Insight DIY? Learn more here.
Want more news like this? Sign-up for our weekly newsletter here.
If your business is interested in pricing intelligence or you're currently trying to track retail prices manually, there really is a much easier way. Just contact us here.
18 November 2016

Insight DIY always publishes the latest news stories before anyone else and we find it to be an invaluable source of customer and market information.

Max Crosby Browne - CEO, Home Decor