Digital Retail News
Paymentsense Study Reveals Two-Thirds of Businesses Are Ready For a Cashless Society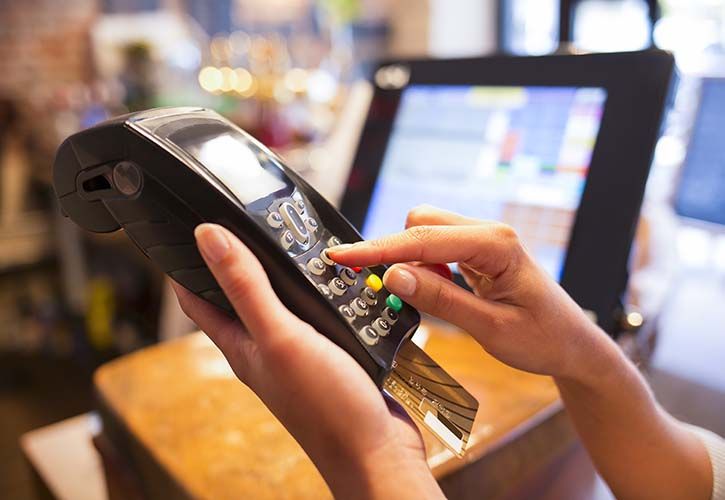 Paymentsense have created an interactive asset which analyses data from consumers and leading experts to reveal the demand for improved payment technologies in the UK, including fingerprint scanning, biometrics, voice ID, microchip and more.
The payment company has also surveyed 2,000 Brits and Small Business Owners to find out their attitudes to new payment technologies, revealing that:
A cashless society is upon us - 64% of businesses are comfortable with no cash payment in their business.
69% of small businesses have adopted new payment technologies
However, 40% of small businesses say they wouldn't be able to cope with payment in a power cut.
Chip and Pin (25%) is still more popular than contactless in small businesses (16%) as a payment type.
31% of business owners said they would embrace new technology for added security.
By 2020, card transactions will increase from 20.6 million (2017) to 47.4 million with the amount spent on card increasing two-fold. This said, the average spend on card will decrease from £33.14 to £24.91, likely due to contactless transactions meaning more spend, more regularly
"More reassurance and support is needed to persuade certain generations to change the way they are paying. Millennials are always the quickest to jump on new trends, but little is done to support the generations before them to keep up – meaning this slows down innovation when the numbers adopting new ideas don't support the budgets required for full roll-out." says Laura Rettie, personal finance expert at money.co.uk.

Luke Sam Sowden, a visually impaired lifestyle blogger based in Leeds, has faced a number of challenges and said: "My local branch closed down due to a spate of burglaries and being visually impaired, I need a local bank with a physical location instead of just an ATM-like a lot of banks seem to be heading towards nowadays.

"In the end, I had to change banks, which despite being fairly easy to do thanks to the fast-track switch service, still took a lot of messing around as I had to memorise new account information and passwords, many of which hadn't been changed for several years.''

What about UK businesses?
64% of small businesses in the UK say they are comfortable with no cash payment in their business and 69% have already adopted new payment technologies.
Despite this, a whopping 40% say they wouldn't be able to cope with payment in a power cut.
Take a look at this graph which shows what Brits and UK businesses think the payment types of the future will be, including fingerprint scanning, Iris Scanning, Voice I.D, Face I.D and more.
The way we will pay in the future - What a cashless society means for the UK's Small Businesses:

1. Added security

Almost one third of consumers and business owners agree that new technology will lead to safer payments with 31% of business owners admitting they feel safer using new payment tech, as it means they have less cash on their premises.

"To the consumer, the main demands of any payment process are that it needs to be simple, multi-channel (laptop, phone, tablet, etc.) fast, and yet secure. It is therefore up to the payment industry to determine how new technology can help meet the needs and demands of consumers and business customers." says Howard Berg, SVP of Banking and Payment at Gemalto.

2. Extra consumers

With the growth of app-based payments via services like Apple Pay, it seems natural that customers will one day do away with passwords, cards and PINs altogether - helping to ease payment use and eliminate identity theft.

Unlocking your smart device with touch ID will one day become synonymous with making direct fingerprint payments. Laura Rettie, personal finance expert at money.co.uksays "there have already been trials of linking biometrics to pay for goods so we can't be far off rolling out a system that links our finances to our physical features."

3. Increased efficiency

According to our research, cards aren't going anywhere fast. In the short-term it's set to continue to grow as our choice way to pay. But how much longer will we be using plastic for?

Whilst the number of card transactions will reach 47 million by 2020, the average spend per card transaction will decrease to £24.91 (down from £33.12 in 2017) hinting at an increase in other payment methods that alleviate the hassle of our current payment methods.

4. Environmentally friendly

While only 6% of Brits would embrace new payment methods solely in order to cut down plastic use, the environmental benefits a cashless society would be transparent.

"Shopping online these days is so easy with ways to store your card details so you don't have to dig them out each time you want to pay for something. It's only a matter of years before we won't need to carry wallets." says Laura Rettie, personal finance expert at money.co.uk

What are the disadvantages of a cashless society?

Guy Moreve, Chief Marketing Officer at Paymentsense, says:

"Whilst a cashless society is on the horizon, the study still highlights how Brits are wary of being completely cashless, as many businesses still rely on cash as their main payment method. Along with the stat that 40% of small businesses in the UK say they wouldn't be able to cope with cashless payment in a power cut, the potential problems could even bring more points of exposure to the average Brit.

But as a society, it's clear that new payment methods will evolve as consumer demands shift towards improved security and ease of use when making a transaction. The study highlights not only what advances Brits want to see in payment technology, but how businesses will need to adapt to these changing consumer demands.

Those who adopt new payment methods such as fingerprint scanning and voice ID will surely surpass future competition."

The full report can be found at https://www.paymentsense.com/uk/future-of-payments/
Source : Insight DIY Team and Paymentsense
For all the very latest news and intelligence on the UK's largest home improvement and garden retailers, sign up for the Insight DIY weekly newsletter.
07 March 2019

Insight DIY is the only source of market information that I need and they always have the latest news before anyone else.

Neil Anderton - Sales Director, British Ceramic Tile