UK DIY News
Poundland shares drop as first-half profits decline by 26%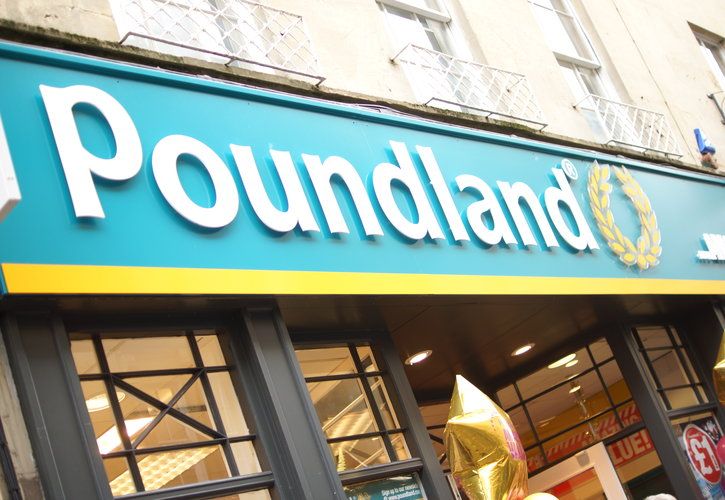 Shares in discount retailer Poundland plunged more than 20 per cent today after the firm posted weak first-half profits which took a hit from store opening costs.
The retailer, which has just taken over rival 99p Stores, also said recent trading conditions have been 'highly volatile', with the quarterly performance to depend more than ever upon the last six weeks' trading towards Christmas.
Poundland reported a 26 per cent drop in underlying pre-tax profits for the six months to September to £9.3million, down from £12.6million in the same period last year.
Total first half sales increased by 6.2 per cent to £561.1million, but were down 2.8 per cent at stores open over a year.
In reaction, Poundland shares topped the FTSE 250 casualty list in late morning trade, down 17 per cent, or 47.0p to 231.6p.
The retailer also warned that the national living wage - which means workers over 25 must be paid at least £7.20 an hour from next April, rising to £9.00 by 2020 - would cost it an additional £4.3million in the 2017 financial year.
The firm said this would not result in higher prices for customers and it was instead planning cost-cutting measures such as self-scanning checkouts and shelf-ready packaging.
In September, Poundland's £55million takeover of rival 99p Stores was given formal clearance from competition authorities.
Poundland chief executive Jim McCarthy said the merger would provide a huge lift for the retailer as the financial year progressed.
'The 99p Stores acquisition is a transformational deal for us, adding the equivalent of five years of UK organic growth and 40 per cent to our store numbers in one go,' he said.
'The early sales uplifts from the first converted stores are very encouraging and we now plan to accelerate the conversion programmes so that the vast majority of 99p Stores will be converted by the end of April 2016.
'We are now increasing our UK and Ireland store target from 1,070 to 1,400 stores.'
Poundland said it had identified an incremental core earnings opportunity of at least £25million a year from the takeover.
Hargreaves Lansdown equity analyst Keith Bowman pointed out that it had been a difficult six months for Poundland.
'Profits have fallen short of expectations, whilst trading performance at the acquired 99p Stores - hindered by the uncertainty of a competition review - has disappointed.
'Like-for-like sales have battled tough comparatives, foreign exchange movements are providing a headwind, while accompanying management outlook comments offer little near-term reassurance.'
'On the upside, store numbers are growing, with management's store growth target being expanded, conversion of the 99p Stores to the Poundland format is being accelerated given the improvement in sales generated, while expected cost savings due to its newly increased scale are being flagged.
He concluded: 'In all, despite expected long-term growth, investor confidence near term is being further tested.'

Visit our Industry Articles page to view the full Poundland Interim Management Statement.
Source : Jonathon Hopkins – ThisIsMoney.co.uk
www.thisismoney.co.uk/money/markets/article-3325248/Poundland-shares-pummeled-higher-store-opening-costs-knock-profits-26-cent.html
19 November 2015

Thank you for the excellent presentation that you gave at Woodbury Park on Thursday morning. It was very interesting and thought-provoking for our Retail members. The feedback has been excellent.


Martin Elliott. Chief Executive - Home Hardware.