International DIY News
Stanley Black & Decker to acquire Craftsman brand from Sears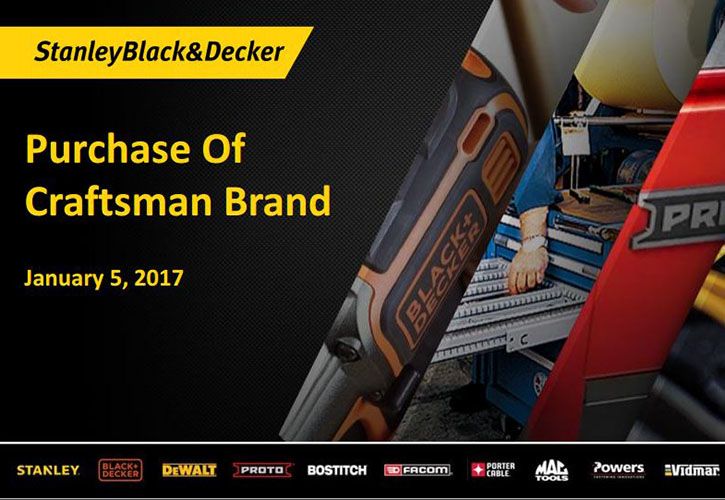 Stanley Black & Decker, an S&P 500 global diversified industrial company, and Sears Holdings Corporation, announced today (5th January) that they have entered into a definitive agreement under which Stanley Black & Decker will purchase the Craftsman brand from Sears Holdings.

The transaction provides Stanley Black & Decker with the rights to develop, manufacture and sell Craftsman-branded products in non-Sears Holdings retail, industrial and online sales channels across the U.S. and in other countries.

As part of the agreement, Sears Holdings will continue to offer Craftsman-branded products, sourced from existing suppliers, through its current retail channels via a perpetual license from Stanley Black & Decker, which will be royalty-free for the first 15 years after closing and royalty-bearing thereafter.

Today only approximately 10% of Craftsman-branded products are sold outside of Sears Holdings and the agreement will enable Stanley Black & Decker to significantly increase Craftsman sales in these untapped channels.
Learn more in the Stanley Black & Decker Investor Presentation.
"Craftsman is a legendary, American brand with tremendous consumer awareness built on a legacy of producing quality products at a great value," said Stanley Black & Decker President and CEO James M. Loree. "This agreement represents a significant opportunity to grow the market by increasing the availability of Craftsman products to consumers in previously underpenetrated channels. We intend to invest in the brand and rapidly increase sales through these new channels, including retail, industrial, mobile and online. To accommodate the future growth of Craftsman, we intend to expand our manufacturing footprint in the U.S. This will add jobs in the U.S., where we have increased our manufacturing headcount by 40% in the past three years.
"As we continue our growth trajectory as a diversified industrial company, we continue to look at opportunities to build upon our world-class portfolio of franchises and brands to create shareholder value. This transaction, which aligns squarely with this strategy, also reflects an effective allocation of capital particularly when viewed in the context of the recently announced Mechanical Security sale. We've essentially freed up capital trapped in a low-growth business to invest in organic growth and EPS accretion," added Loree.
Sears Holdings' Chairman and Chief Executive Officer Edward S. Lampert stated, "We are pleased to reach this agreement, after determining that externalizing the Craftsman brand would accomplish our goals of driving value for Sears Holdings and positioning Craftsman for future growth. This transaction represents a significant step in our ongoing transformation to a membership focused business model. Craftsman has a storied history as an iconic American brand and in Stanley Black & Decker we have found a great owner that is committed to expanding Craftsman and helping it to reach its potential outside of its current channels. It's important for our members to know that we will continue to sell Craftsman in-store and online at Kmart and Sears, and Sears Hometown, and the structure of the transaction will provide Sears Holdings with a significant upfront payment, another payment in three years and an opportunity to participate in the growth of the Craftsman brand in both our stores and at other retailers selected and managed by Stanley Black & Decker. Looking ahead, we will continue to take actions to adjust our capital structure, meet our financial obligations and manage our business to better position Sears Holdings to create long-term value by focusing on our best members, our best stores and our best categories."
Transaction Terms
Stanley Black & Decker will pay Sears Holdings $525 million at closing, $250 million at end of year three, and annual payments on new Stanley Black & Decker Craftsman sales through year 15 (2.5% through 2020, 3% through January 2023, and 3.5% thereafter). The net present value of all these cash payments is approximately $900 million. The license granted to Sears Holdings will be royalty-free for 15 years, then 3% thereafter.
Existing sales of Craftsman products outside the Sears Holdings and Sears Hometown distribution channels, which will be assumed immediately upon closing by Stanley Black & Decker, were approximately $200 million over the last 12 months. The company expects the sale of Craftsman branded products to contribute approximately $100 million of average annual revenue growth for approximately the next ten years. The transaction is expected to be accretive to earnings by approximately $0.10-$0.15 per share in year one, increasing to approximately $0.35-$0.45 by year five and to approximately $0.70-$0.80 by year ten, excluding approximately $20 million of deal-related costs.
The transaction, which was approved by the Boards of Directors of both companies, is expected to close during 2017, subject to customary closing conditions and regulatory approvals.
Source : Stanley Black & Decker Press Release
www.stanleyblackanddecker.com

To advertise on the Insight DIY website and download our media pack, click here.
Interested in pricing intelligence? Manually tracking retail prices? There really is a much easier way. Just contact us here.
Sign-up for our weekly newsletter here.
10 January 2017

Insight DIY always publishes the latest news stories before anyone else and we find it to be an invaluable source of customer and market information.

Max Crosby Browne - CEO, Home Decor