International DIY News
The Home Depot launches Project Color app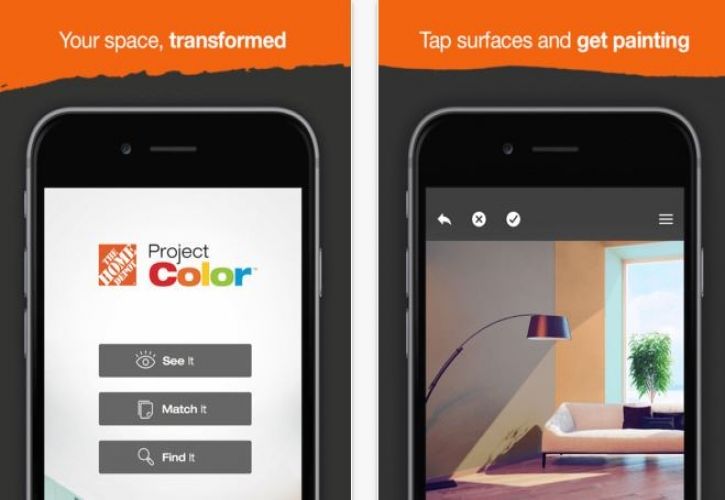 When homeowners debate painting the walls in their home, one of the biggest reasons they abandon the project may be due to the uncertainty of the final look. Since doubt makes many consumers hesitant to paint, big box retailer Home Depot released the app Project Color™ in an effort to help them select the right colors and feel more confident with their decisions.
Different from the retailer's standard app, this paint-color app allows customers to preview a paint color in the desired space, according to the home improvement retailer.
The company explains that the app brings realistic visuals to customers through an exclusive patent technology for how paint renders in the app. Users can take a photo of a room in their home, select a color in the Home Depot color catalogue and tap a wall to preview the look. The app can even adjust the color in the room to show different lighting conditions, such as daylight, incandescent or LED lighting.
"The process is based off of color first and brand last, so [users] know [they'll] be getting the exact shade that's right for [them]," says Samara Tuchband, senior director of online merchandising at the Home Depot.
In addition, the app allows users to find paint shades that match a favorite hue in a room, like a pillow or accent piece. Although app users cannot purchase paint directly in the Project Color app, once they select a color, they will be redirected to Home Depot's The Color Center online to specify brand, sheen, container size and then proceed to checkout.
"Our No. 1 objective is helping a customer have more knowledge and certainty before they hit the store," Tuchband adds.
The retail landscape will continue to shift and change as more apps like the Project Color app become an additional reference point for consumers when making home improvement purchasing decisions.
Source : Renee Changnon – Hardware Retailing
www.hardwareretailing.com/home-depot-app-helps-customers-preview-paint/
20 October 2015

Thank you for the excellent presentation that you gave at Woodbury Park on Thursday morning. It was very interesting and thought-provoking for our Retail members. The feedback has been excellent.


Martin Elliott. Chief Executive - Home Hardware.