International DIY News
The Home Depot reports 5.8% y-o-y rise in sales in Q4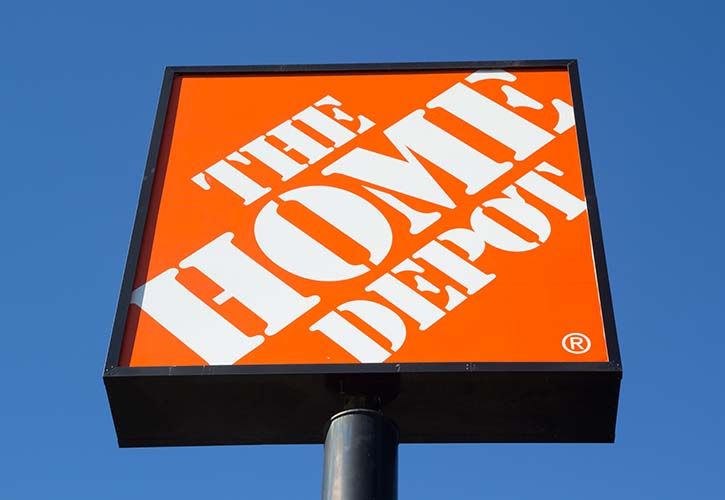 The Home Depot®, the world's largest home improvement retailer, today reported sales of $22.2 billion for the fourth quarter of fiscal 2016, a 5.8 percent increase from the fourth quarter of fiscal 2015. Comparable store sales for the fourth quarter of fiscal 2016 were positive 5.8 percent, and comp sales for U.S. stores were positive 6.3 percent.
Net earnings for the fourth quarter of fiscal 2016 were $1.7 billion, or $1.44 per diluted share, compared with net earnings of $1.5 billion, or $1.17 per diluted share, in the same period of fiscal 2015. For the fourth quarter of fiscal 2016, diluted earnings per share increased 23.1 percent from the same period in the prior year.
Fiscal 2016
Sales for fiscal 2016 were $94.6 billion, an increase of 6.9 percent from fiscal 2015. Total company comparable store sales for fiscal 2016 increased 5.6 percent, and comp sales for U.S. stores were positive 6.2 percent for the year.
Earnings per diluted share in fiscal 2016 were $6.45, compared to $5.46 per diluted share in fiscal 2015, an increase of 18.1 percent.
"Our focus on providing localized and innovative product selection, improving the interconnected customer experience, and driving productivity resulted in record sales and net earnings for 2016," said Craig Menear, chairman, CEO and president. "Our associates responded to a healthy housing market and strong customer demand, and I'd like to thank them for their execution, hard work and continued dedication to our customers."
Capital Allocation Strategy
As a reflection of the progress on the Company's strategic initiatives, and commitment to creating shareholder value, today the Company made the following announcements:
The Company's targeted dividend payout ratio will be increased from 50 percent to 55 percent of net earnings;
The board of directors declared a 29 percent increase in the quarterly dividend to $0.89 per share. The dividend is payable on March 23, 2017, to shareholders of record on the close of business on March 9, 2017. This is the 120th consecutive quarter the Company has paid a cash dividend;
The board of directors has authorized a $15.0 billion share repurchase program, replacing its previous authorization. Since 2002 and through January 29, 2017, the Company has returned more than $67 billion of cash to shareholders through repurchases, repurchasing approximately 1.3 billion shares.
Fiscal 2017 Guidance
The Company provided the following guidance for fiscal 2017:
Sales growth of approximately 4.6 percent
Comparable store sales growth of approximately 4.6 percent
Six new stores
Gross margin decrease of approximately 15 basis points
Operating margin expansion of approximately 30 basis points
Tax rate of approximately 36.3 percent
Share repurchases of approximately $5.0 billion
Diluted earnings-per-share growth after anticipated share repurchases of approximately 10.5 percent, or $7.13
Capital spending of approximately $2.0 billion
Depreciation and amortization expense of approximately $2.0 billion
Cash flow from the business of approximately $11.3 billion
The Home Depot will conduct a conference call today at 9 a.m. ET to discuss information included in this news release and related matters. The conference call will be available in its entirety through a webcast and replay at ir.homedepot.com/events-and-presentations.
At the end of the fourth quarter, the Company operated a total of 2,278 retail stores in all 50 states, the District of Columbia, Puerto Rico, U.S. Virgin Islands, Guam, 10 Canadian provinces and Mexico. The Company employs more than 400,000 associates. The Home Depot's stock is traded on the New York Stock Exchange (NYSE: HD) and is included in the Dow Jones industrial average and Standard & Poor's 500 index.

Image : Rob Wilson / Shutterstock, Inc.

Source : The Home Depot
www.homedepot.com
To advertise on the Insight DIY website and download our media pack, click here.
Interested in pricing intelligence? Manually tracking retail prices? There really is a much easier way. Just contact us here.
Sign-up for our weekly newsletter here.
21 February 2017

Thank you for the excellent presentation that you gave at Woodbury Park on Thursday morning. It was very interesting and thought-provoking for our Retail members. The feedback has been excellent.


Martin Elliott. Chief Executive - Home Hardware.