UK DIY News
The Homebase brand will be gone in 5 years - Peter Davis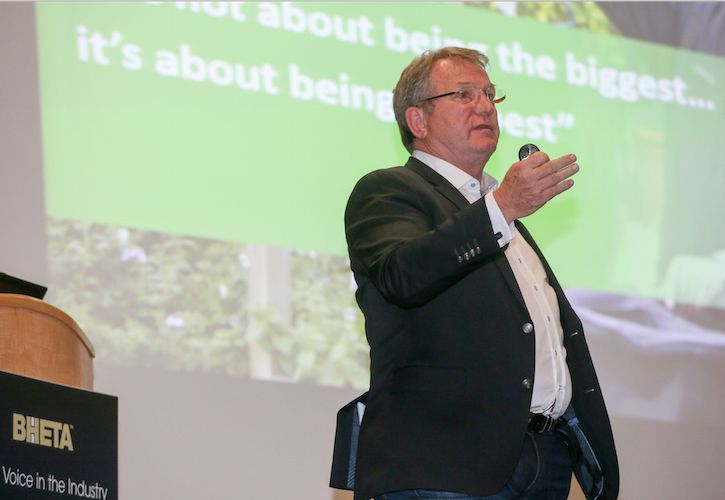 This is a summary of Peter Davis' presentation at the BHETA forum that took place at the Ricoh Arena, Coventry on Thursday 3rd November 2016. For more information on BHETA, news on future events and to find out how to become a BHETA member, click here.
Introduction – History of Bunnings.
We're changing things quickly and we're making some mistakes. The first thing I wasn't going to allow was empty shelves, which has now been sorted, although we've probably now got too much stock and there's still a lot of work to do.
Read – There's a hell of a lot to do! – John Gillam
When we first took control of the business, at the first staff conference we asked for a show of hands as to who actually shopped at Homebase and only 20% of our own staff admitted that.
The UK Home Improvement Market
We're very excited about the UK, it's a £38bn home improvement market and the great news is that 40% of your building stock is over 50 years old, that's a lot of repairs that need doing. Very different to Australia, where most of the housing stock is relatively new.
For more information on UK housing stock click here
The Homebase Team
120 of our key staff have already visited our Bunnings business in Australia and 380 attended our Leadership Training Sessions. We've begun to run supplier in-store training sessions and we've been investing in core activities including new tills and more trolleys and baskets. There's been very little investment in the Homebase business for a long time.
I'm very proud of my new leadership team, which is there to drive values into the business. Helped and supported by the UK Advisory Board, which includes Archie Norman (ex. Asda), Matt Tyson (ex.B&Q) and Michael Mire (McKinsey & Company).
Read more about the Bunnings UK Advisory Board here
The plan to separate Homebase from HRG is well advanced, which is quite challenging when you don't have your own legal, HR and new format teams.
The Homebase Brand & Store Estate
The Homebase brand will be gone within 5 years. We've acquired a good store base for Bunnings, although the average store size is smaller than in Australia. We'll be launching pilot stores shortly to see how people feel about Bunnings and in time we will open new stores in existing retail premises and build new stores. Sometimes, this is actually cheaper than converting existing stores.
The first pilot store will be the 70,000sq ft store located at Griffiths Way, St.Albans. It will close mid November, be gutted and will re-open as a Bunnings in mid February 2017. Probably not the best time to close a store, but we're confident of the returns that will be generated under the new format.
The first Homebase store to get a Bunnings makeover is......
The mezzanine will be taken out and there will be a greater covered area to accommodate an expanded garden category, which is core to the Homebase business.
Three more pilot stores will be launched by 30th June next year and ten by the end of 2017. This is the first part of our £500m committed investment to the UK business.
Long Term Value Creation
Our long term focus will be on the following:-
1. To deliver a winning offer to customers.
2. To have an engaged, focused and commited team.
3. To have business behaviour that builds trust.
4. To deliver sustainable returns.
PJ finished his presentation with a quote 'It's not about being the biggest, it's about being the best'.
Source: Insight DIY Team
To find out about future events and to become a BHETA member, click here.
Photo - courtesy of British Home Enhancement Trade Association.
07 November 2016

Insight provides a host of information I need on many of our company's largest customers. I use this information regularly with my team, both at a local level as well as with our other international operations. It's extremely useful when sharing market intelligence information with our corporate office.

Paul Boyce - European CEO, QEP Ltd.