UK DIY News
Topps Tiles Reports Strategic Progress & Resilient Sales In Full-Year Results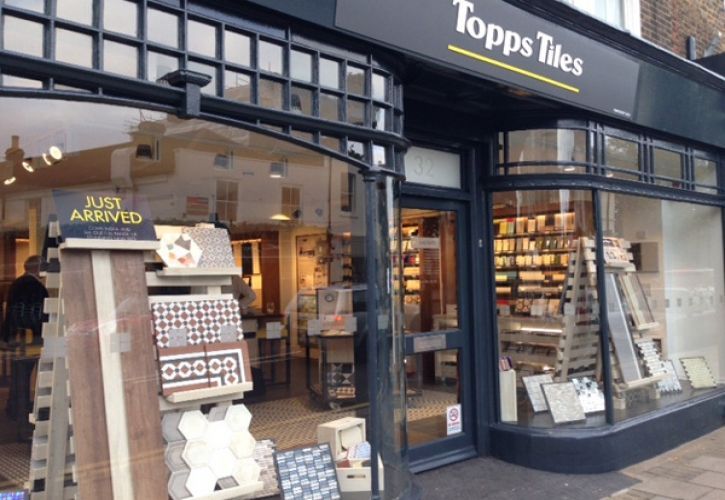 Topps Tiles PlC, the UK's largest tile specialist, announces its annual financial results for the 52 weeks ended 28 September 2019.
Highlights
Financial Summary
• Adjusted revenues broadly flat at £214.3m (2018: £214.8m) and like-for-like sales growth of 0.6%;
• Adjusted profit before tax of £16.0m (2018: £16.0m), with growth in gross margin offsetting inflationary cost pressures;
• Net debt reduced by £4.9m year-on-year to £11.3m due to continued cash generation and year end timing related working capital benefits;
• Final dividend maintained at 2.3 pence per share (2018: 2.3 pence per share), making a total for the year of 3.4 pence per share (2018: 3.4 pence per share);
• Statutory profit before tax of £12.5m (2018: £12.7 m)
Strategic & Operational Summary
Group
• The UK's leading tile specialist with a core purpose to inspire customers through our love of tiles;
• Leading Product strategy is focused on delivering competitive advantage through our specialist focus, buying scale and expertise across both retail and commercial businesses:
- 86% of tile ranges are own brand or exclusive to Topps
- 40 new ranges launched during the year with over one third developed in-house
- 70% of Group purchases now made through our core supplier group
• Leading People is about ensuring we have the best people in each of our respective market places and achieving this through excellent leadership of our people;
• Colleague engagement is key to our customer service ethic – development of colleagues and internal succession are key areas of focus.
Retail
• Strategy of "Out-specialising the Specialists" remains our key focus;
• Customer overall satisfaction rating of 86% - we estimate this ranks us #3 within the UK retail sector (source: Institute of Customer Service and Topps data);
• New omni-channel website launched at the start of October - digital experience and social media presence continues to grow in importance; new 'Virtual Tiler' tool providing enhanced inspiration for customers and linking further the in-store and online experience;
• Almost all of our customers come to store and experience the world class specialist service provided by colleagues in our 362 retail stores (2018: 368 stores) – continued review of portfolio and existing lease flexibility is key;
• Continued rapid growth in our Trade Rewards+ loyalty programme for professional tile fitters - now over 90,000 active members (2018: 72,000).
Commercial
• Strategy of disrupting the commercial tile market and constructing a new market leader over the medium term;
• Entry into commercial tile market has approximately doubled the size of the Group's addressable UK market whilst allowing us to leverage our tile expertise and scale;
• Sales of £4.9m (+133% YoY or 81% excluding Strata) and a trading loss of £2.0m (2018: £1.0m), plus a non-trading loss of £0.3m (2018: £0.1m)
Current Trading and Outlook
• In line with our past experience, consumer demand has weakened further since the UK General Election was called in late October;
• In the first eight weeks of the new financial period, retail like-for-like revenues decreased by 7.2% (2018: decrease of 1.9%);
• A reduction in political uncertainty will be key to the short term outlook improving.
Commenting on the results, Matthew Williams, CEO said:
"This has been another year of strategic progress for Topps, with a resilient sales performance in our retail business and significant development in our commercial operations. In Retail, our strategy of 'Out-specialising the Specialists' enabled us to deliver like-for-like sales growth and further enhance our market-leading gross margins in tough market conditions. In Commercial, we saw significant year-on-year sales growth as we continue to invest in constructing a market-leader over the medium term.
"At the start of the new financial year, trading conditions have become more challenging, with consumer demand weakening further since the General Election was called in late October. Against this backdrop of heightened political and economic uncertainty, like-for-like sales in the first eight weeks have declined. Whilst we expect external events will continue to weigh on consumer confidence for the immediate future, we remain confident that our market-leading retail offer and growing commercial operations give us a strong platform from which to deliver sustainable growth over the medium and long term."
Source : Topps Tiles PLC
26 November 2019

Insight DIY always publishes the latest news stories before anyone else and we find it to be an invaluable source of customer and market information.

Max Crosby Browne - CEO, Home Decor