UK DIY News
Wickes renews partnership with Leukaemia & Lymphoma Research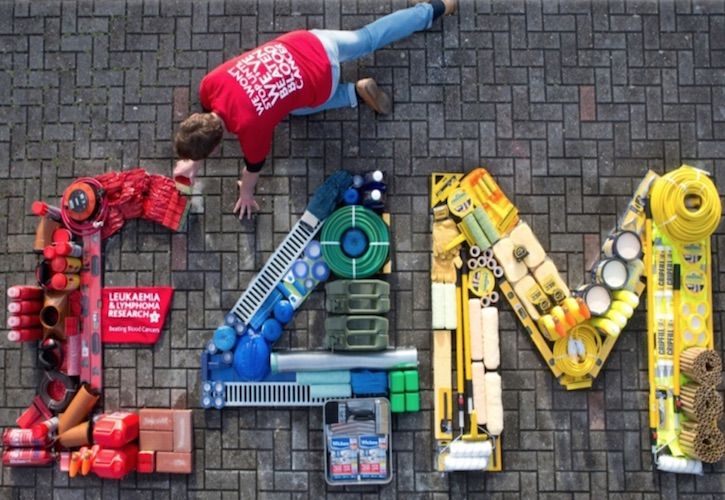 A leukaemia patient helped to construct a giant 'art-attack-style' mosaic last week to celebrate the renewal of the fundraising partnership between DIY retail chain Wickes and blood cancer charity Leukaemia & Lymphoma Research.
The eight-year collaboration, which has recently smashed the £4million mark, will continue into 2015 thanks to votes from Wickes colleagues. Andy Jackson, aged 30, who was diagnosed with chronic myeloid leukaemia in September 2003, placed the final item – a pack of wall plugs - into the '£4m' artistic creation. The masterpiece was constructed using 265 products all sourced from the Wickes Maldon store, including 28 rolls of masking tape, eleven paint rollers, six spirit levels and two fire extinguishers.
Andy, from Tooting, received his blood cancer diagnosis shortly after his mum received the prognosis that her bowel cancer was terminal. He had been sent to the Eye Specialist Unit at Kingston Hospital after a routine eye examination revealed haemorrhaging in the back of his eyes. Two blood tests later, it was confirmed that he had leukaemia. He underwent chemotherapy and a stem cell transplant in May 2004 and is currently in remission.
Andy says: "The fundraising carried out by Wickes and their customers over the past eight years has been nothing short of extraordinary. As a blood cancer patient who has directly benefited from the research that has been supported by their efforts, I cannot thank them enough for everything they've done. The improvements in treatments since the partnership began have allowed me to recover in time to make it to university and go on to do some amazing things living life to the full."
Cathy Gilman, Chief Executive of Leukaemia & Lymphoma Research, says: "We are delighted that Wickes colleagues have decided to continue to work with us to help beat blood cancer. To have reached the £4million mark is a true testament to the incredible dedication and support of colleagues and customers year on year. They have truly gone above and beyond to make this partnership such a success. All the money they have raised will help us in our mission to beat blood cancer - stopping people from dying and making patients' lives better."
Matthew Gaunt, Head of Brand Communications at Wickes, adds: "Leukaemia & Lymphoma Research does incredibly important work so we'd like to thank Wickes colleagues and customers across the country for their efforts in helping to support this fantastic organisation. We look forward to continuing to work towards our joint aim of beating blood cancer and hope to have even more success in 2015." Since 2006, Wickes colleagues have enthusiastically taken on a range of fundraising events, including Boss in a Box - where a Director spent 34 hours in a plastic box, a cross-channel row, and most recently Wickes Around the World, whereby colleagues collectively cycled 33,000 miles on static bikes to raise £75,000.
Source: Steph Cade - Fundraising Press Officer - Leukaemia & Lymphoma Research.
Read the full article here.
26 January 2015

Insight DIY always publishes the latest news stories before anyone else and we find it to be an invaluable source of customer and market information.

Max Crosby Browne - CEO, Home Decor