UK DIY News
B&Q overall sales decline following store closures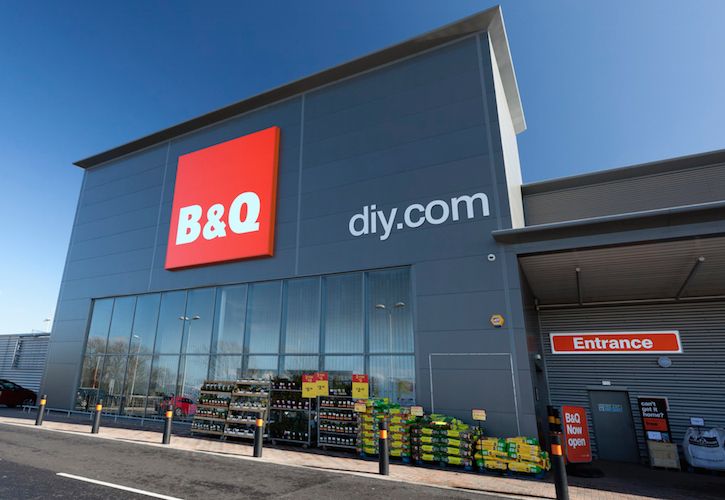 Kingfisher has reported on full year trading, covering the year ended 31st January 2017.
Kingfisher UK & Ireland sales were up 2.4% (+5.9% LFL) to £4,979 million benefiting from a broadly supportive backdrop and continued strong Screwfix performance.
Retail profit grew by 9.9% to £358 million. Gross margins were down 80 basis points reflecting mix effects from strong growth in Screwfix, clearance related to the B&Q store closures and higher digital sales.
Focus on cost control continued.
B&Q total sales declined by 3.3% to £3,680 million reflecting planned store closures partly offset by sales transference. LFL sales increased by 3.5% of which 2.6% resulted from sales transference associated with the store closures.
LFL sales of seasonal products were up 3.1% while sales of non-seasonal products, including showroom, were up 3.6%.
Click & collect is now available on over 31,500 products (FY 2015/16: 16,700). Total digital sales, including home delivery, continued to make good progress with sales growing by 45%.

Screwfix grew total sales by 23.2% (+13.8% LFL) to £1,299 million, driven by strong growth from the specialist trade desks exclusive to plumbers and electricians, strong digital growth (e.g. click & collect +60%, mobile +124%) and the continued roll out of new outlets.
60 new outlets were opened, taking the total to 517. Our overall target is to have around 700 outlets in the UK, up from 600 previously

Visit our Articles page for the full publication.

UK & Ireland and Europe restructuring

B&Q completed the closure of 65 stores (c.15% of space) in the two years ending 31 January 2017 (35 closures in FY 2016/17; 30 closures in FY 2015/16). In Q1 B&Q entered into a lease liability transaction with a third party to dispose of the remaining leases. As previously announced, there will also be a small number of closures of loss making stores across Europe. In FY 2016/17 two stores were closed, one in Russia and one in Spain, with an update on further closures to be made in due course. The total store rationalisation programme was originally expected to give rise to an exceptional charge of around £350 million, relating principally to onerous lease provisions. An exceptional charge of £305 million was reported in FY 2015/16. An overall exceptional gain of £15 million was reported in FY 2016/17 reflecting lower than expected B&Q store exit costs resulting from the lease liability transaction, and the decision to keep one B&Q store open that was originally planned for closure, partly offset by the forced closure of one other store.
Véronique Laury, Chief Executive Officer, said:
"It has been a very productive and important year, a year which has again delivered sales and profit growth. I am really pleased that our performance has been achieved alongside delivering the key first year strategic milestones of our ambitious five year transformation plan, based on creating a unified company where customer needs come first. We have learned a lot and are aware of the challenges. We are well set up for next year and beyond as the level of activity increases.
"Looking forward, the EU referendum has created uncertainty for the UK economic outlook and we remain cautious on the outlook for France, especially in light of the forthcoming presidential elections. Looking longer term, supported by the expertise and energy of our colleagues, we remain confident in the size of the prize and our ability to deliver the plan - both the financial benefits the transformation will unlock and the stronger business it will create."

Martin Lane, Managing editor at www.money.co.uk, gave us his view:
"The nation's unwavering love for DIY could be down to sky high house prices which mean making home improvements are more affordable than actually moving home. Kingfisher's strategy is certainly paying off, focusing on a mobile first strategy which has definitely helped their latest sets of results.
"Mobile first isn't a new fad – it's steadily becoming the way consumers do everything from banking to grocery shopping. Customers getting a slick mobile experience is becoming far more important than a retailer's traditional desktop websites."
Source : Kingfisher PLC
www.kingfisher.com
Sign-up for our weekly newsletter here.
If your business is interested in pricing intelligence or you're currently trying to track retail prices manually, there really is a much easier way. Just contact us here.
To advertise on the Insight DIY website and download our media pack, click here.
22 March 2017

Thank you for the excellent presentation that you gave at Woodbury Park on Thursday morning. It was very interesting and thought-provoking for our Retail members. The feedback has been excellent.


Martin Elliott. Chief Executive - Home Hardware.