UK DIY News
Kingfisher delivers 'productive' first half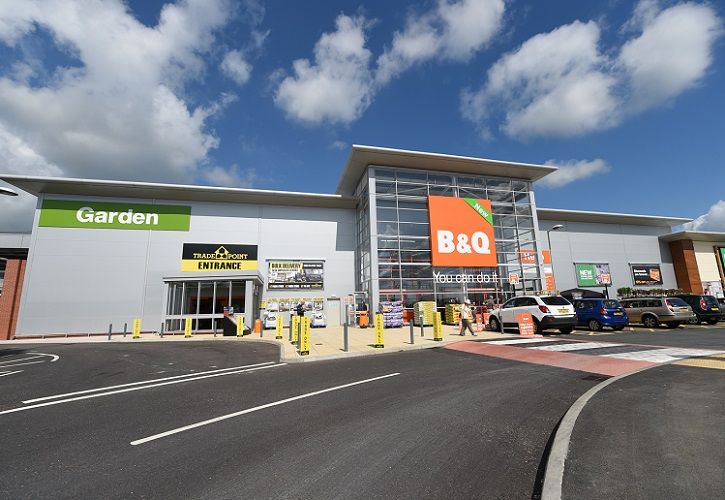 Kingfisher has reported on half-year trading, covering the six months ended 31st July.
Group

Group sales increased by 2.7% to £5,749m (3.3% LFL) compared with £5,382 in 2015/16, and retail profit increased by 8.7% to £464m, in constant currencies.

Underlying pre-tax profit of £436m, up 13.5%, driven by UK and Poland profit growth and £17m favourable FX movements on the translation of non-sterling retail profits
£317m of cash was returned to shareholders in the year to date (£157m dividend; £160m buyback)
Kingfisher UK & Ireland
Kingfisher UK & Ireland sales were up 3.1% (+6.7% LFL) to £2,609 million benefiting from a broadly supportive backdrop and continued strong Screwfix performance.

Retail profit grew by 8.8% to £211 million. Gross margins were down 100 basis points reflecting mix effects from strong growth in Screwfix, clearance related to the B&Q store closures and higher digital sales. Focus on cost control continued.

Following the outcome of the EU referendum result in the UK there has been no clear evidence of an impact on demand so far on our businesses.
B&Q UK & Ireland
B&Q total sales declined by 1.9% reflecting store closures and sales transference (+4.6%
LFL) to £1,997 million. LFL sales benefited by c.2% from sales transference associated
with the store closures. LFL sales of outdoor seasonal products were up 1.6% while sales
of indoor products, including showroom, were up 5.9%.

B&Q's click & collect is now available on over 18,000 products. Total online sales*,
including home delivery, continued to make good progress with sales growing by 39%.
Screwfix grew total sales by 24.0% (+14.7% LFL) to £612 million, driven by strong growth
from the specialist trade desks exclusive to plumbers and electricians, strong digital growth
(e.g. mobile +117%; click & collect +59%); and the continued roll out of new outlets. 20 net
new outlets were opened, taking the total to 477.
Kingfisher France
Kingfisher France sales increased slightly by +0.3% (-1.6% LFL) to £2,175 million. Widespread industrial action and exceptionally wet weather created a more challenging environment in Q2 after a more encouraging Q1.
Castorama total sales declined by 1.1% (-2.1% LFL) to £1,188 million. LFL sales of outdoor seasonal products were down 6.2% and sales of indoor and building products were down 1.3%. Brico Dépôt total sales increased by 2.1% (-0.9% LFL) to £987 million reflecting store openings.
Store Closures
As previously announced, B&Q will complete the closure of around 15% of space by the
end of FY 2016/17. There will also be a small number of closures of loss making stores
across Europe. In addition to the 30 B&Q stores closed in FY 2015/16 a further 22 stores
were closed in H1.
More details are available in the full publication here.
Véronique Laury, Chief Executive Officer, said:
"It has been a productive first half. We have delivered a good 'business as usual' result with both sales and profit growth. Performance has been driven by Poland and the UK, especially Screwfix, and a stable profit performance in France. This has been achieved alongside managing the start of our ambitious transformation plan, based on creating a unified company where customer needs come first.
"In the UK, the EU referendum has created uncertainty for the economic outlook, even though there has been no clear evidence of an impact on demand so far on our businesses. In France we remain cautious on the short term outlook.
"Looking longer term, we are starting to build solid foundations to enable us to deliver our five year transformation, which is our key growth driver. We are making good progress on our strategic milestones for this first year and we are on track. The level of transformation activity will increase significantly, however given the expertise and energy of our colleagues we continue to feel confident about the challenges ahead."
Analyst View
Martin Lane, a representative at www.money.co.uk gave us his views:
"Kingfisher's 5 year no nonsense strategy has certainly paid off. As they continue to shut stores to drive down costs, profits are soaring thanks to strong online sales. The nation's infatuation for DIY is the result of sky high house prices which mean improving the house you own is more affordable than moving.
"The B&Q and Screwfix shopping experience has totally changed. More and more customers are ordering items on their mobiles – sales on phones have doubled and it's a trend all retailers need to sit up and pay attention to. This isn't a new fad – it's steadily becoming the way consumers do everything from banking to grocery shopping. Making sure customers get a slick mobile experience is becoming far more important than retailer's actual websites."
Image : Michaelpuche / Shutterstock.com
Source : Kingfisher
www.kingfisher.com
Want more news like this? Sign-up for our weekly newsletter here.
If your business is interested in pricing intelligence or you're currently trying to track retail prices manually, there really is a much easier way. Just contact us here.
Interested in advertising on Insight DIY? Learn more here.
20 September 2016

Insight provides a host of information I need on many of our company's largest customers. I use this information regularly with my team, both at a local level as well as with our other international operations. It's extremely useful when sharing market intelligence information with our corporate office.

Paul Boyce - European CEO, QEP Ltd.