UK DIY News
Kingfisher half year results and ONE Kingfisher update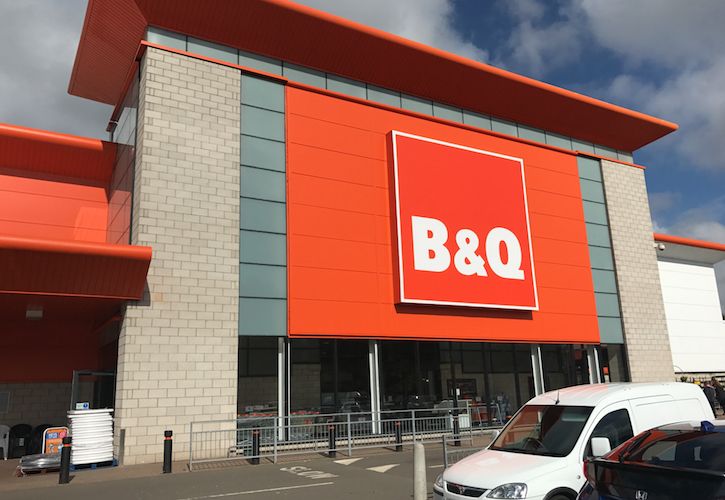 At 7am this morning Kingfisher PLC announced their half year results for the six month period ending 31st July 2017, plus an update on their Kingfisher ONE strategy.
Total Kingfisher Group sales reached just over £6bn, down 1.3% on a like for like basis with Group Retail Profit at £467m, a 0.5% increase over last year.
Read - Kingfisher Half Year Results Infographic summary here.
In the UK and Ireland, B&Q and Screwfix delivered a combined turnover of £2.602bn a 1.1% increase in overall like for like sales, however, this performance once again highlights the growing differential in performance between the B&Q and Screwfix businesses.
During the six month period, 16 new Screwfix stores were opened and they achieved an 11.7% increase in sales, whilst B&Q was 2.3% down. Retail profit for the UK and Ireland was up 1.7%, however, we don't know the breakdown of this between Screwfix and B&Q, although we're certain that Screwfix is now generating more retail profit than B&Q.
The UK performance compares favourably with their French businesses Castorama and Brico Depot, where total sales for the six months reached £2.273bn, down 4.6% on a like for like basis. Retail profit in France was £174m down 14.6% over last year.
In terms of their other established international markets, sales were £1.059bn, up 0.1% on a like for like basis and retail profit reached £88m, up 3.7%.
The B&Q store rationalisation programme, involving the closure of 65 stores is now complete and the costs associated with this are £50m less than original forecast.
Download the Kingfisher analyst slide presentation here.
5 year transformation continues at pace
Significant step up in level of transformation activity in H1, as planned
H1 group results reflect

c.2% LFL impact from business disruption, albeit with an overall improving trend, and continued weaker sales in France, offset by
continued solid growth at Screwfix and Poland, and self-help initiatives, including £10m Goods Not for Resale* (GNFR) benefits

Acting on root causes of business disruption, continue to adapt our approach e.g.

re-phasing rollout of unified IT platform prioritising larger OpCos to start H2 17/18 instead of FY 18/19 and enabling earlier launch of stronger digital offer
smoothing roll out of unified cost of goods sold for next 2 years whilst maintaining 90% target for FY 20/21

Plans in place to support overall FY 17/18 performance

remain comfortable with FY consensus underlying EPS expectations (1), though remain cautious on H2 backdrop
Transformation is being delivered, confident in benefits it will generate
For the second year in a row, on track to deliver strategic milestones

Unified & unique offer: positive early customer reaction to new ranges, now at 16% unified cost of goods sold, cost price reduction (CPR) and cost of change in line with expectations
Digital: unified IT platform now in all Castorama France stores with back office underway
Operational efficiency: encouraging delivery of GNFR benefits, FY 17/18 guidance now c.£25m (up from c.£20m previously)
Delivering shareholder returns
Returned £359m of cash to shareholders year to date

£159m via ordinary dividend
£200m via share buyback (completed £400m of the c.£600m, next tranche of up to £60m to commence shortly)
Statutory reporting:
<th>2017/18</th><th>2016/17</th><th>% Change</th>
Statutory pre-tax profit
£402m
£427m
(5.9)%
Statutory post-tax profit
£295m
£321m
(8.1)%
Basic EPS
13.3p
14.1p
(5.7)%
Véronique Laury, Chief Executive Officer, said:
"As planned, this first half has seen a significant increase in the level of transformation activity. Changes are now visible in our stores with new product ranges being well received by customers. We are also changing our ways of working alongside the continued rollout of our unified IT platform. The pace is quick and impactful and is reflected in our performance. We continue to have a flexible approach as our transformation progresses, adapting as necessary, and this will support the significant amount of change planned for the second half and beyond.
"Looking across our markets, we have seen solid growth at Screwfix and Poland, offset by continued weaker sales in France and some business disruption, principally reflecting product availability and clearance. We are aware of and are acting on the causes of this disruption, which we are confident will ease. For the full year, we have self-help plans in place to support our overall performance and remain comfortable with full year profit expectations, though we remain cautious on the second half backdrop in the UK and France.
"We are on track to deliver our full year strategic milestones for the second year in a row. We understand the reality of our customers' lives and are creating a unified and unique offer based on their needs. We are buying as ONE and are starting to see the customer and financial benefits coming through. This is all underpinned by our IT rollout which remains on track, and efficiency benefits which continue to deliver.
"We remain confident in our ability to deliver our five year plan and in the benefits it will generate, supported by our great team of hard-working and enthusiastic colleagues."
Fiona Cincotta, a senior market analyst at https://www.cityindex.co.uk/ provided the following comment for Insight DIY.
"Kingfisher has maintained its earnings guidance, though it's outlook statement is short of rock-solid. A hint of caution has been added to the language amid volatile trading conditions in the U.K and France.
Management has fleshed out more details of its turnaround plan and it's good to see that's on track. Progress has been made simplifying the product range and cost savings appear to be running ahead of guidance.
There may be more bumps in the road, though, as the IT-system integration continues. So it's still too early to call the bottom for Kingfisher shares.
Management at least has a reasonably healthy balance sheet to draw from as it slogs through another few years of upheaval".
Source: Insight DIY Team & Kingfisher press release.
For all the very latest news on Kingfisher, B&Q and Screwfix, don't miss out, sign up for the Insight DIY weekly newsletter today.
20 September 2017

I find the news and articles they publish really useful and enjoy reading their views and commentary on the industry. It's the only source of quality, reliable information on our major customers and it's used regularly by myself and my team.

Simon Fleet - Sales & Marketing Director, Thomas Dudley Ltd