UK DIY News
Kingfisher Interims: 21% Rise In Group Like-For-Like Sales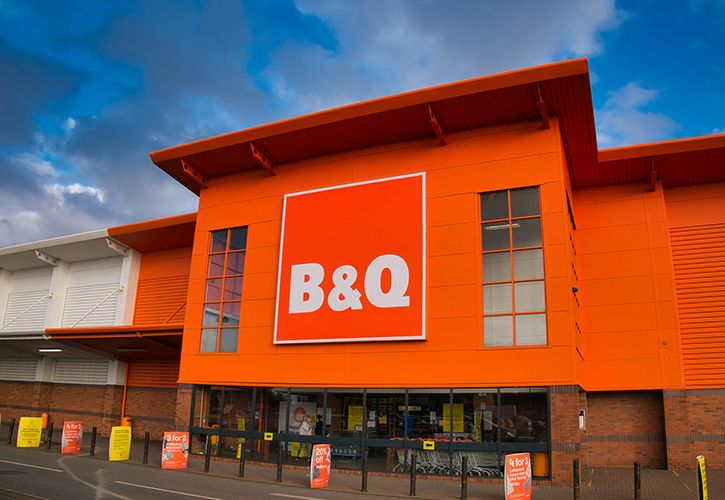 Kingfisher has published half-year results, covering the six months ended 31st July 2021.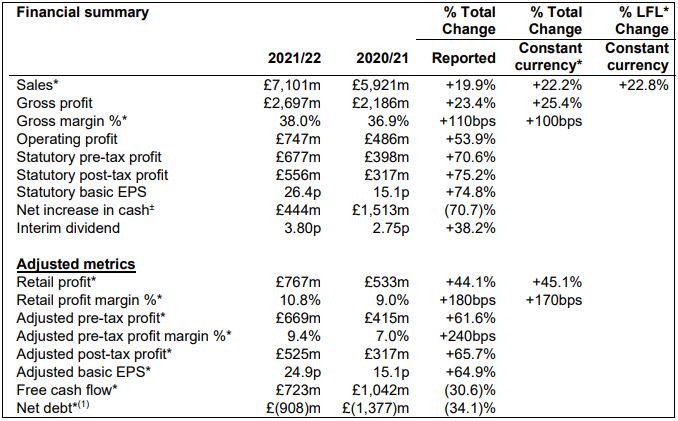 Highlights

• Strong financial performance and improved competitive position in key markets
• Effective management of product availability, logistics and inflation pressures

• Rapid progress made with 'fixing' issues from previous years

• Delivery against 'Powered by Kingfisher' strategic priorities ahead of schedule

• New longer-term industry trends creating growth opportunities

• Accelerating investments for growth

• £300 million to be returned to shareholders via share buyback programme, reflecting strong cash generation and confidence in outlook
H1 21/22 Group results

• Sales up 22.2% in constant currency, driven by strong demand for home improvement across retail and trade channels

• LFL sales up 22.8% and corresponding 2-year LFL* up 21.3%
− Strong performances in the UK & Ireland*, France*, Iberia* and Romania; Poland impacted by
COVID-related temporary store closures in Q1 21/22
− Transaction volume and average basket value both up on 1-year and 2-year basis
− LFL sales down 0.8% in Q2 21/22 and corresponding 2-year LFL up 20.0%

• E-commerce sales* up 21% (2-year growth up 216%) driven by continued strong demand
− E-commerce sales 19% of Group sales (H1 20/21 and H1 19/20: 19% and 7%, respectively)

• Retail profit up 45.1% in constant currency, driven by strong UK & Ireland profit growth and France profit growth of over 100%

• Statutory pre-tax profit up 70.6%, reflecting higher operating profit, and lower net finance costs and adjusting items* before tax

• Adjusted pre-tax profit up 61.6%, reflecting higher retail profit and lower net finance costs

• Free cash flow of £723 million, down 30.6% (H1 20/21: £1,042 million; H1 19/20: £204 million), largely reflecting reversal of working capital inflow in prior year related to inventory

• Net debt to last twelve months' EBITDA* of 0.5x (0.9x as of 31 January 2021)

• Interim dividend per share declared of 3.80p (FY 20/21 interim dividend: 2.75p)
Delivery against strategic priorities ahead of schedule – accelerating investments for growth

• Rapid progress made fixing issues from previous years – UK and Poland 'fixes' complete; France on track with range repair and logistics optimisation within 12 months

• Making good progress with core strategic priorities, including:
− E-commerce: Accelerated focus on last-mile delivery; store 'hub' model implemented in
Castorama France and Poland, with further investments in B&Q's hubs
− Own exclusive brands (OEB): Successful roll-out of new kitchen range in France, Poland & Romania; driving specific OEB into different formats and extending ranges to support choice
− Several mobile-led and service innovations, including: installations services at B&Q, new
mobile app for Screwfix, self-checkout terminals, new 3D kitchen and bathroom design tool;
accelerating roll-out of NeedHelp services marketplace in the UK and Poland
− Continuing to test and launch new compact stores and partnership models
− Progressing Responsible Business priorities: strong colleague engagement survey results;
new approved carbon reduction targets (consistent with a 1.5°C trajectory to 2025)
− Multiple cost reduction programmes in motion; improved inventory health and availability

• Resulting in strong new customer growth and retention over last 18 months, particularly online; improved competitive position in key markets

• Adding significant talent in key business areas of digital, technology and data

• Accelerating investments for growth: Acceleration of digital investment with faster fulfilment and expanded product choice; Screwfix UK & Ireland and Castorama Poland store expansion; opening of first Screwfix stores in France in 2022; relaunch of TradePoint in the UK
Kingfisher UK & Ireland


Kingfisher UK & Ireland sales increased by 29.7% (LFL +28.1%) to £3,570 million, with 2-year LFL sales up 31.2%, reflecting strong demand in all categories throughout H1 from both retail and trade customers. Q1 21/22's performance (LFL +65.0%) benefitted from weak comparatives due to prior year temporary store closures. Our banners significantly improved their competitive position in the UK home improvement market, and engagement with new and existing customers was strong, with both store and website NPS significantly improving YoY. Gross margin % increased by 10 basis points, largely reflecting higher volume rebates earned and effective management of inflation; partially offset by category mix and, at Screwfix, increased promotions and higher supply & logistics costs.

Retail profit increased by 40.8% to £579 million, with a strong performance from both B&Q and Screwfix. Operating costs increased by 23.9% largely due to higher costs associated with strong trading (including headcount increases and higher staff incentives), 23 net new store openings, prior year business rates and furlough relief (subsequently repaid in H2 20/21), and the reversal of some COVID-related temporary cost reduction measures implemented in H1 20/21 (e.g. advertising and marketing). This was partially offset by cost reductions achieved as part of our strategic cost reduction programme.

B&Q total sales increased by 29.4% to £2,378 million (LFL +28.8%), with 2-year LFL sales up 34.0%. On a LFL basis, 'big-ticket' items saw a strong recovery, with showroom (kitchens and bathrooms) in the top-performing categories, while demand remained strong for outdoor products. LFL sales of weather-related categories increased by c.32% (increase of c.50% on a 2-year LFL basis), while sales of non-weather-related categories, including showroom, increased by c.27% (increase of c.27% on a 2-year LFL basis). B&Q's e- commerce sales grew strongly in H1 21/22, increasing by 28% and representing 11% of total sales (H1 20/21: 11%; H1 19/20: 5%).

The relaunch of TradePoint, B&Q's trade-focused banner, is underway. The business continues to be a significant part of B&Q at c.19% of its sales. LFL sales for TradePoint outperformed the rest of B&Q, growing c.39% in H1 21/22, with 2-year LFL sales also up c.39%. Engagement with trade customers continues to be high, with the loyalty program benefitting from continued new sign-ups. Going forward, the loyalty scheme will be integrated into our digital platforms, giving customers the ability to understand current spend levels, and additional spend requirements to trigger higher discount bands (up to 10%). Work is also ongoing to address gaps in ranges, and to improve the digital customer journey and services proposition. We are in the process of trialling a small number of new store layouts.

B&Q opened four new stores in H1 21/22, including two compact stores and two further store-in-store concessions within ASDA supermarkets.

Screwfix total sales increased by 30.4% (LFL +26.8%) to £1,192 million, with 2-year LFL sales up 25.4%, reflecting continued strong momentum, in particular from trade customers. Space growth contributed c.4% to total sales. E-commerce sales grew by 14%, representing 70% of total sales (H1 22 20/21: 80%; H1 19/20: 32%). H1 20/21 online penetration was higher as all stores were closed for instore browsing and purchasing from late March to late July 2020. The business continued to strengthen its digital proposition, launching an innovative new mobile app which has been very well received by customers to date, with mobile remaining the dominant channel of ordering online.

In H1 21/22, Screwfix opened 19 net new stores (including six in the Republic of Ireland). The total number of stores as of 31 July 2021 is 741, including 18 in the Republic of Ireland. The business now has a medium term target of over 1,000 stores in both the UK and Republic of Ireland.
Click here for Kingfisher France and Other International performance
Thierry Garnier, Chief Executive Officer, said:
"We have had a very strong first half of the year, with growth across all our categories and channels, particularly e-commerce. This is a testament to the rapid progress being made against our strategic priorities which continue to drive customer engagement and an improved competitive position in our key markets. For this, I remain extremely grateful to all our colleagues for their continuous effort and outstanding customer service.

"Our commitment to 'do the right thing' remains a key priority. During the period we announced ambitious carbon reduction targets, continued to support the wellbeing and development of our colleagues, and created over 5,300 new roles across the Group.

"We have navigated well through the challenging operational impacts of the pandemic, retaining good product availability at competitive prices and operating safely. We have addressed many of Kingfisher's past issues, with 'fixes' now complete in the UK and Poland. We are also on track in France, with positive results from our ongoing programme to repair our ranges and optimise the logistics network. Retail profit in France more than doubled in the first half.

"The 'Powered by Kingfisher' strategy is moving forward at pace. Key progress has included a new one-hour delivery proposition at Screwfix, the successful introduction of our new OEB kitchen ranges, and many mobile-led and service innovations, including a new and enhanced Screwfix app, the ongoing roll-out of our NeedHelp marketplace, and a new installation offer at B&Q.

"With the business in a strong position, we are now ready to accelerate our investments to capitalise on the attractive growth opportunities available to us. We are accelerating Screwfix's expansion in the UK & Ireland, and will open our first Screwfix stores in France in 2022. We are accelerating our digital investments with new initiatives enabling faster fulfilment and broader choice. We are also moving faster with our expansion plans for Castorama Poland. While we are prioritising growth in our capital allocation, we are also delivering attractive returns to shareholders. Alongside an increased interim dividend, we announced today a £300 million share buyback programme.

"Our industry is benefiting from new trends that we believe will be supportive over the long term. These include people spending more time working from home, the emergence of a new generation of DIY'ers, the need for greener homes, and a strong housing market. Kingfisher is well placed to capitalise on these trends and deliver sustained outperformance."

Outlook for FY 21/22
• The following guidance applies in the event of no adverse change in COVID-related confinement measures (e.g. new lockdown restrictions resulting in store or showroom closures)

• Good start to the second half of the year, with resilient demand across all markets
− Q3 21/22 LFL sales (to 18 September) down 0.6%, with 2-year LFL up 16.1%
− Remain mindful of continued uncertainty relating to COVID

• Increasing our H2 21/22 sales expectations – now planning for LFL scenarios of -7% to -3% (previously -15% to -5%), with corresponding 2-year LFLs of +9% to +13%

• Anticipate full year adjusted pre-tax profit in the range of c.£910 million to £950 million

• Strategic execution and supportive market trends provide opportunity for sustained
long-term growth
Download the full results document here

Source : Kingfisher
Image : Alan Morris / iStockphoto.com (1281594226)
For all the very latest news and intelligence on the UK's largest home improvement and garden retailers, sign up for the Insight DIY weekly newsletter.
21 September 2021

I find the news and articles they publish really useful and enjoy reading their views and commentary on the industry. It's the only source of quality, reliable information on our major customers and it's used regularly by myself and my team.

Simon Fleet - Sales & Marketing Director, Thomas Dudley Ltd