UK DIY News
Kingfisher Q1 Trading Update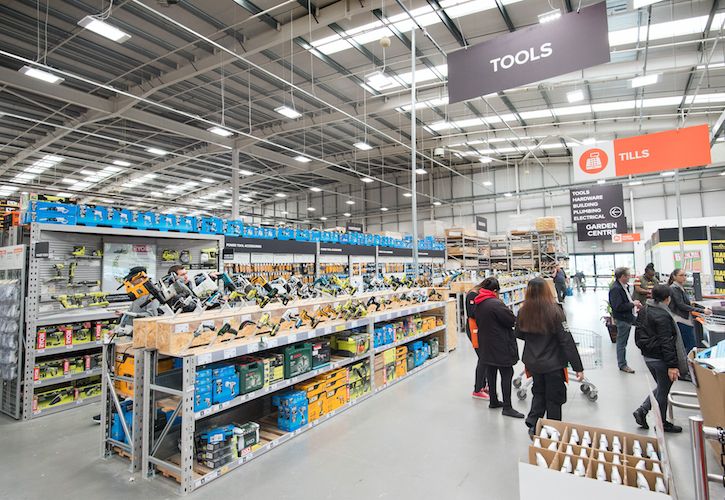 At 7am this morning Kingfisher released their Q1 2017 trading update and here are the key points:-
Financial highlights
Sales

2017/18

% Total

Change

% Total

Change

% LFL Change

£m

Reported

Constant currency

Constant currency

UK & Ireland

1,270

+1.5%

+1.4%

+3.5%

- B&Q UK & Ireland

908

(4.4)%

(4.6)%

+0.5%

- Screwfix

362

+20.3%

+20.3%

+12.6%

France

1,085

+3.8%

(5.0)%

(5.5)%

- Castorama

587

+4.9%

(4.0)%

(4.3)%

- Brico Dépôt

498

+2.5%

(6.2)%

(6.8)%

Other International

505

+18.4%

+3.1%

+0.7%

- Poland

313

+17.0%

+5.7%

+3.5%

- Russia

86

+35.8%

(4.1)%

(7.8)%

- Spain

77

+6.1%

(2.9)%

(1.2)%

- New Country Development(2)

29

n/a

n/a

n/a

Total Group

2,860

+5.0%

(0.9)%

(0.6)%
Q1 LFL down 0.6% reflecting continued weaker sales in France and some business disruption from our ONE Kingfisher plan
Remain on track to deliver Year 2 strategic milestones
Returned further £79m (23m shares) year to date via share buyback of previously announced c.£600m capital return(3)
Véronique Laury, Chief Executive Officer, said:
"We have set ourselves up well for our transformation, which continues in line with our plans. Strong performance in Screwfix and Poland continues, though performance in France remains weak. In addition, we are experiencing some business disruption given the volume of change, as we clear old ranges, remerchandise new ranges and continue the roll out of our unified IT platform.
"However, we are on track to deliver our Year 2 strategic milestones. Early customer reaction to our new ranges is encouraging, especially in France where our new unique bathroom ranges are launching first. We are also progressing well with our IT platform, which is now live in nearly a third of our Castorama France stores and which will enable us to build a much stronger digital offer.
"We remain confident in the size of the prize and our ability to deliver our long term plan, both the financial benefits of the transformation and the benefits to customers, supported by the continued expertise and energy of our colleagues."
Q1 trading highlights by division (in constant currencies)
UK & IRELAND
Total sales +1.4%. LFL +3.5% reflecting continued strong Screwfix performance and modest price inflation

B&Q UK & Ireland sales -4.6% reflecting annualisation of completed store closure programme. LFL +0.5% including benefit from sales transference associated with store closures(4) and strong digital growth (+31%). LFL of seasonal +17.5%. LFL of non-seasonal, including showroom -3.9%
Screwfixsales up +20.3% (LFL +12.6%) driven by its leading digital capability, new and extended ranges and new outlets
FRANCE
Total sales -5.0% (LFL -5.5%). Sales for the home improvement market (Banque de France data(5)) were down c.1% in Q1

Castoramasales -4.0% (LFL -4.3%). LFL of seasonal +3.3%. LFL of non-seasonal, including showroom -6.9%
Brico Dépôtsales -6.2% (LFL -6.8%)
OTHER INTERNATIONAL
Total sales inPoland+5.7% (LFL +3.5%) benefiting from a supportive market. LFL of seasonal -5.9%. LFL of non-seasonal, including showroom +5.2%
Download the full Kingfisher press release here.
Source: Insight Team/Kingfisher PLC
Interested in all the very latest news on Kingfisher, B&Q and Screwfix? Sign up for our weekly Insight DIY newsletter here.
Footnotes
(1) Like-for-like sales growth representing the constant currency, year on year sales growth for stores that have been open for more than a year
(2) Brico Dépôt Romania, Brico DépôtPortugal and Screwfix Germany
(3) Through to end of FY 2018/19 (over and above the annual ordinary dividend); now returned £279m of the c.£600m
(4) c.1% LFL sales transference benefit from B&Q store closures remains full year guidance
(5) Includes relocated and extended stores http://webstat.banque-france.fr/en/browse.do?node=5384326
23 May 2017

Thank you for the excellent presentation that you gave at Woodbury Park on Thursday morning. It was very interesting and thought-provoking for our Retail members. The feedback has been excellent.


Martin Elliott. Chief Executive - Home Hardware.