UK DIY News
Kingfisher Reports 64% Rise in Q1 LFL Sales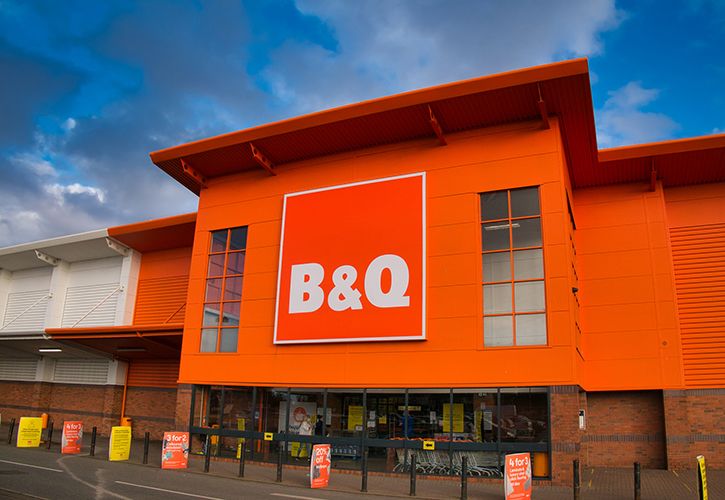 Kingfisher plc has published a Q1 trading update to 30 April 2021, advising of sales of £3.4 billion; LFL(1) up 64% and 2-year LFL(2) up 23%.
For B&Q and Screwfix UK & Ireland results, click here
For Kingfisher Group like-for-like performance by month in Q1 and Q2 (to date), click here
For Kingfisher International results, click here
Unaudited Q1 21/22 sales (three months ended 30 April 2021)
Sales

2021/22

% Total

Change

% Total

Change

% LFL

Change

% 2-year LFL

Change

£m

Reported

Constant currency

Constant currency

Constant currency

UK & Ireland

1,827

+66.8%

+66.8%

+65.0%

+38.6%

- B&Q

1,212

+82.7%

+82.7%

+81.9%

+42.3%

- Screwfix

615

+42.5%

+42.5%

+39.0%

+32.5%

France

1,177

+97.4%

+98.8%

+101.7%

+18.1%

- Castorama

583

+94.5%

+95.8%

+101.8%

+13.9%

- Brico Dépôt

594

+100.3%

+101.7%

+101.7%

+22.7%

Other International (ex-Russia)

444

+9.4%

+13.0%

+5.9%

(11.0)%

- Poland

281

(12.1)%

(8.9)%

(12.0)%

(20.5)%

- Iberia(3)

90

+110.8%

+112.3%

+112.3%

+12.1%

- Romania(4)

72

+67.2%

+71.1%

+27.4%

+16.6%

- Other(5)

1

n/a

n/a

n/a

n/a

Total Group (ex-Russia)

3,448

+64.4%

+65.7%

+64.2%

+22.5%

- Russia(6)

-

(100.0)%

(100.0)%

n/a

n/a

Total Group

3,448

+60.0%

+61.9%

+64.2%

+22.5%
Key points
Continuing to make significant progress against 'Powered by Kingfisher' strategic priorities


Growing sales ahead of the market in the UK and France


Total sales up 61.9% in constant currency at £3.4 billion, reflecting strong demand in all categories (against weak comparatives due to temporary store closures in the prior year)


LFL sales up 64.2% and corresponding 2-year LFL up 22.5%
- Strong performance in the UK and France, despite COVID-related restrictions impacting French banners through most of the quarter
- Poland impacted by COVID-related temporary store closures for five weeks, following a national lockdown announced in late March 2021
- Transaction volume and average basket value both up


E-commerce sales up 63% (2-year growth up 258%); now 21% of Group sales (FY 20/21: 18%)


Q2 21/22 LFL sales (to 15 May 2021)(7) up 8.2% (2-year LFL up 25.0%), reflecting continued strong demand


All Kingfisher stores now open, following temporary store closures in France and Poland


Raising H1 21/22 LFL sales outlook to 'mid-to-high teens' (from 'low double-digit')
Anticipate H1 adjusted pre-tax profit to be ahead of our previous expectations, in the range of c.£580 to 600 million
Thierry Garnier, Chief Executive Officer, said:
"I am extremely grateful to all our colleagues for their continuous hard work and flexibility, enabling our banners to remain trading safely during these difficult times.
"The Group delivered strong sales growth in the first quarter, with LFL sales up 64% and up by 23% on a two-year basis. This is a testament to the efforts of our colleagues, the skill and professionalism of our supply chain teams, and the responsiveness in managing daily changes within all our store operations. We continue to see high levels of demand from both new and existing customers, with clear progress made on our 'Powered by Kingfisher' strategic priorities, especially in four key areas.
"Firstly, e-commerce continues to be our fastest-growing channel with two-year growth of over 250%, now accounting for 21% of Group sales. During the quarter we established a new agile operating model for our technology and digital teams, and further strengthened these teams with multiple new hires.
"Secondly, we are excited to have launched Screwfix as a pure-play online retailer in France in late April. Thirdly, our new own exclusive brand kitchen range is now available in all key markets, with very positive results despite lockdown restrictions.
"And finally we continue to develop, test and roll out multiple innovative propositions for our customers, with more compact store tests, a new mobile app for Screwfix, self-checkout terminals and our new tool for 3D kitchen and bathroom design. We have also started to roll out our NeedHelp services marketplace in B&Q and Poland.
"With the strong start to the year, we now anticipate first half sales and adjusted pre-tax profit to be ahead of our previous expectations. Whilst the second half of the financial year remains naturally uncertain, we continue to see supportive long-term trends for our industry and are confident of continued outperformance of our wider markets."
Outlook
Given the profile of trading during FY 20/21, we continue to expect distinct performances in the two halves of FY 21/22.
With the strength of our performance to date and the continued delivery against our strategic objectives, we now expect mid-to-high teens Group LFL sales growth in H1 21/22 (previously 'low double-digit'). As a result, we anticipate a higher H1 adjusted pre-tax profit, in the range of c.£580 to 600 million.
For H2 21/22, we maintain our original guidance and continue to plan for Group LFL sales scenarios in H2 of -15% to -5% (representing 2-year LFLs for H2 of -1% to +11%), given the strong comparable period performance (H2 20/21: Group LFL sales +16.6%) and continued uncertainty over the macroeconomic and consumer environment from COVID.
For FY 21/22, we are now aiming to grow full year adjusted pre-tax profit (excluding £85 million of non-recurring net cost savings in FY 20/21) ahead of sales(8) (previous guidance 'in line with sales').
Supply chain and availability
The key risks around stock availability continue to be driven by polarised demand within some of our categories, where our suppliers have been challenged in keeping up with high order levels. This has been exacerbated by challenges around the supply of certain raw materials. In addition, the pandemic (together with events such as the Suez Canal container ship blockage) continue to place a considerable strain, industry-wide, on the international logistics infrastructure (in particular, the cost and availability of shipping containers). We expect these challenges to continue for at least the next six months.
Despite these significant challenges, our overall stock availability is gradually improving. To date, we have been able to manage our supply and logistics needs adequately, and will continue to focus on availability as we progress through the key trading season.
As largely anticipated, we are also seeing inflation pressure from certain raw materials and shipping container costs. We are absolutely committed to remaining competitive with our prices, and are engaging with our suppliers and partners to manage the cost implications that are being felt across the industry as efficiently as possible.
Operational status
All our c.1,400 stores are currently open for in-store purchasing and click & collect, under strict social distancing and safety protocols. Kingfisher remains committed to meeting the essential needs of customers safely, and ensuring colleague safety and wellness.
In the United Kingdom, restrictions imposed from late December 2020 meant that discrete areas of certain B&Q stores (e.g. showrooms in England, Wales and Scotland) were temporarily closed until early-to-mid April 2021. During this period of restrictions, B&Q operated a virtual sales model for kitchens and bathrooms, with tens of thousands of virtual showroom planning sessions successfully conducted since the start of 2021.
In France, since late January 2021, the government gradually instructed certain regions (départements) with higher COVID infection rates to implement additional containment measures. A national lockdown took effect on 3 April 2021, resulting in the temporary closure of non-essential retailers.
While Castorama and Brico Dépôt stores retained their 'essential' retailer status, some départements required us to close larger stores even before the national lockdown. The majority of the temporary store closures took effect from early March 2021, and since then up to 26 Castorama and four Brico Dépôt stores have been temporarily closed for in-store browsing and purchasing. At all stores impacted, click & collect, home delivery and virtual showroom planning services remained available for the general public.
In addition, all other Castorama and Brico Dépôt stores were impacted by the temporary closure of non-essential areas of stores (e.g. showrooms and certain areas of surfaces & décor), following the commencement of the national lockdown on 3 April.
On 19 May 2021, restrictions on retailers in France were lifted. All impacted Castorama and Brico Dépôt stores have reopened for in-store browsing and purchasing.
In Poland, national lockdown restrictions were imposed on 27 March 2021, leading to the closure of all Castorama stores between 27 March and 3 May 2021. During some of this period, stores were able to offer click & collect, home delivery, garden and buildings products, as well as in-store access for professional tradespeople. All stores fully reopened on 4 May.
In Iberia and Romania, while all stores remain open for in-store browsing and purchasing, restrictions have been imposed in a small number of regions (including reduced opening hours, weekend closures, limits on the number of people allowed in stores, and limits on access to stores from out of the city or region).
Source : Kingfisher
Image : iStock.com / Alan Morris 1281594226
20 May 2021

Thank you for the excellent presentation that you gave at Woodbury Park on Thursday morning. It was very interesting and thought-provoking for our Retail members. The feedback has been excellent.


Martin Elliott. Chief Executive - Home Hardware.