UK DIY News
Kingfisher Reveals Recent Weekly Trading Trends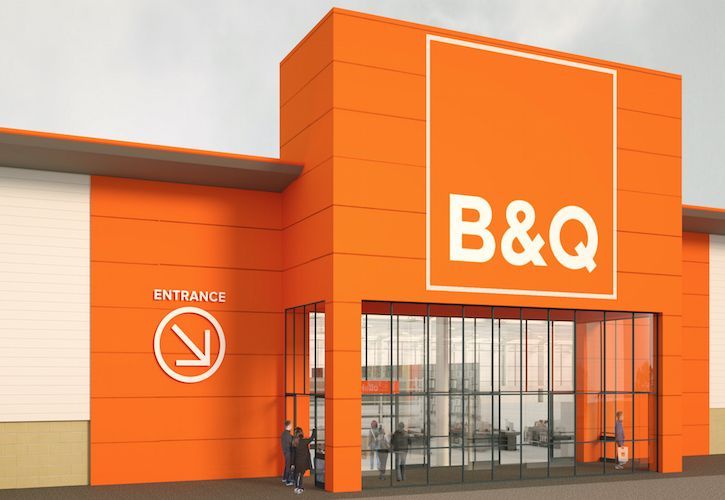 Kingfisher has reported on trading for the three months ended 31st October 2020.
Click here for more details on Group and UK performance.
In the first three weeks of October, trading was strong with all banners growing LFL sales. In the final week of October, France saw exceptional demand in the days leading up to a national lockdown which commenced on 30 October. In Poland, LFL sales were adversely impacted by the timing of a national public holiday.
Sales growth in the first week of November was largely driven by exceptional demand in the UK, particularly at B&Q, ahead of the commencement of the national lockdown in England on 5 November. In France, sales growth was impacted by the pull forward of demand seen in the previous week. Poland and Iberia sales were also impacted by lower footfall related to concerns over COVID-19. In the second week of November we saw robust demand across the UK, France, Poland and Romania, although Iberia sales continued to be impacted by lower footfall.
Recent weekly trading trends (to 14 November)
Q4 20/21 Group LFL sales (to 14 November 2020) are up 12.6%, largely reflecting the impact of more recent temporary lockdown measures. To update on recent trading trends, the table below shows weekly sales data by market for the last six weeks.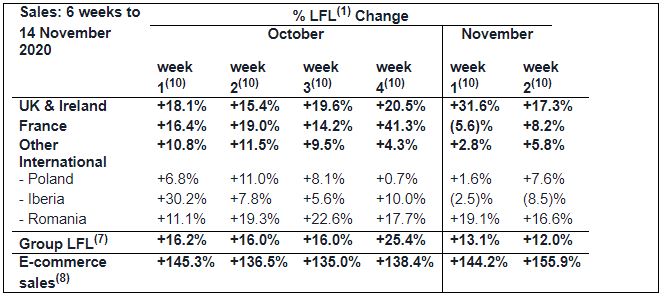 Supply chain and availability
We continue to be faced with polarised demand within our categories and, in particular, strong demand levels within the paint, decorating materials, outdoor, building materials and kitchen ranges, where vendors are challenged in keeping up with high demand levels. These challenges are being driven by a combination of capacity constraints and extended leadtimes from their raw material suppliers. In addition, the pandemic continues to place a considerable strain, industry-wide, on the international logistics infrastructure. We expect these challenges to continue for at least the next six months. We continue to work closely with key vendors to speed up production and accelerate our supply chain within these specific categories. Nevertheless, in-store availability is currently below last year, reflecting the high and volatile levels of demand we have been experiencing. We will continue to work hard on improving product availability through the remainder of this year.
Cash and liquidity update
Overall, the Group has significant liquidity headroom with its current cash balance. As at 17 November 2020, the Group had access to over £3.5 billion in total liquidity, including cash and cash equivalents of c.£2.2 billion and eligibility to access over £1.3 billion of funding under the CCFF and RCFs.
As announced on 12 May 2020, Kingfisher arranged a €600 million (c.£542 million) term facility with three French banks in support of its operations in France. The loan is guaranteed at 80% by the French State ('Prêt garanti par l'État', or 'PGE'). As required under the terms of the loan, the full amount was drawn down on 18 May 2020. Subject to circumstances and certain conditions being met, the Group is considering a repayment of the loan in Q4 20/21.
Kingfisher remains eligible to access funding under the Bank of England's Covid Corporate Financing Facility (CCFF). In October, HM Treasury updated their drawing limits for issuers whose long-term credit rating has fallen to BBB-/Baa3/BBB (low) or equivalent after 1 March 2020. As Kingfisher's Fitch and Standard and Poor's ratings are both BBB-, Kingfisher's drawing limit is therefore capped at a maximum of £300 million.
The Group also has access to undrawn Revolving Credit Facilities (RCFs) of £250 million (due to expire in May 2021), £225 million (due to expire in March 2022) and £550 million (most of which is due to expire in August 2023), totalling £1,025 million.
Outlook
While the strength of our Q3 performance was reassuring, uncertainty over COVID-19 and the impact of temporary lockdown restrictions in most of our markets continue to limit our near-term visibility.
Overall, we believe that the renewed focus on homes is supportive for our markets. Furthermore, we are confident that the strategic and operational actions we have taken so far are helping us to build a strong foundation for long-term growth.
In relation to costs, we anticipate that FY 20/21 adjusted profit before tax will include c.£175 million of temporary cost savings (including government support measures and other non-recurring cost savings), net of any one-off COVID-related costs.
Source : Kingfisher PLC
For all the very latest news and intelligence on the UK's largest home improvement and garden retailers, sign up for the Insight DIY weekly newsletter.
19 November 2020

Insight DIY is the only source of market information that I need and they always have the latest news before anyone else.

Neil Anderton - Sales Director, British Ceramic Tile